A totally decadent and absolutely delicious baked blueberry cheesecake. The unique combination of flavours presented by the blueberries and gin is infused into the creamy cheese centre. Producing a stunning dessert that will have every one of your lucky diners wondering where you got this amazing recipe.
Cheesecake Variety
There are two different ways to make a cheesecake. You can bake it or simply allow it to set in the fridge. And you can choose from a wide variety of flavours to infuse your cheesecake with. For example, these Mini Caramel and Peppermint Crisp Cheesecakes create a whole different experience.
In this blueberry, gin version, we bake the cheesecake to allow the added aromas to really set in. It is nonetheless a simple quick recipe that produces an extraordinary result, guaranteed to impress. Like a traditional cheesecake, you first prepare your crust with crushed biscuits and butter. Then you mix together your filling ingredients with that extra addition of gin and tonic. From there all you need to do is pour the mixture over the crust, bake and make pretty! And that extra little addition of blue gin and blue tonic makes all the difference.
A Stunning Presentation with Blueberries
Never underestimate the effect that a visually pleasing dish can have! The amazing royal blues in this blueberry cheesecake swirl in with the soft thick creamy colours of the cheese filling. A stunning presentation that makes you want to dive in before you even know what it is.
If you have any kind of special excuse, I would recommend grabbing the opportunity to give this recipe a try.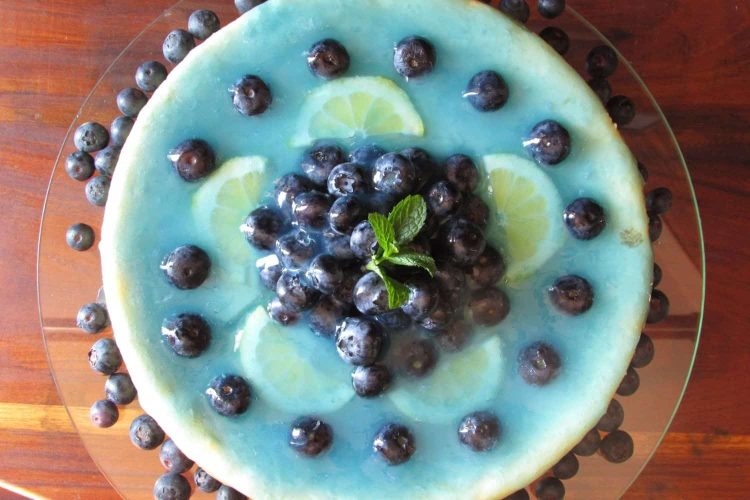 Ingredients
For the Filling
30

ml

Saphirre Blue Gin

200

ml

Blue Tonic

1

cup

Blueberries

250

ml

Castor Sugar

600

g

Full Fat Cream Cheese

200

ml

Cream

3

Large Eggs

1

tsp

Vanilla

4

Lemons

Grated zest

1

Lemon

Juice

5

ml

Gelatine

1

ml

Blue Food Colouring

50

g

Plain Flour
For the Crust
1

packet

Broken Tennis Biscuits

50

ml

Butter

Melted
Instructions
For the Crust
In a food processor, combine the biscuits and butter.

In a spring loose bottom, greased pan, press the biscuit mixture firmly into the bottom. Place in the fridge.
For the Filling
Mix the cream cheese, 200ml castor sugar, gin, cream, lemon zest, juice, flour, vanilla and eggs. Pour over the crust.

Bake in a pre heated oven, 180 degrees, for 50 minutes. The middle of the cheese cake must still be wobbly.

In a sauce pan, heat the tonic, 50 ml castor sugar, gelatine and add colouring as desired. Boil for 2 minutes.

When glaze cooled and thickened, pour over the cooled cake, decorate with berries as desired.