Delicious, affordable and light on the tummy while still satisfying. This scrumptious combination of boerewors and oriental vegetables makes me think along the lines of a boerewors stir fry.
The Trick with the Cabbage
As much as you may want to run outside and start a fire now, that is not the first step. This boerewors needs to be cooked in a pan, because this is where you are also going to add your shredded cabbage and carrots. Cabbage is one of those magic foods that has the ability to absorb flavours, so we can produce the most amazing taste when we fry it in the pan with our boerewors and all of its delicious flavours.
Healthy Happy Food
This recipe will make you happy in more than one way, not only will it satisfy your tastebuds and hunger but your body will thank you for consuming a meal full of vitamins and nutrients and low calories. Both cabbage and carrots are also high in fibre and great antioxidants. To add the cherry to the cake, all of the ingredients are very affordable and easily available.
This recipe is quick to make, simple and easy on the tummy and the budget. It would make a great addition to anyone's staple diet.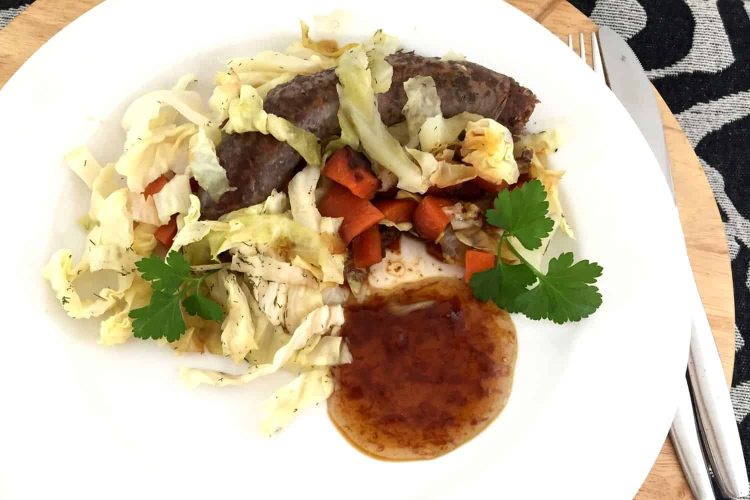 Ingredients
1

Small Cabbage

shredded

600

g

Boerewors

4

Carrots

peeled and diced

1

tsp

Mixed Herbs
Instructions
Place your frying pan on a medium heat and add the boerewors, keeping it in its spiral shape if you can. This shape helps to keep the juiciness contained within the sausage for longer, and gives the right spacing for the vegetables. The key to a truly flavourful and moist boerewors lies in the cooking temperature. Use a low to medium heat when you cook boerewors, as this cooks it evenly inside and out. Be sure to turn frequently.

When it is nicely browned on both sides, add the carrots and allow to simmer for a few minutes.

Add the shredded cabbage in layers on top of the boerewors, adding mixed herbs as you go along.

Add half a cup of water to the pan, cover with a lid and simmer on low heat for about 30 minutes until carrots are tender.