These delicious crunchy bran rusks, boosted with a roast coconut flavouring, are quick and easy to whip together and will leave you with a little stash of subtly sweet biscuit-like snacks. Great for fueling you through those mid-meal cravings. Or just as a little piece of comfort dipped into a cup of something warm.
Rusks Make Life Easier
Rusks are amazing little baked treats, perfect for hitting the spot when you just want a little something to nibble on. They are made from simple, affordable ingredients like flour, buttermilk, sugar and butter, with the addition of wheat bran for a healthy variation. They are quick and effortless to make. And they keep well when stored in an airtight container. So once you have a batch of bran rusks made, you will have quick access to a convenient and satisfying snack.
Health Benefits
This bran rusk recipe is particularly great, not only because of the yummy addition of coconut but also because of the bran base. Wheat bran is highly nutritious and an especially great source of fibre, which can assist in suppressing hunger. Fibre is also prebiotic and helps to feed our good gut bacteria.
Additionally, the coconut flakes further add to the list of health perks. It is also a good source of fibre, contributing to heart health, as well as being rich in MCTs and disease-fighting antioxidants.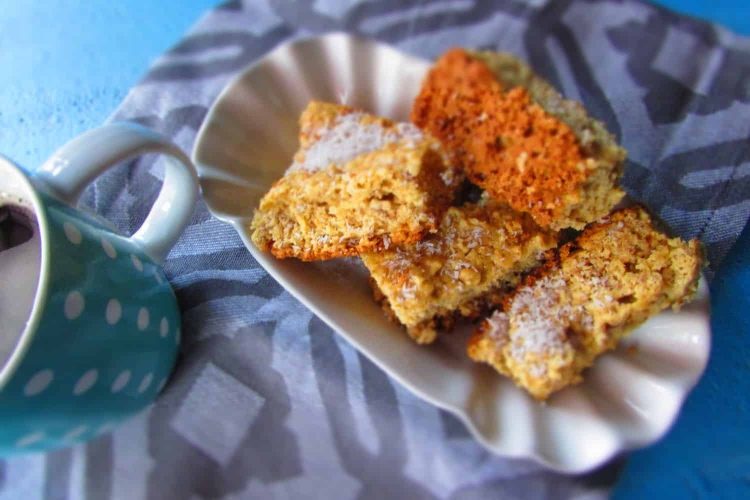 Ingredients
1 ½

cups

White Sugar

1 ½

cups

Brown Sugar

250

g

Butter

150

ml

Vegetable Oil

4

cups

Flour

3

cups

Wheat Bran

2

cups

Coconut

1

tsp

Salt

500

ml

Buttermilk

2

Eggs

Extra Coconut
Instructions
In a bowl, melt the butter and sugar in a microwave. Add the eggs.

Add the dry ingredients. Stir in the buttermilk and oil.

Press the mixture evenly into a greased oven pan. Place in a pre heated oven, 170 °C, for an hour.

Sprinkle coconut over the warm rusks. Cut the rusks into blocks.

Place in an oven, 70 °C, with the door ajar, place wooden spoon in the door, overnight to dry out.