Prepare to be surprised by the divine combination of flavours and textures in this dish. Soft and subtle chicken meat baked in a sweet and tangy vegetable stew with a variety of tasty sauces.
Chicken and Sweet Vegetables
The sweet tastes that emerge while frying your thin slices of onion, garlic and colourful peppers play beautifully with the saucy additions of chutney, tomato sauce and Worcestershire sauce. It is recommended to add sweet chilli sauce as well, although even without it you will be spoilt with flavour.
This taste sensation of saucy fried vegetables is poured over the soft white chicken and left in the oven to bake for one hour. Allowing the tender meat to absorb all the complimenting flavours of the sweet vegetable stew.
Gluten-Free
One of my favourite things about this chicken and vegetable based dish is that you will be so consumed by the delicious flavour experience that you probably won't even realise that there is no pasta or bread in the mix. Some Worcestershire Sauces may contain gluten, but other than that you are eating an entirely gluten-free meal! Usually with this kind of dish, one would want to add some form of carb to "complete" it. If you must I would recommend potato or rice, keeping it gluten-free. But try it as is, just once. Give this beautiful selection of textures and flavours a chance to prove that it does perfectly well on its own.
If you tried this dish and loved it, then you've got to experiment with our Pulled Chicken Bunny Chow recipe.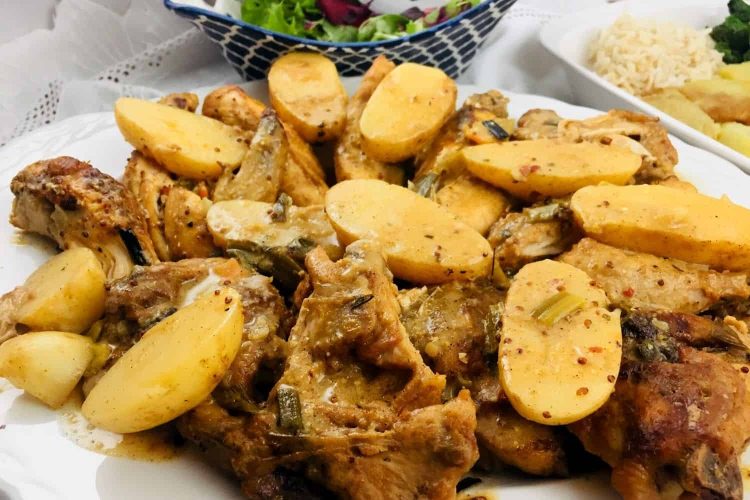 Ingredients
2

kg

Chicken

30

ml

Vegetable Oil

15

ml

Butter

2

Onions

Sliced

1

Red Pepper

Thinly sliced

1

Yellow Pepper

Thinly sliced

3

cloves

Garlic

Salt

To taste

175

ml

Tomato Sauce

15

ml

Worcester Sauce

50

ml

Chutney

80

ml

Sweet Chilli Sauce

Optional, but recommended
Instructions
Preheat the oven to 180 degrees.

Place the chicken pieces in an oven proof casserole dish. Salt to taste and set aside.

In a sauce pan, heat the oil and butter.

Saute the onions, garlic and peppers until soft.

Add the rest of the ingredients.

Remove from the heat and pour over the chicken pieces

Bake, uncovered, for one hour.