So much yumminess all in one space! The smooth and creamy flavours of a lovingly homemade cheesecake are already hard to resist. To then add the warm sweet scents of a ripe and juicy peach just brings this cheesecake even closer to perfection!
The Easiest Cheesecake in the World
Easy to eat and easy to make! This peachy variation is just like a traditional fridge set cheesecake. First, you blend together all the creamy ingredients such as the cream cheese, whipped cream and condensed milk (your mouth is already watering right?). This is the filling to which you then add your lemon juice. You could add a bit of honey here as well, although I find that it creates an even more delightful experience when the creamy filling keeps its tangy lemon taste and is only combined with the sweeter elements of this dish once it hits the pallet.
Then it is as simple as pouring your filling over the already crushed and slightly baked biscuit base. And chilling in the fridge for a couple of hours. The longer it sets in the fridge the more the flavours will settle in.
Lemony Cheesecake and Sweet Peaches
A colourful, sweetly scented, soft and juicy peach will always make me think of James and the Giant Peach. Now this recipe has me dreaming about James and a Giant Cheesecake Filled Peach! The addition of sweet ripe fruit further enhances this already divine dessert dish. Whether served as slices on the side or hollowed out to make space for a cream cheese filling, adding peaches makes the perfect addition to this tangy dessert dish.
To be honest, this exquisite sweet and lemony cheesecake with peaches recipe is so yummy that I am struggling to choose a favourite between it and these decadent Caramel Peppermint Crisp Cheesecakes!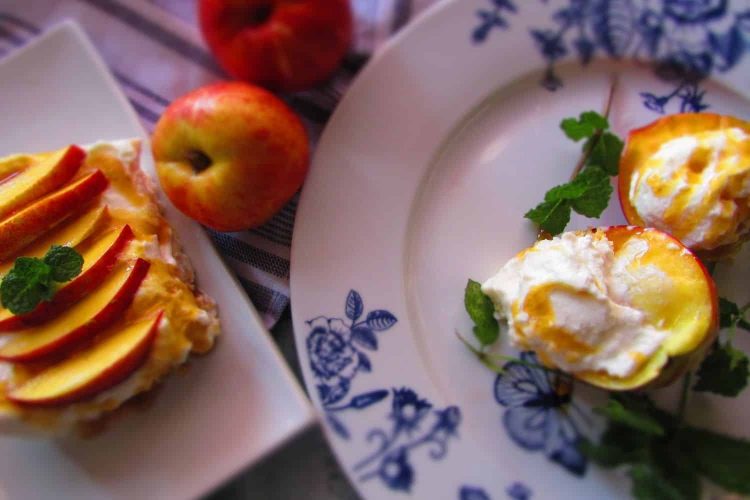 Ingredients
1

packet

Tennis Biscuits

Crushed

100

ml

Butter

Melted

250

ml

Cream

Whipped

250

ml

Cream Cheese

200

ml

Condensed milk

50

ml

Lemon Juice

6

Peaches or Nectarines

Halved or sliced

Honey

to taste
Instructions
Mix the condensed milk, cream cheese and lemon juice well. Fold in the whipped cream.

In a greased dish, mix the butter and biscuits, and press firmly in the dish.

Pour the mixture over biscuit crust and place in the fridge for 2 hours.

Serve the cheesecake with fresh slices of the peaches/nectarines drizzled with honey. Alternatively, scoop the cheesecake filling into the halved peaches or nectarines.