Milk Tart is arguably the most traditional and most loved South African dessert. A tart that no celebration can do without. Any South African food market, church bazaar or bakery is guaranteed to have some baked Milk Tart available. This alone is a testament to how delicious it is.
What is Milktart?
A rich, creamy custard filled tart, baked in a sweet pastry crust. The filling consists mostly of milk warmed and mixed with butter, sugar, flour and egg. Although traditionally a hint of cinnamon is added roasted coconut is a tasty alternative.
Why Choose a Baked Milk Tart
The only problem that I foresee with a first time milk tart baker is that they may fall in love and find themselves making it over and over again. The combination of flavours together with the textures of its smooth and creamy filling and soft sweet pastry crust will give you an almost indescribable experience. The mere mention of Milk Tart produces a "mmm" sound, something that you will understand as soon as you get a taste.
The recipe itself is a relatively easy one and the ingredients are readily available and affordable. To top it off, although delicious when served freshly baked it stores well in the fridge and tastes as amazing served cold. So you can make it well in advance and surprise someone at home or easily transport it to your next braai. If someone else also brings milk tart, well, there is no such thing as too much melktert!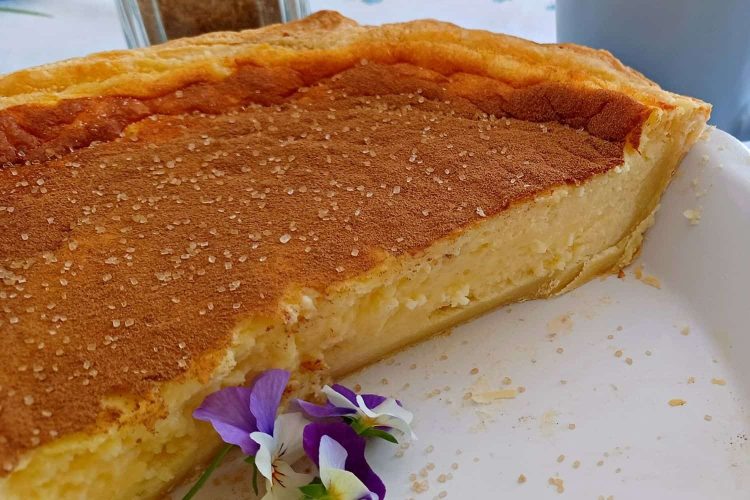 Ingredients
For the Crust
2

cups

Flour

250

g

Butter

must be hard

1

Egg

well beaten

1

tbsp

Sugar

2

tbsp

Water

2

tsp

Baking Powder
For the Filling
1

tbsp

Butter

1

pinch

Salt

1

litre

Milk

1

cup

Flour

1

cup

Sugar

3

Eggs

beaten together

1

tsp

Vanilla or Almond Essence

Cinnamon Sugar or Roast Coconut

to sprinkle at the end
Instructions
For the Crust
Preheat the oven to  200ºC

Slice the butter in thin slices.

Add the sugar, ice water and eggs to the butter.

Sift the flour and baking powder over the mixture and very gently mix the mixture by working it with your finger tips.

Place the dough in the fridge for 20 to 30 minutes.

Roll the dough out about 4.5mm thick and place in ovenproof dish that will take 1 litre of filling, or place it in two smaller ovenproof tart dishes. Make sure it is evenly spread if you do not want to roll out the dough. Press it firmly and evenly in the dish evenly, then prick with a fork to ensure it will cook right through.
For the Filling
Rub the butter, salt, sugar and flour together with your finger tips until crumbed.

Place the milk in a saucepan and bring the milk to the boil, then reduce the heat to a simmer. Very slowly add the crumbs to the hot milk, little by little, stirring with a egg whisk. Be careful not to burn the milk or to work too quickly as it can form lumps.

Remove from the heat. Add a little of the hot milk mixture to the 3 beaten eggs to warm it up, mix, then add the beaten eggs to the warm milk custard and mix well.

When cooled and add 1 teaspoon vanilla or almond essence. Mix well again.

Place the mixture in the prepared dish and bake for 10 minutes.

When cooled, sprinkle with cinnamon sugar or coconut.