These simply divine homemade chocolate eclairs are fast and easy to make. And guaranteed to produce a flavour sensation, as good, if not better, than any shop-bought treat. You will find yourself making them over and over again, leaving you wondering what other sweet yummies you can quickly whip together at home.
Any Excuse to Eat a Chocolate Eclair
I am sure that I don't need to convince you to eat a chocolate eclair. It's one of those things that we all need to indulge in from time to time. Something that you can just close your eyes and bite into, while the world around you vanishes and everything becomes centred around that one amazing moment of comforting sweetness.
But what I do want to convince you of is to try making your own yummy chocolate eclairs at home. This recipe is super fast and easy. And once you have tasted one of these creamy dark chocolate coated, smooth pudding-filled, biscuit eclairs you are going to want to make them at home all the time. The only hard part is not eating them all in one go!
Quick and Easy to Make
In under an hour, you can have your delicious eclair reward ready to serve. It's as simple as laying your biscuit bases out and coating them with your creamy vanilla pudding mixture before adding your top biscuit to close the sandwiches. Then, once your biscuits have chilled in the fridge for a bit, you can pour over your freshly made dark chocolate and cream sauce. Refrigerate one last time, and enjoy!
So satisfied that you want to branch out? Try these Milk Tart Filled Pancakes. Come to think of it, you could even use a milk tart filling as an alternative to the vanilla pudding your chocolate eclairs!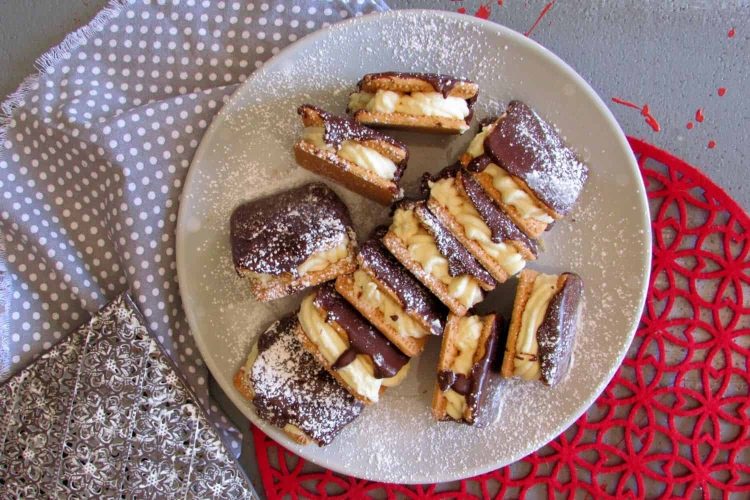 Ingredients
1 1/2

packets

Tennis Biscuits

1

packet

Instant Vanilla Pudding

200

ml

Cream

Cold

250

ml

Full Cream Milk

Cold
For the Topping
200

ml

Cream

2

cups

Dark Chocolate Chips
Instructions
On a tray, pack and space 16 biscuits.

Mix the pudding, cream and milk to a thick consistency.

Using a piping bag, fill it with the mixture.

Pipe it on the biscuit, filling it from side to side. Repeat on all the biscuits.

Place another biscuit on top of the filling, creating a biscuit.

In a saucepan, heat the cream until it boils. Add the chocolate. Stir until the chocolate is melted.

Scoop spoon fulls over the eclair sandwich, let it drip from the sides.

Refrigerate for 15 minutes.