Homemade Lemon Fudge with White and Dark Chocolate Bits
Double chocolate lemon fudge. Just those words make me want to race to the kitchen to see if I have the ingredients to whip some together! A truly magnificent combination of flavours. This delicious, yet easy-to-make recipe will have you wondering why you don't play with the contrasting flavours of lemon and chocolate more often.
Lemon and Chocolate Combine
There are fudge people (heads up, I am one of those) just like there are chocolate people. And just like the chocolate lovers, occasionally we fudge fanatics want the comforting sweetness of pliable fudge but crave something a little different. This lemon-enhanced fudge recipe is the perfect alternative. We know orange and chocolate work together and we know salted caramel is a perfect combo. But the divine pairing of the lemon zest with creamy chocolate fudge in this recipe will amaze you! The fact that there is the hidden bonus of white and dark chocolate nibs floating in between it all is just deliciously ridiculous.
Quick to make
After drooling over the amazingly decadent list of ingredients, you start to wonder how much energy this is going to take. Well good news, almost none! In just over an hour you will be ready to reap the benefits. It's as quick as mixing your condensed milk, butter, milk, sugar and vanilla into a sweet-scented fudge paste. This then gets chocolate nibs stirred in. And once set into little blocks, more chocolate is poured over the top in the form of a creamy, double-boiled, sauce.
If you are going to indulge yourself with anything this week, let it be with this spectacular taste experience!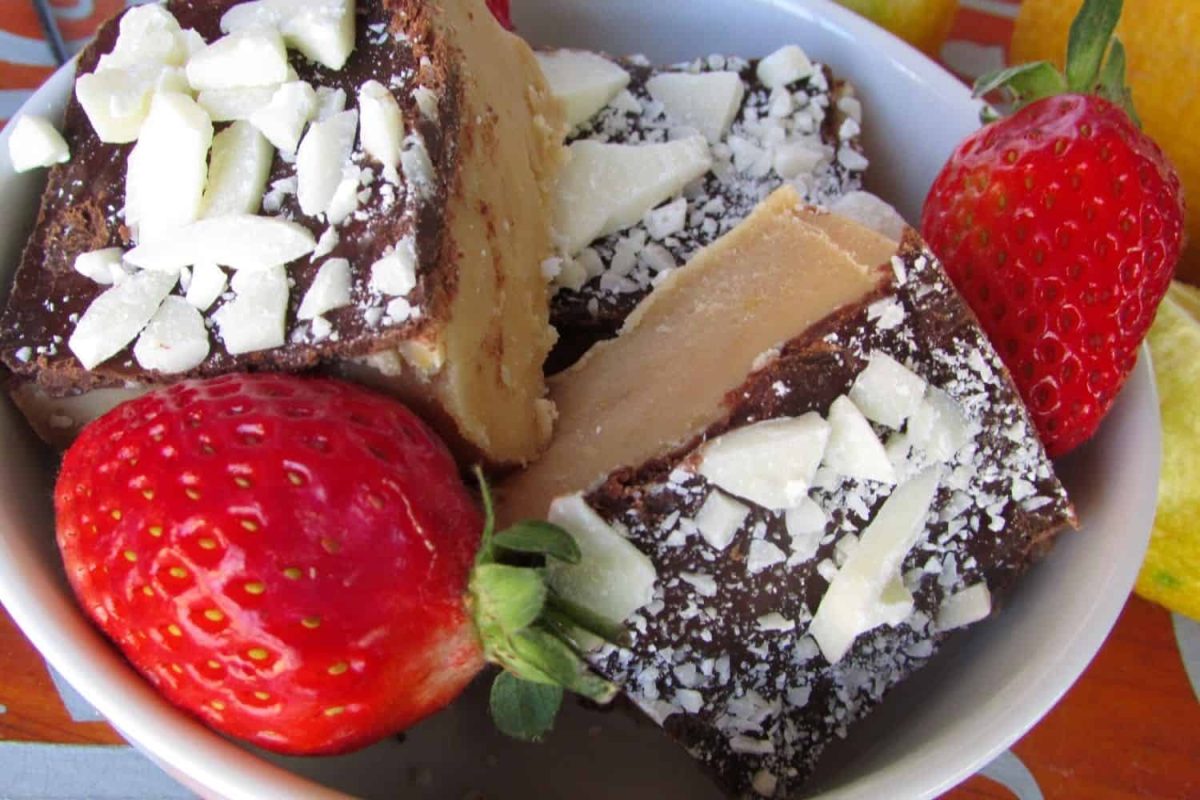 Ingredients
For the Fudge
800

g

Sugar

250

ml

Butter

10

ml

Vanilla Essence

1

tin

Condensed Milk

1

cup

White Chocolate Chips

¼

cup

Fine Lemon Zest

¼

cup

Lemon Juice
For the Topping
1

cup

Dark Chocolate Chips

½

cup

Cream

White Chocolate Shavings

For garnish
Instructions
For the Fudge
In a sauce pan, add the condensmilk, butter, milk, sugar and vanilla. Stir for 50 minutes over medium heat until the color changes. The fudge will form a ball.

Remove from the heat. add the white chocolate, lemon zest and juice. Mix quickly before it solidifies.

Pour the fudge into a greased baking tray.
For the Topping
In a double boiler, melt the dark chocolate and cream.

Pour over the fudge. Garnish with white chocolate shavings.