Cooking With Klipdrift Export Brandy – Frikkadelles with Export Sauce.
A traditional dish that bursts with unique flavors and a delectable sauce to top it off, these frikkadelles are made with Klipdrift Export brandy and are the perfect way to add some excitement (and booze!) to your meaty meals!
What the Frik are Frikkadelles?
Frikkadelles (also known as frikadeler or frikadellen) are flat meatballs that are made from minced meat and other very simple ingredients, and are usually pan-fried. While the origin of the dish is not very clear, many versions of frikkadelles exist in Danish, German, Scandinavian, and Polish cuisine, but the meatballs have been particularly embraced in South African cuisine, with many Indian and Indonesian spices due to the Cape Malay influenced cooking style in Cape Town, South Africa.
A Unique Sauce
Frikkadelles are usually served with potatoes and a tomato gravy that can have many different variations. For this recipe, the gravy is made with the juices from cooking the frikkadelles, beef stock, apple juice, a bit of cake flour for thickening, cream or milk, and the star of the sauce- Klipdrift Export brandy. This distilled and 3-year matured brandy has notes of apricot, peaches, and toasted hazelnuts, and adds a unique combination of deep flavors to the meatballs that is so distinct it simply cannot be compared to others. The grated apple and apple juice adds a sweetness to the frikkadelles that balances the flavors nicely.
Once your sauce is prepared, pour it over the frikkadelles and potatoes, and serve the dish with a fresh exotic tomato salad on the side. This one is perfect for Sunday lunch with family and friends!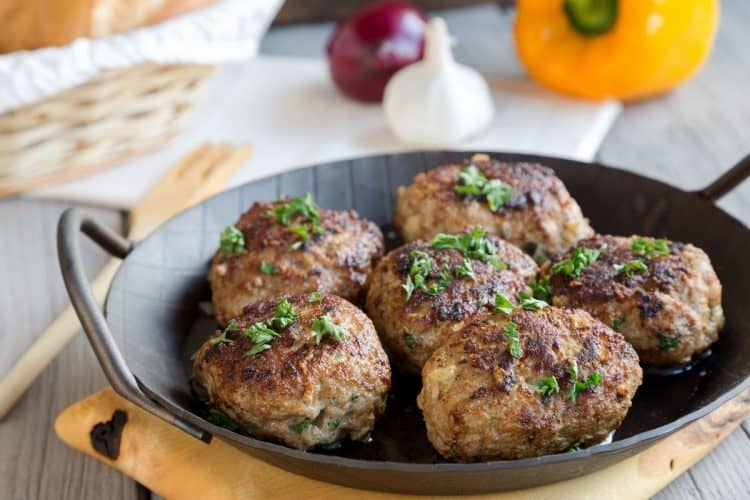 Ingredients
3 slices brown bread

675g minced beef

1 large green apple (peeled and grated)

1 large onion (finely chopped)

2

large

eggs

5ml mixed herbs (chopped)

1 sprig fresh parsley (coarsely chopped)

Salt and black pepper (freshly ground)

16 cooked new potatoes

15ml cake flour

150ml beef stock (made from stock cubes)

150ml apple juice

30ml fresh cream (or milk)

30ml Klipdrift Export
Instructions
Soak the bread in a little water and then make your breadcrumbs by pressing out the water and crumbling the bread.

Add these breadcrumbs to your mince.

To this mixture, add the apple and onion and mix; then add beaten eggs, mixed herbs, parsley, salt and pepper. Mix well.

Shape the frikadelle and place in an ovenproof dish. Bake, uncovered, at 200°C for about 20 minutes. Remove dish from oven and pour off juices into a frying pan.

Add peeled, cooked potatoes to frikadelle, reduce oven temperature to 140°C and bake frikadelle and potatoes for 10 minutes.

Stir cake flour into meat juices in frying pan and mix well. Then gradually add stock and apple juice – stir until this mixture thickens.

On a low heat stir in the cream / milk and Klipdrift Export until smooth. You can pour this sauce over the frikadelle or serve separately.
Notes
A ripe-tomato salad is the perfect accompaniment to this dish.