Calamari is a well-known and loved dish. While this dish is sophisticated and usually a staple appetizer at expensive restaurants, this recipe makes it easier than it might seem!
The Simplest Ingredients
Calamari (Italian and Spanish for 'squid') is squid that can be deep-fried in a batter, grilled, or sautéed and served with a sauce. It has a mild yet sweet and briny flavour, that takes on seasoning and sauces so well. The simplest ingredients are needed to make this seafood dish, such as the calamari itself, extra virgin olive oil, butter, garlic cloves, vinegar, lemon juice, fresh dill, and salt and pepper to season. These ingredients can also be found easily in your local supermarket near you.
Sophisticated Calamari Ready in Minutes
The steps required to make this fuss-free dish are so easy! All you need to do is heat olive oil and butter in a skillet, toss in some garlic and sauté for a few seconds. The calamari is then added to the pan and cooks for only 1 to 2 minutes. Be careful not to leave it in for longer, as this will leave you with hard and rubbery calamari. The vinegar and lemon juice is added to the mixture, along with the salt and pepper and fresh dill. This should be briefly cooked until it is warm as to not overcook the squid.
This recipe leaves you with mild garlic and dill flavoured calamari that is perfect for a delectable sauce such as Chipotle mayonnaise. You can also put a Mediterranean spin on this dish and serve it with a red pepper tomato and chilli flake sauce.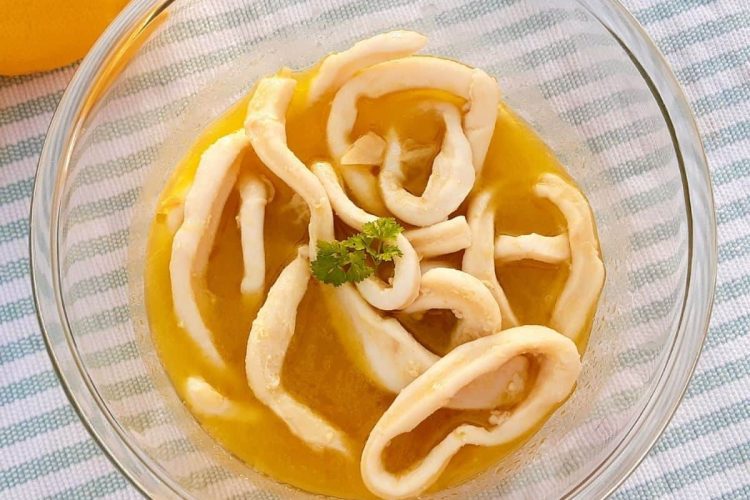 Ingredients
Extra Virgin Olive Oil

butter

10

cloves

garlic

roughly chopped

700

g

calamari

sliced into rings

2-3

tbsp

vinegar of choice

1

large

lemon

juiced

Salt and Pepper

to taste

3

tbsp

fresh dill

chopped
Instructions
In a large skillet, heat ¼ cup of olive oil and 1 tablespoon of butter. Turn heat to medium-high and add the garlic, tossing regularly. Sauté only for a few seconds.

Add the calamari to the pan and cook for 1 to 2 minutes over medium-high heat.

Then add the vinegar and lemon juice with some salt and pepper to taste. Briefly cook to warm through the sauce. Be careful at this point not to overcook as your calamari will become rubbery.

Now stir in the fresh herb before removing it from heat. 
Notes
Delicious by itself or served with basmati rice and a fresh tomato and onion salad.