Don't let your gluten-free diet stop you from indulging in those pastry desserts that you have just been dying to make! This Gluten-Free Puff Pastry recipe is about to solve all of your wheat-free baking problems.
Gluten-Free Substitutes
This Puff Pastry recipe is completely wheat and gluten-free. To replace wheat flour, white rice flour, tapioca flour, as well as coconut flour is used. Tapioca flour is powder made from crushing the pulp of the cassava root, a South American shrub. It acts similarly to cornstarch as it thickens doughs and foods, and gives this pastry a chewy yet crispy texture. Xanthan gum is also used in this recipe- a food additive that is used as a stabilizer and thickening agent for the puff pastry.
Yummy and Versatile
Apart from being delicious, this puff pastry can be used in a multitude of dishes such as beef wellington, pies, chicken pot pie, and eve pizza! And don't forget dessert! Desserts that are made with puff pastry include apple pie, croissants, tarts, custard danishes, and churros! This puff pastry recipe will open so many doors and will change your gluten-free cooking and baking game for certain!
Have this Gluten-Free Puff Pastry dough ready in an hour and a half, and freeze it for up to 3 months, to be ready at your disposal when you are in need of a delicious gluten-free meal or dessert! You cannot go wrong!
Gluten-Free Puff Pastry Notes:
Can use to make a normal puff pastry as well, just substitute the flours for 2 cups of standard wheat flour and omit the xanthan gum.
If salted butter is used leave out the salt.
Can be frozen. To use take out freezer a full day in advance.
Pastry can be used for a great number of things. Maybe then link to the beetroot and herb tart as an example. Croissants can also be made using this.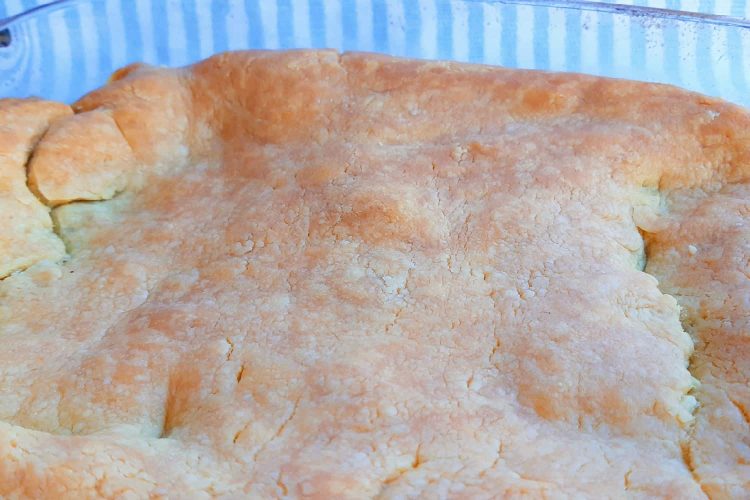 Ingredients
1

cup

White Rice Flour

¾

cup

Tapioca Flour

¼

cup

Coconut Flour

1

tsp

Xanthan Gum

¾

tsp

Sea Salt

200

g

Unsalted butter

½

cup

Cold Water
Instructions
Make your gluten-free flour mix (this can be used for most recipes). Mix the white rice, tapioca and coconut flours and xanthan gum.

Add the salt (If salted butter is used you can leave out the salt).

Grate the butter into the flour mix. Stopping at intervals to mix so that each layer of grated butter is covered in flour.

Make a well in the centre of your buttered flour mix and add the water. 

Mix the water in starting from the centre and working your way towards the edges. Then work the dough a bit using your hands until you have one mass.

Cover the dough in cling wrap and chill in the fridge for 1 – 2 hours.

Remove from the fridge and let the dough sit for approx. 20 minutes.

Roll out the dough to your desired size and shape. If the dough cracks, it is too cold and must sit a while longer.
Now that you have the Gluten-Free Puff Pastry recipe, try making this Yorkshire Pudding.