Perfect for your festive or traditional roasts, this Yorkshire Pudding recipe is gluten and wheat-free! And what is even better, is that it only takes 20 minutes to make.
What is a Yorkshire Pudding? 
A Yorkshire Pudding is a British baked pudding made from flour, eggs, and milk or water. It is commonly a popular side dish featuring in traditional Sunday roasts, accompanying roast beef or chicken, roasted potatoes, sausages, and vegetables, and is drizzled in an onion gravy.
Gluten-Free Replacements 
For this Gluten-Free Yorkshire Pudding recipe, wheat flour is replaced with white rice flour and tapioca flour, and Xanthan gum is used as a gluten replacement. Tapioca flour is a powder that is made from the crushed pulp of the South American cassava root shrub. It is a great replacement for cornstarch as it acts as a thickener for food and creates a crispy crust as well as a chewy texture. Xanthan gum is a food additive that is commonly found is gluten-free food, and is used as a thickening and stabilizing agent, as it gives food elasticity and fluffiness that gluten would usually add.
If you are hosting a traditional roast and are set to have gluten-free guests in attendance, do not fret, this Gluten-Free Yorkshire Pudding recipe will be a lifesaver, and it is super tasty too!
Notes:
Can use normal wheat flour and quantities will be the same.
Very important that the oil is hot when you pour the batter into the trays.
It really was super fast and super easy to make!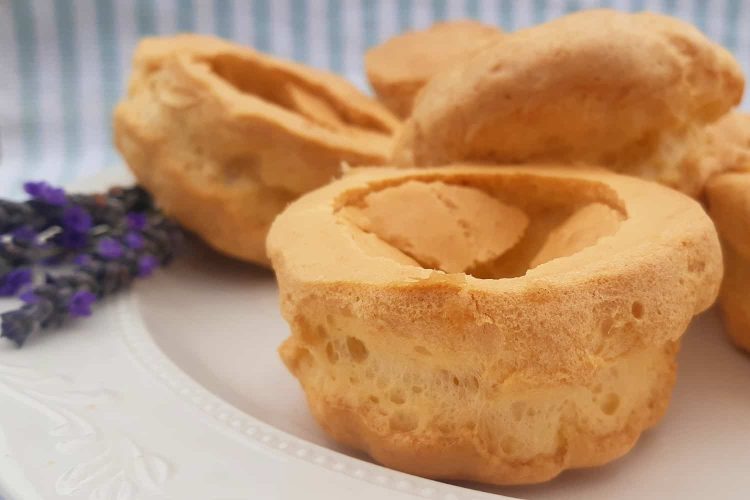 Ingredients
100

g

White Rice Flour

40

g

Tapioca Flour

1

tsp

Xanthan Gum

4

Eggs

Well beaten

Olive Oil

For cooking
Instructions
Line a muffin tray or trays with oil. Enough for 12. And place in the oven to heat up.

Mix together the flours and xanthan gum. Then mix in the beaten eggs until smooth.

Gradually add the milk while mixing and continue to beat until all lumps are gone.

Then remove your now very hot muffin trays coated in very hot oil, from the oven and pour the doughy mixture evenly into each space.

Pop in the oven and bake for 20 minutes, or until golden brown.