A delicious combination of fruity sweet pineapple and creamy grilled chicken awaits you in this scrumptious burger recipe. Quick and easy to make. You could lay out all your ingredients and have everyone join in the fun of building their own personalized burgers!
It Really is That Fast to Make These Chicken Burgers
All you need is 30 minutes to grill your butterflied chicken breast, saucy (and hopefully fresh) pineapple, and crisp your burger buns. Other than that it is just the stress-free task of chopping up your desired fresh ingredients, such as onions, tomatoes, and gherkins. You can even save yourself from some extra labour and allow your diners to each take part in the fun of building their own burgers.
Health Benefits of Chicken
Chicken is amazing meat that offers an assortment of nutritious bonuses. It is full of important nutrients such as zinc and iodine. It's also a great source of protein and iron. Making it a great option for anyone struggling with anemia or any iron-related deficiencies. Chicken is also recommended for women in their menstrual phase to help their bodies top up the iron supply.
To top all of this off it provides tryptophan and vitamin B6. Which helps the body produce more serotonin, also known as the "Happy Hormone".
I love the combination of pineapple and chicken in this burger recipe. And I can't help but wonder how yummy a pineapple version of our Chicken and Chutney Bake would be!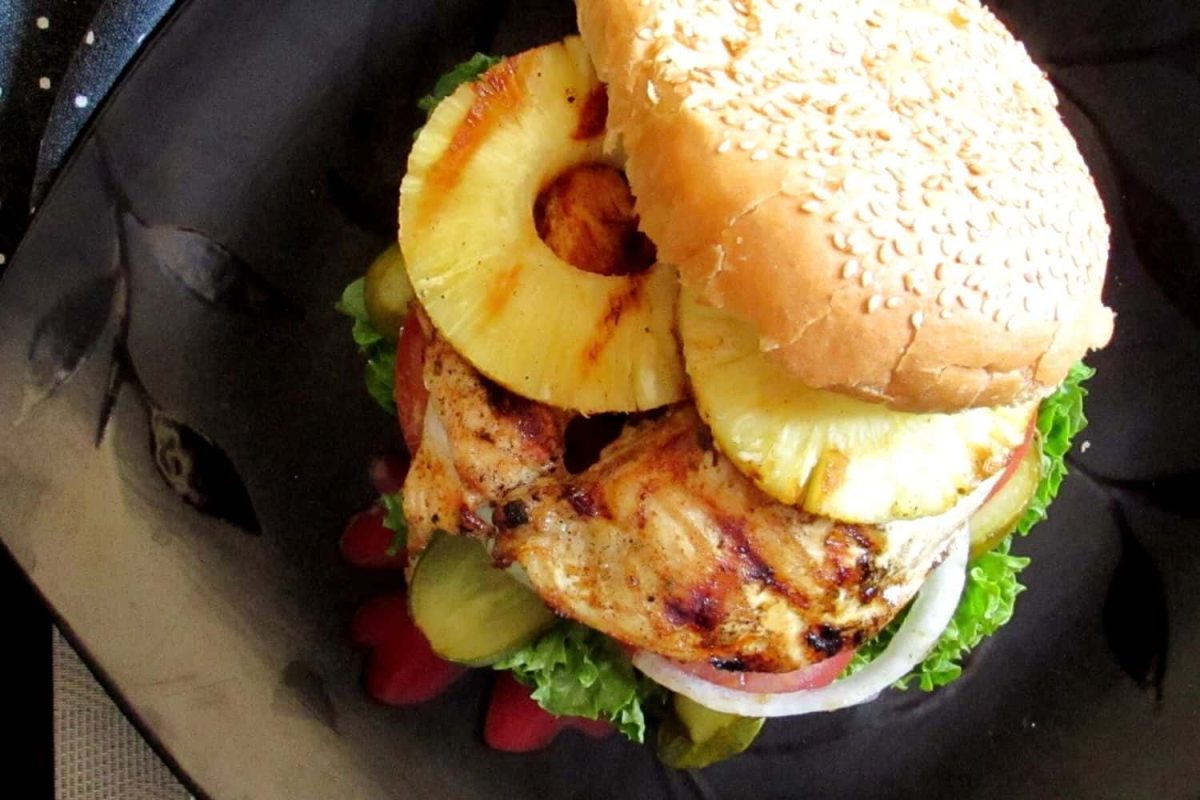 Ingredients
6

Chicken Breasts

Butterflied

6

Jumbo Hamburger Buns

30

ml

Butter

1

Onion

Sliced

2

Tomatoes

Sliced

6

Pineapple Rings

1

Lemon

Lettuce

Gherkins

Burger Relish Sauce

Barbaque Spice

Salt and Pepper
Instructions
Pre heat a grill to medium heat.

Squeeze half the lemon over the chicken. Salt and pepper both sides. Grill the chicken for 7 minutes on one side. Turn the chicken over. Season to taste. Grill the chicken for another 7 minutes. Remove from the heat and squeeze the other half of the lemon over the chicken. Let it rest.

Halve the buns and sear it on the grill. (searing prevents the bun from getting soggy) Grill the pineapple to get even grill marks. Season with BBQ spice.

Build your burger and enjoy!