Homemade boerewors using one of the delicious venison meats that South Africa has to offer. Impala venison is lean, high in protein and its similarity to beef in texture makes it a great option for venison boerewors. You simply can't go wrong with it.
For the Fun
This recipe may seem daunting at first but it is a surprisingly fun (and simple) activity that is even more enjoyable with two sets of hands. Make a fun afternoon of it, maybe at the end you can start a fire and sneak in a braai. Making venison boerewors from scratch is not something you are going to do everyday so it's a good idea to make a batch and freeze portions. You will find endless uses for your venison boerewors, you can cook it traditional braai style or add some to the breakfast plate. There are many totally divine recipes out there just waiting to be introduced to your homemade venison boerewors.
What's in Venison Boerewors?
The ingredients are actually quite simple. You have your venison meat which is normally supplemented with a little bit of beef and some extra pork fat. Then there is a little bit of water and some spices, the most important ones being the coriander and the cloves (especially for traditional South African boerewors). The final ingredient is the pork casing. You will also need a mincing machine of some sort.
Venison is a healthy meat and boerewors is a great way to eat it. There is also something amazing about making your own food from scratch, especially something like sausage. Not only do you know exactly what is in it, but it somehow also tastes and feels better.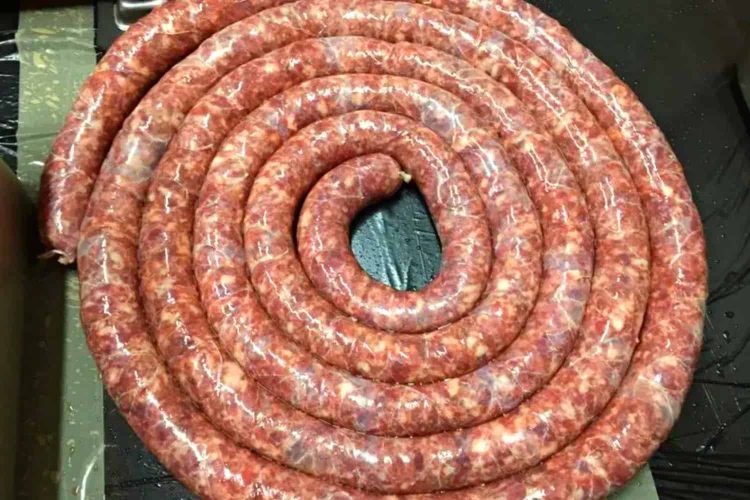 Ingredients
2.5

kg

Impala Venison

meat cubes

500

g

Beef Topside

meat cubes

1

kg

Pork Fat

cubed

4

tsp

Black Pepper

ground

2

tsp

Cloves

ground

4

tsp

Nutmeg

ground

4

tbsp

Salt

4

tbsp

Coriander

ground

0.5

cup

Worcestershire Sauce

1

cup

Water

very cold

Pork Casings
Instructions
For the Spices
Mix all the cubed meat and fat together.

In a separate bowl add the spices and Worcestershire sauce.

Mince the meat through a mincing machine or hand mincer, make sure you are not using too small a hole. The meat still needs some texture, so don't grind it too finely.

When this is done, add 1 cup of cold water and mix well. This helps to ensure that the meat flows easily into the casing when making the boerewors.
For the Boerewors
Drain the casing after rinsing well on the insides under a running tap. Place the casing over one end of the filling horn on the mincing machine. Carefully push all of the casings on leaving about 7-8cm over to hang down. Tie a knot in this hanging piece so that the meat will not fall out.

You then feed the wors mixture into the casing horn while your assistant holds the casings, guiding the filling along the tube.

Feed the mixture into the mincer a little at a time, (depending on what you are using). At the same time, secure the casing with a gentle pressure of one hand on the horn to control the unrolling of the casing as its filled.

Mold the mince with your hand to make it uniformly thick.

Don't pack the casing too full, or the boerewors will burst while cooking but try to avoid air bubbles. If there are air bubbles, pop them open and continue.

After the casing has been filled, remove it – still attached to the horn – from the mincing machine.

Push any remaining filling into the casing and tie a knot in the end. You can also just turn it tightly. It is now ready to be cooked.