Biltong is amazing stuff, eaten as a snack or used as an ingredient, it is a delicious and healthy addition to any diet.
What is Beef Biltong?
Unique to South Africa this traditional dried and cured meat can be made in many different ways and using a wide variety of meats. The most popular is beef, with game meats such as Kudu being a close runner-up, and best made with cuts such as fillet, sirloin, or steaks cut from the hip (such as the silverside recommended in this recipe).
Health Benefits
Healthy snacks are a hard thing to come by. These days it's all about how quick and easy it is to get and to consume, making it very difficult to stay true to your body while keeping up with modern life. Biltong is a great source of protein, rich in Iron, full of essential vitamins and minerals and super low in carbs. It is also as easy to transport and eat as a packet of crisps. With a little bit of preparation you can easily avoid reverting to those brightly coloured packets of shop-bought snacks and give your body what it is really asking for.
This method is a great base recipe to work off. You can decide if you want to serve your cured meat as carpaccio or as traditional beef biltong, and once you have a feel for it you can play around with a variety of spice combinations and use different meats and cuts to find the perfect flavour for your pallet.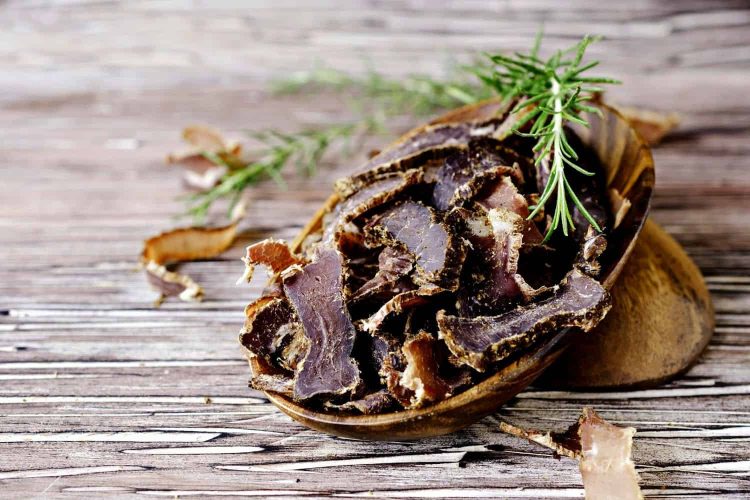 Ingredients
3

kg

Beef

Silverside

1

cup

Coarse salt and Black Pepper Mix

Ground up

1

cup

Coriander Seeds

9

Whole Cloves

10

Whole All-Spice Seeds

Balsamic Vinegar
For Carpaccio
Olive Oil

Black Pepper

Capers

optional
Instructions
Dry your meat with a paper towel to remove the moisture.

Slice the meat into suitable strips.

On medium setting, heat a frying pan and add the coriander seeds. Stir until you can smell the coriander aroma – do not toast the seeds. Remove from heat.

Add the coriander seeds, allspice and cloves to a mortar and grind into small pieces. Make sure it's not too fine.

Rub the meat on both sides with the balsamic vinegar, then the ground salt and pepper and sprinkle the spices on both sides. Wrap each slice of meat in cling wrap and let it stand overnight in a cool place.

The next day remove the cling wrap, shake off a little of the extra salt and spices.

Hang each slice of meat on a hook in a dry and airy place.
For Traditional Biltong
Hang the meat to dry as you like it. For the first few days you can use a fan on the hanging meat to help the drying process.
For Carpaccio
To make carpaccio, hang the meat for 48 hours, depending on how you want to have it. To serve the carpaccio, slice it thinly, add a little olive oil and capers, ground black pepper and salt. 

Add trimmings of your choice. Allow to rest for 30 minutes before serving.