Melkkos is one of those dishes that, for many, comes with a nostalgic feeling. The sweet cinnamon goodness immediately makes you feel warm from the inside as you think back to your childhood.
Melkkos does not have a definitive origin story, however, it is very similar to a Cape Malays dish named "boeber". And nowadays, there are several varieties of the Melkkos recipe. Some feature Sago and some condensed milk, for example. South African families love to put their own tweak on a recipe that often ends up as a "secret family recipe". And this heritage dish is definitely one of them.
Quick and Easy Melkkos
Not only is this dish a delicious treat, but it's quick and easy to make too! All you need is 5 ingredients:
Milk
Flour
Butter
Salt
Cinnamon sugar
For most recipes, your butter should always be room temperature. For Melkkosm however, it is important that your butter is as cold as possible. This will ensure that the flour and butter create a lighter crumb.
Chef's Tip
If you want the texture and consistency of the melkkos to be a little bit less thick, add less flour. Instead of 350g, only add 300g.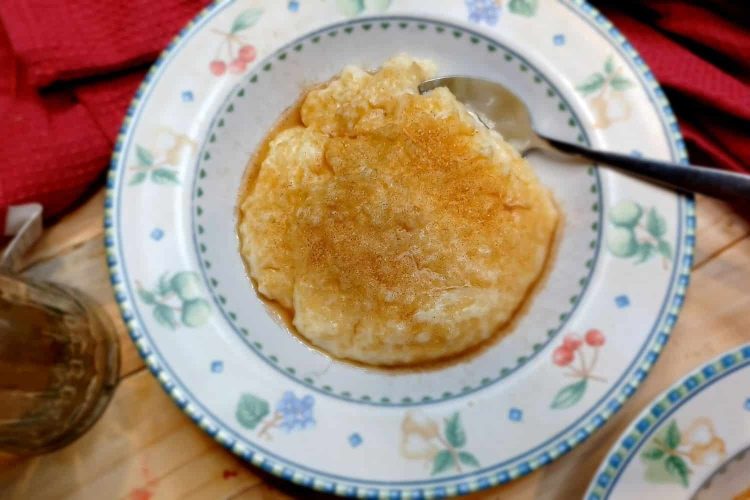 Ingredients
2

l

milk

350

g

flour

(This recipe is very thick, if you prefer it not so thick just use 300g flour.)

4

tbsp

cold butter

¼

tsp

salt
Instructions
Add the chilled butter to the bowl. The butter should be very cold for a lighter crumb. Use your fingertips to quickly and lightly rub the flour and butter together until it resembles fine breadcrumbs. Lift your fingers above the bowl while rubbing to help aerate the mixture.

Bring the milk to a boil slowly, when boiling add a small handful at a time of the flour crumbs to the milk, spreading evenly while whisking continuously.

Let it simmer for at least 5 minutes.  

*Serve with cinnamon and sugar