If you love a braai as much as I do then I'm sure you are wondering what more can be taken out of the kitchen and added to the braai masters plate. This sweet apple braai pie dessert is super easy to prepare and super fast to cook, making it perfect for the after meat coals.
To start, the apple center needs a little bit of a microwave with a bit of lemon juice and some water. Other than that the recipe is as simple as jazzing up your buttered apple slices with some optional extras like raisins and cinnamon (and of course it's not really South African until you have added a little brandy), separating the mix into your foil dishes, sprinkling your marshmallow topping and popping it all on the fire.
The Apple Braai Pie is an easy-to-make and delicious dessert perfect for any occasion, even with no fire or party. If you have a sudden craving in the evening for a sweet warm treat you can pop a mix in the oven and be satisfied within the hour! The ingredients are such that most would have them on hand in the kitchen and they are relatively exchangeable (I bet that this is as amazing with pear slices). So if you unexpectedly need to whip together an amazing dessert the Apple Braai Pie is the perfect dish. Just remember to keep your portions in individual foil dishes to ensure that they get heat all the way to the middle.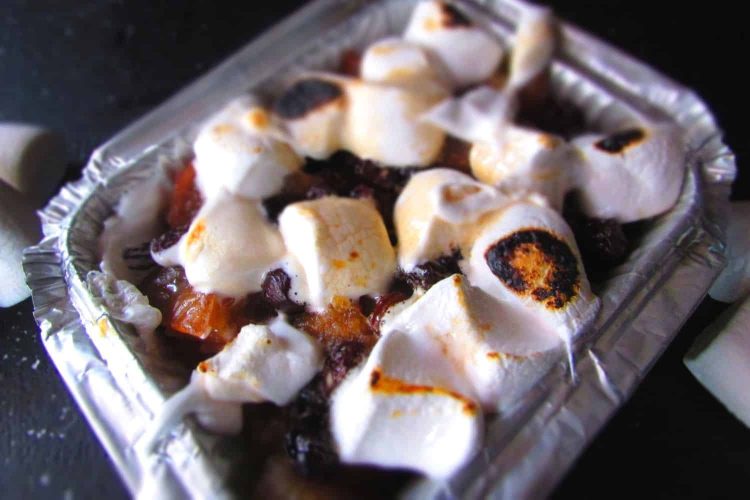 Ingredients
250

ml

foil tray dishes x6

5

apples

sliced

2

tbsp

butter

1

tsp

lemon juice

1

tsp

brandy

(optional)

1

cup

raisins

(optional)

2

tbsp

brown sugar

1

bag

mini marshmallows

200

ml

water
Instructions
In a bowl, add the water, lemon juice and apples. Place in the microwave for 10 minutes on high. Drain the water

Mix the butter, brandy, cinnamon, raisins and sugar with the apples. Divide evenly in the foil dishes. Sprinkle marshmallows over the top.

Place on a grill on an open fire for 15 minutes.
Enjoy more of our tasty dishes by visiting our recipes here!