A quick and easy way to reap the full rewards from a roast chicken dish. This one offers a delicious display of flavours introduced by the combination of vegetables and their herb seasoning. All perfectly brought together with a melted feta cheese topping.
Easy Roast Chicken
The first thing one tends to think when hearing the word "roast" is work, but this recipe offers a method that will have you serving your hungry diners in just over an hour. Having used little energy and only a few dishes!
Once you have spent your 10 – 15 minutes washing and chopping the veg, you toss it all in a big bowl and mix it together with some spices and a coating of oil. Then you layer the coated veg in your baking dish. Now it's the chickens' turn to get turned in the same bowl with a bit more oil and seasoning before it gets layered on top of your vegetables. Now, cover and bake for a bit. Taking the cover off just before the end and crumbling the feta cheese over the top of your aromatic roast chicken..
Some Health Perks of Chicken
My first favourite bonus to chicken is that it supplies your body with the right amino acids and vitamins to produce serotonin (or the happy hormone). So if you are feeling a bit down, have some chicken! Adapting our diets to suit the moods of our bodies is the best way to reach a natural healthy state. Chicken is also rich in other nutrients like iodine, iron and zinc, and is a great source of muscle-building protein.
You won't regret giving this quick and easy roast chicken dish a try and you have nothing to lose! And when you feel like a bit of change, you can have a look at some of our other amazing chicken recipes, like our Buttermilk and Yogurt Chicken Bake.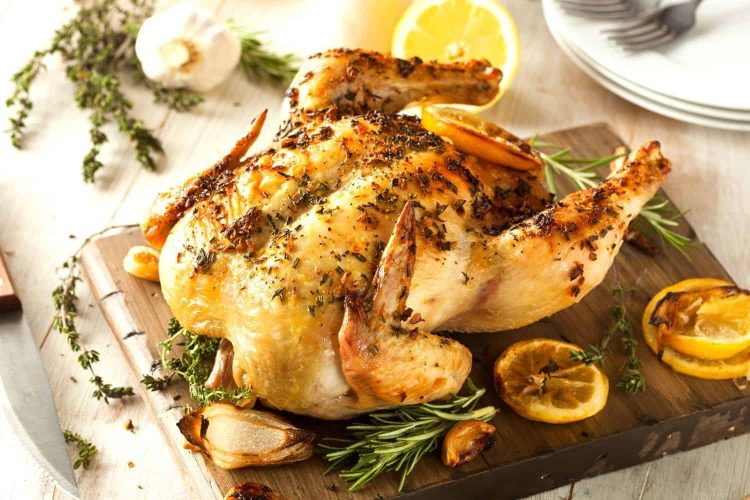 Ingredients
6

Chicken Thigh

Skin on

225

g

Fresh Beetroot

300

g

Baby Potatoes

Washed

225

g

Sweet potato

225

g

Butternut

6

Pickling Onions

2

squares

Feta Cheese

1 ½

tsp

Salt

½

tsp

Mixed Peppercorns

Ground

1 ½

tsp

Dried Mixed Herbs

1 ½

tsp

Chicken Spice

2

tbsp

Cooking Oil
Instructions
Peel the beetroot, sweet potato and butternut and cut into cubes of about 1.5cm.

Peel onions and cut in half. Wash and dry the potatoes.

Add all vegetables, 1 tbsp oil and 1 tsp from each of the four herbs and spices to a large bowl and mix well using a large spoon or a tossing motion. Make sure to coat all the veg in oil and to evenly distribute the seasoning.

Empty the contents of the bowl into a large, high-sided baking/casserole dish.

Place the chicken piecesd into the same bowl, followed by 1 tbsp oil and the remaining half a teaspoon of four herbs and spices. Toss the chicken until evenly coated in oil and seasoning.

Place the chicken on top of the veg and cook in the preheated oven for 45 minutes. 

Break the feta into cubes roughly the same size as the pieces of veg and set aside while you clean up. 

After 45 minutes, turn up the oven temperature to 200°C and place the feta on top of the veg, spacing evenly. Leave it in the oven for at least 10 more minutes to allow the feta to become soft, longer if you prefer the veg to be slightly browner and have a bit more of a crunch.

Remove from the oven and place the chicken onto serving plates.

Mix the vegetables in the dish to coat in the cooking juices and serve.