These sweetly salted crumbling chocolate brownies are paleo friendly, making them free from gluten, dairy, processed sugars and any other less than ideal additives! Yet they are still easy and fast to make. They literally tick all the boxes, so there is no need to resort to shop-bought goodies that could ultimately harm your body. And I promise, they will more than satisfy your cravings.
Bursting with Benefits
As I chewed the first mouthwatering bite of my very first batch of these divine salted brownies, I simply couldn't believe that they were a paleo recipe, even though I had made them myself. Many know that sometimes the "healthy" recipes just don't scratch that itch for some activated gluten coated in sugar. But this one really does. It uses only almond flour and cocoa as the dry ingredients and almond milk and butter with some olive oil and eggs with a bit of honey for the wet ingredients. Of course, I always recommend using organic ingredients that are processed as little as possible.
To further sweeten the deal, it took me just under 30 minutes to whip a batch together! And with a simple method and no complicated instruments required, it proved to be a totally stress-free experience.
Sugar-free and Vegan Options
The second time around that I made these delicious salted brownies, I decided to try a sugar-free option. I love stevia and so went with 1/2 teaspoon of stevia powder instead of the honey. Although I alwasy remind everyone that the sweetness of stevia tends to vary depending on the brand. The one I use works out to about 1/4 teaspoon being the equivalent of 1 1/2 teaspoons of sugar. So you can adjust according to your own brand. The final product was just as delicious!
Now for a bit of extra honesty, with my sugar-free batch, I managed to completely forget to add the eggs! However, it was far from a distaster. The end result was just a little bit harder and more crumbly, but I found there was no compromise on the flavour. So if you prefer a vegan treat, Id definitely still recommend this recipe with a sugar alternative such as stevia and simply leaving out the eggs.
For an Extra Treat
If you want to make a special dessert dish out of it, I recommend adding either some homemade sugar-free ice-cream. Or even just smoothering it in this nutritious dairy-free, sugar-free custard.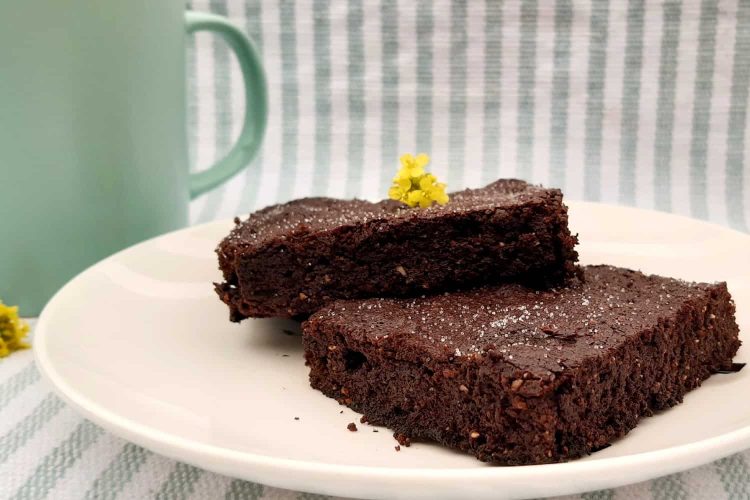 Ingredients
3/4

cup

Cocoa Powder

1/2

cup

Almond Flour

1/2

tsp

Sea Salt

1/2

cup

Almond Butter

1/2

cup

Honey (or 1/2 tsp Stevia Powder)

1/4

cup

Extra Virgin Olive oil

2

Eggs

1

tsp

Vanilla Extract

Sea Salt

For sprinkling
Instructions
Sift together the cocoa, almond flour and salt.

Beat together butter, oil, eggs, vanilla and honey.

Fold the dry ingredients in with the wet ingredients.

Pour into a wide baking dish (roughly 20cm x 20cm). And bake for 20 minutes or until a knife comes out clean from the centre of the brownie mix.

Sprinkle with salt and then allow to cool before cutting and serving.