This simple recipe is a traditional favourite in South Africa. Spices intertwine with the sweet fruity flavours, creating the unforgettable aroma that makes bobotie the popular choice, time and time again.
What is Bobotie?
A traditional South African dish using beef mince mixed with milk-soaked bread and apricot jam, then covered with a fluffy egg layer and oven baked. The sweet juicy meat is brought to life with spices and, once baked, makes an excellent focus for the main course. Sweet potato and yellow rice are traditional favourites to add to the plate. But even a simple salad would go well alongside this tempting mince bake.
There are a few variations to your traditional recipe, for example, many people add raisins to the mince. And if you want to play around, the sweet and spicy mince filling makes a perfect base for many recipes. Bobotie pies have become a famous favourite and, if you haven't tried them yet, these Bobotie Balls are delicious.
Quick and Easy
The mouth-watering flavour experience that comes from this simple and quick bobotie recipe is almost too good to be true. In just over half an hour you can make a meal that will have your diners relishing a taste sensation. All it takes is a bit of chopping, some bread soaking, a little frying for browning the meat and onions, then the baking, and voila!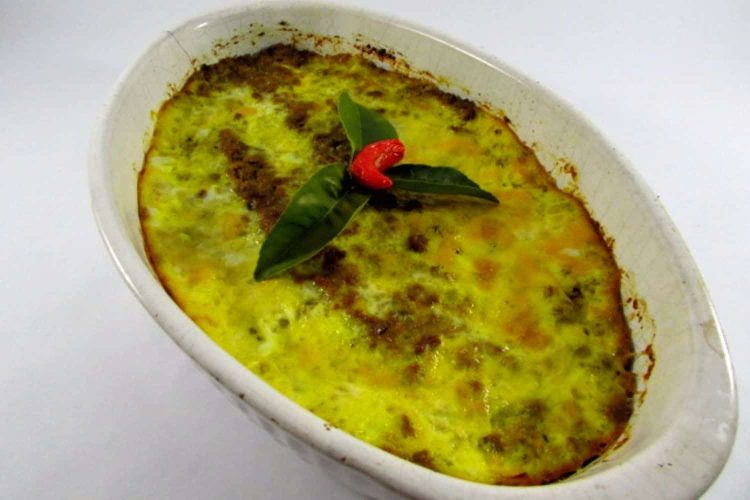 Ingredients
2

Onions

Diced

25

ml

Butter

250

ml

Milk

1

kg

Lean Beef Mince

10

ml

Salt

1

ml

Pepper

20

ml

Curry Powder

10

ml

Sugar

12.5

ml

White Vinegar

12.5

ml

Apricot Jam

3

Eggs

1

tsp

Turmeric

3

tbsp

Chutney

2

slices

White Bread
Instructions
Soak the bread in the milk. Squeeze out the milk and put aside.

In a frying pan melt the butter and fry the onions. Add the mince and brown the meat. Season with salt and pepper.

Mix the rest of the ingredients together, except one egg.

Add the wet bread and the apricot mixture to the mince.

Pour the mixture into a greased oven dish.

Mix the egg with the milk. Pour over the bobotie.

Bake for 1 hour at 150°C.