An easy and quick method of making simple but soft and fluffy flapjacks. This is a recipe that you will want to keep coming back to.
Quick and effortless to make, these are the perfect addition to your list of easy but rewarding recipes. Great served with crispy bacon and drizzled honey for breakfast, or even with curried mince and something creamy for a decadent dinner.
Quick to Make Flapjacks
Whip together these deliciously comforting flapjacks in just over half an hour. Using little energy, little dishes and little time to make lots of yummy! First mix your eggs and sugar together, then drizzle in the melted butter followed by the milk and dry ingredients. As soon as you are satisfied with your flapjack dough (be careful not to overmix), you can pour dollops into a hot pan and fry away!
Variety
Flapjacks are an absolute pleasure to eat and can be enjoyed alongside or topped with practically anything. You could go for the famous crepe flavours of cinnamon, syrup and lemon. Or protein it up with some meats like bacon or even a tuna mayo mix. And if it's one of those days, you could totally indulge yourself with a hot Nutella smeared flapjack. Your options are endless.
Gives these easy-to-make flapjacks the chance to warm your heart. And then, when you feel like a little variety, try our Milk Tart Pancakes.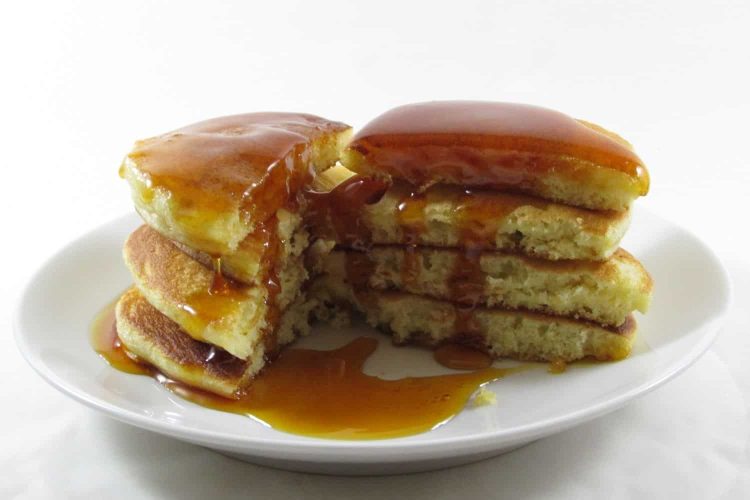 Ingredients
3

Eggs

125

ml

Sugar

250

ml

Milk

2

tbsp

Butter

Melted

2

cups

Flour

4

tsp

Baking Powder

1/2

tsp

Salt

50

ml

Cooking Oil
Instructions
Beat the eggs and sugar. Drizzle the melted butter into the mixture. Mix the dry ingredients gradually with the milk. Do not over mix.

Heat a frying pan on medium-low heat, to prevent flapjacks from getting overly brown. Add a tablespoon of oil.

Pour heaped spoonfuls of the dough in the hot pan. Not more than 4 at a time. When the flapjack forms a bubble and pops, turn them over.

Served the flapjacks with butter, syrup, honey, bacon, berries or cheese.