Milk tart is the soft-spoken, yet unforgettable tart of the dessert world. It is one of South Africa's most prized recipes. With this super-fast super easy fridge method, you will be able to make it effortlessly.
Simple Deliciousness
Milk tart is a smooth and creamy, custard-filled, sweet pie that is very simple to make and very easy to eat. Its modest ingredients and easy-as-pie method also make it popular amongst those that need to do the cooking. A fridge Milk tart still has the expected custard type ingredients like eggs, milk, flour and sugar but with slightly different ratios that giving it a unique texture and density. Simplicity plays a great role in making melktert stand out above the rest.
A Recipe Keepsake
This easy and quick to make fridge milk tart recipe is one that you will want to write down in your book of recipes-never-to-be-forgotten. Easy to make with affordable ingredients producing a subtly delicious flavour that simply does not get boring. And diverse! You can also choose to make a fridge milk tart without the crust. Producing a smooth creamy dessert that can be used as is or as a surprise filling for many things, like our Milk Tart Pancakes. Come to think of it, I wonder what a milk tart filled vetkoek would taste like…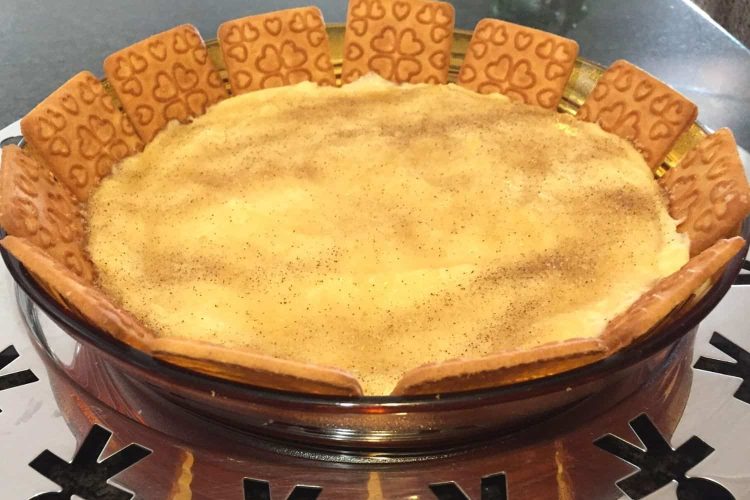 Ingredients
For the Filling
1

cup

Milk

3

tbsp

Butter

4

Eggs

1

cup

Sugar

3

tbsp

Corn Flour

3

tbsp

Cake Flour

½

tbsp

Custard Powder

¼

tsp

Salt

1

tsp

Vanilla Essence

1

packet

Biscuits

Cinnamon Sugar

to taste
For the Crust (optional)
1

cup

Butter

1

tsp

Cinnamon

1

packet

Tennis Biscuits

crushed
Instructions
For the Crust (optional)
Melt 1 cup butter and 1 teaspoon of cinnamon then mix it with the packet of crushed Tennis biscuits.

Press it into a greased pie dish at the bottom and on to the sides then refrigerate for a few hours before you make your Milk Tart mix.
For the Filling
Prepare your dish for the milk tart by arranging the biscuits at the bottom and on the sides of the dish.

Beat the eggs and sugar until fluffy and light.

Make a mixture in a cup with the corn flour, flour, custard powder, salt and vanilla with a little of the milk so as to not form lumps.

Pour milk and the butter in saucepan and bring to boil.  Be careful not to burn the milk.

Add the corn flour mixture and lastly the eggs and sugar. 

Place back on extremely low heat and constantly mix with a whisk while you let it simmer for at least 10 minutes until thickened and completely cooked. Be careful to not let it burn. If not thick enough, add a tablespoon of corn flour mixed with a little milk. 

Keep whisking until the sauce is blended and smooth.

Simmer for another three to four minutes, whisking frequently. The mixture should have the consistency of a thick sauce.

Pour in prepared dish. Sprinkle with cinnamon sugar. 

When cool, place in refrigerator for 1 hour or longer.