Ox Livers and Stir Fried Vegetables with Krummelpap
Livers fried until golden brown and combined with bacon in a delicious stock-based sauce. Then complemented with a simple vegetable stir fry, and served over hot putu pap. Creating a combination of very South African friendly flavours.
What is Putu Pap
Putu pap is a traditional porridge made with mealie-meal. It has many African names but is commonly known in South Africa as krummelpap or mielie pap. There are a variety of ways to cook it, each method producing a different texture and use. In this recipe we make a dryer, crumbly version that works perfectly with our rich meaty flavours and creamy textures.
Why You Should Eat Livers
Not many foods earn the title of "Super Food" but liver is one of them. Like with most highly nutritious foods it should not be consumed on a daily basis (about once per week is the maximum recommended). However, when you do eat livers your body will be boosted full of vitamin A, vitamin B, iron and copper. Livers are one of the most nutritionally dense foods on the planet.
Simply Divine
This recipe will produce a simply divine combination of tastes and aromas. The gentle pan-frying of the livers and the bacon cooks the meat without losing too much moisture and flavour. Once you have them simmering in your stock and red wine sauce, their tasty juiciness will work wonders to enhance the flavour. This warm meaty sauce is amazing to use with a variety of foods. In this recipe, we selected a simple assortment of vegetables that can quickly be stir-fried and will add to the flavour of the meat without confusing the pallet. All of this laid over a warm and healthy helping of South African krummelpap leaves you with a delicious, nutritional homemade meal.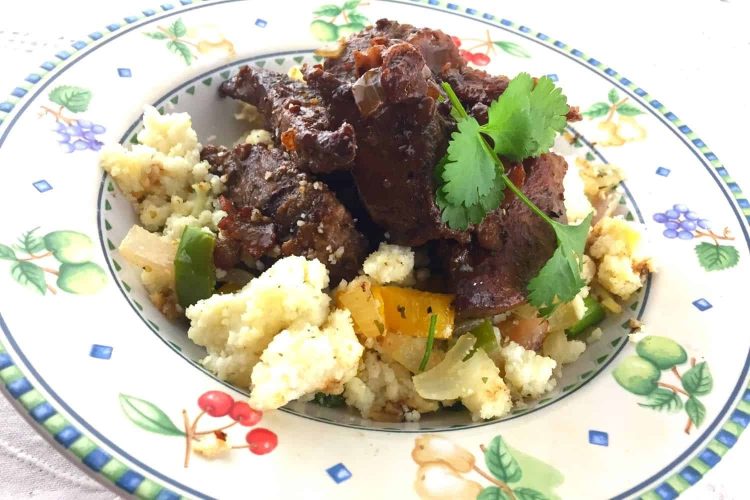 Ingredients
For the Pap
2.5

cups

Water

boiling

1

tsp

Salt

2

cups

Maize Meal

1

knob

Butter
For the Livers
250

g

Ox Liver

thinly sliced and dusted with flour

250

g

Bacon Strips

chopped

1/2

Green Pepper

chopped

1/2

Red or Yellow Pepper

chopped

1

Red Onion

chopped

1

Brown Onion

chopped

1

tbsp

Dried Herbs

of your choice

1

tbsp

Vegetable Stock

mixed into 1 cup of water

Butter

4

tbsp

Olive Oil

Salt

Black Pepper

1/2

glass

Red Wine

optional

5

Spring Onions

chopped

Parsley

chopped
Instructions
For the Pap
Pour boiling water and salt into the saucepan with a thick base and lid. Bring to the boil. 

Add the maize meal to the boiling water and leave it just as it is. Close the lid without stirring.

Reduce heat and simmer gently for 5 minutes.

Remove lid and stir well with a large kitchen fork.

Replace lid, reduce heat even more and steam for about half an hour or until done, but be careful not to burn it.

Fluff with a fork or wooden spoon a few times during cooking. Set aside.
For the Livers
In a large frying pan, add a knob of butter, when melted stir-fry the onions until light golden brown, add the peppers and herbs, sauté the vegetables until cooked but still firm. 

In a separate skillet or frying pan add a knob of butter and a little oil, that will help not to burn. It is important that the oil and butter is heated in the pan before food is placed in the pan.

Fry the bacon pieces until golden brown, remove and set aside in a dish to use later.

Add more butter and oil if needed, add the well-coated liver and fry until crispy and golden brown on both sides. Set aside with the bacon.

To the same frying pan, you add the stock and let it simmer for at least 15 minutes on medium heat.  When the sauce has reduced a little, add the liver, bacon and red wine, let it simmer on reduced heat for another few minutes. 

While this dish is simmering, heat the vegetables in the frying pan again, when heated fold into the Putu pap. Remove the liver from the heat, add the chopped spring onions and parsley just before serving. Season with black pepper.