South African Spinach, Chilli and Rice Stuffed Gem Squash
Enhance your gem squash with a spicy, flavorful and nourishing, melt-in-your-mouth filling. Great as a healthy addition to your main meal or eaten as a meal on its own. The fiery spinach combined with the sweet gem squash flesh produces a flavour sensation that will keep you coming back for more.
Healthy Gem Squash
Gem Squash is a super healthy South African summer squash with vitamin-enriched fibrous flesh. Every mouthful will boost your body with beta-carotene that is great for eye health, immune system boosting and healthy skin. It is also known to be very low in cholesterol and is naturally gluten-free. If you use vegan cheese for the topping, your spicy stuffed squash will also be dairy-free and vegan. And this is all just the gem squash, the spicy part of this meal has a few healthy perks of its own.
A Meal Just For You
Another great advantage is that you can play around with your stuffing. Spinach and cheese are a match made in heaven, but if you prefer something else, for example, cauliflower, go for it! And if you are feeling extra naughty, try just adding butter and something sweet into the centre of your cooked gem squash. It might sound odd at first but if you haven't tried it you absolutely have to. You also don't have to use gem squash, it is a particularly versatile squash but almost any squash that you can get your hands on will work with this spicy spinach and rice stuffing.
All in all this recipe is affordable, versatile and super easy to make. Not to mention the health benefits and of course how simply delicious it is! A great staple to add to the menu.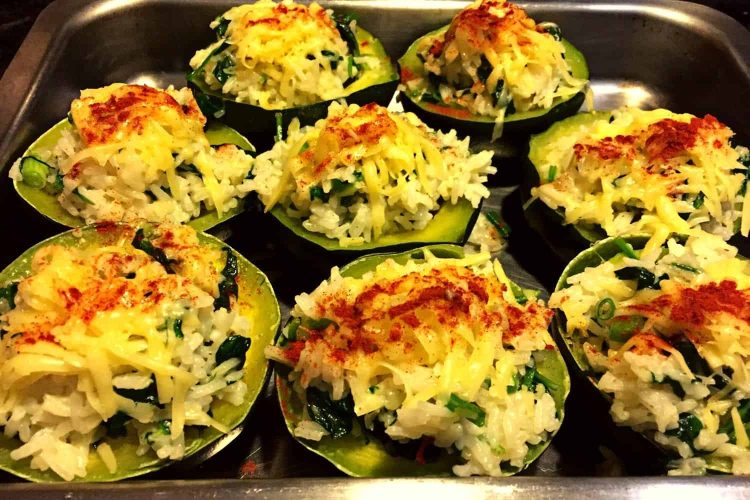 Ingredients
4

Gem Squash

1

cup

Jasmine Rice

3

Grass Onions

chopped

1

Chilli

chopped

200

g

baby Spinach

2

tbsp

Butter

Grated Cheese

just enough for the topping

Paprika

to taste
Instructions
Cook the Jasmin Rice according to instructions on the packet, set aside.

Cut the gem squashes in halves, spoon out the flesh. Place the squashes in a microwave dish and cook for 10 minutes on high, or until the flesh is cooked.

When cooked place squashes in an ovenproof dish.

Melt the butter in a large skillet over medium heat until it stops bubbling. This allows the water from the butter to evaporate. Add the spinach and cook for about 5 minutes while stirring, until the leaves are darker and are about 1/4 of their original size.

Add the cooked rice to the spinach. Add the chopped chillies and grass onions. Mix well with two forks.

Add spoons full of this mixture to the squashes, top them up with grated cheese and sprinkle the paprika on each squash.

Grill in oven for about 5 minutes or until the cheese bubbles.

Serve as it is as a main meal or with any meat and salads.