So much yummy all on one plate! Tender chicken fillets marinated in fresh flavours and stuffed with cream cheese, just to be perfected by a layer of juicy streaky bacon. A delicious protein boost perfect for any time of day and surprisingly simple and easy to make.
The Yumminess of Chicken and Bacon
Chicken is a wonderful food that is light and easy on the tummy, and full of nutrients. It is a great source of Vitamin B6 as well as tryptophan which work together to feed your body serotonin (also known as the "Happy hormone"). Chicken breast is tender meat that cooks easily and takes well to a marinade, such as the spiced garlic marinade recommended in this recipe. To add to its versatility the soft subtle flavours of chicken blend amazingly well with the juicy and salty bacon.
Then there is bacon. Bacon provides a decadent and flavourful experience almost every time. Delicious, comforting, and inspiring, an ingredient that will make you try almost any dish that it is added to. And when chicken and bacon combine they produce a tantalizing taste and texture sensation that won't easily be forgotten.
A Perfect Finish with Cream Cheese
To top it off this divine combination of soft and crispy white meats is beautifully brought together with a smooth cream cheese filling. You could play around here and use a plain cream cheese adding your own fresh favours. I am a garlic nut and find that some extra garlic does well stuffed inside the chicken with its cream cheese.
A Meal for any Time of Day
This chicken bacon dish really is super fast and easy to make. Between this and being a delicious protein boost, I would definitely recommend it for a decadent breakfast option. Otherwise, it is easily whipped together before lunch or dinner. Whether at home alone, with the family or to impress your friends.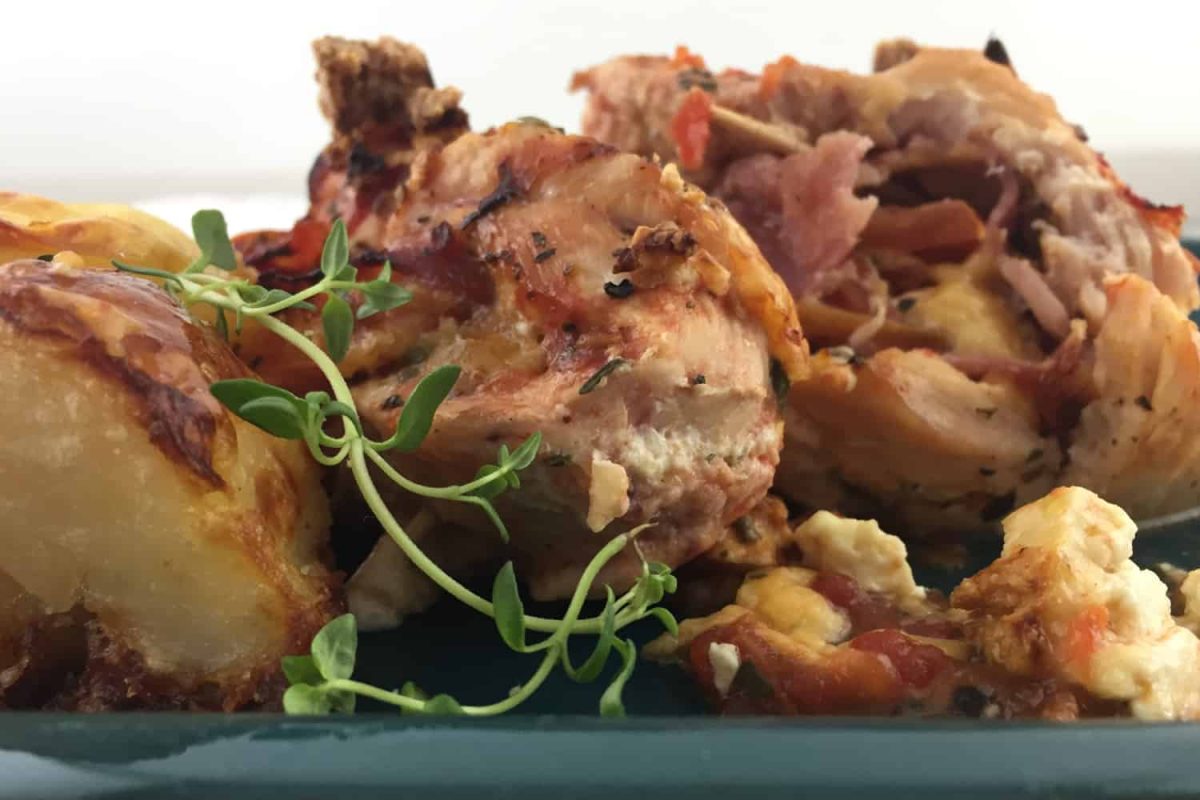 Ingredients
800

g

Chicken Breast

8

tsp

Cream Cheese

Sundried tomato and basil flavoured

2

tbsp

Garlic

Minced

250

ml

Olive Oil

8

strips

Streaky Bacon

2

tbsp

Chicken Spice

Salt and Pepper

To taste
Instructions
Make the marinade by mixing the olive oil and chopped garlic into a bowl. Add the spices of salt, pepper and chicken spice and give it a final stir.

Cut a slit through the middle of each chicken breast. Once cut, place the chicken breasts into the marinade bowl. Make sure all of the chicken is submerged into the marinade and leave for 20 minutes.

Once the chicken breasts are marinated, add two teaspoons of cream cheese into the middle of the chicken breast where the slit was made.

Wrap two pieces of bacon around the chicken breast and place into oven dish for cooking.

Place the prepared chicken breasts into the preheated oven at 180 °C for 25 minutes.

Remove from the oven and enjoy!