Decadent is the first word that comes to mind when savoring the sweet and caramel-like flavours of these healthy toffee apples. Within 30 minutes, you can whip together these amazing desserts, with almost no effort and few ingredients.
Just As Sweet
One thing is for sure, no one could complain that these healthy yet decadent toffee apples are not sweet enough! Personally, I am a total sucker for anything sweet. And can usually finish off any sugary treat within moments if I am not careful. Yet I couldn't make it through an entire one of these flavourful coated apples.
Dates on their own are amazingly sweet and even tend to have an almost granulated, sugar-like texture. So it's actually no surprise that such a syrupy sweet taste can be produced by pureeing them and adding a touch of smooth vanilla flavour with just that hint of salt to liven it all up.
But be warned, although there are no added sugars, dates themselves still contain a lot of fructose. So go easy on them. And if you are sensitive to sugar, you can expect a little sugar rush!
Uses for Your Date Puree
This healthy version of a toffee apple is one of those magic recipes that should be remembered. Because, not only is it super quick and easy to make, you could also use this sweet puree for a variety of dishes. You can coat almost any fruit in the same way the apples have been. Or add a bit more nut milk with some extra heating and pour it over a cake. Or maybe some homemade vanilla ice-cream. In fact, there is no reason why it cant even be incorporated into a curried dish to add that touch of sweetness. Your options are endless.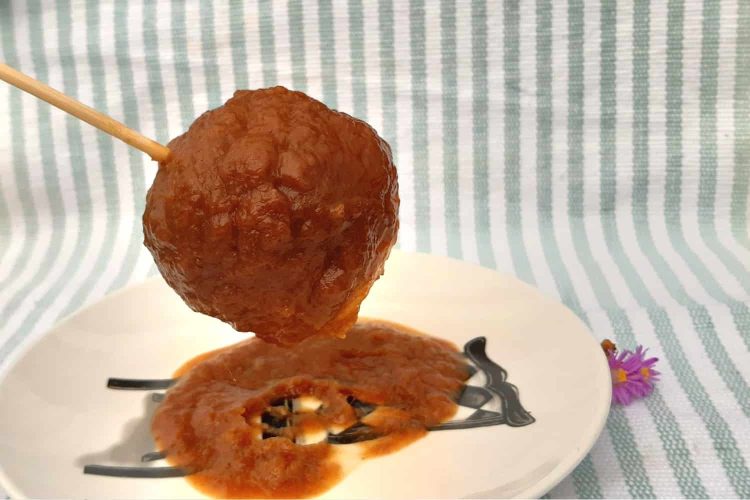 Ingredients
4

Apples

30

Dates (or 150g)

Pitted

1/2

cup

Water

Boiling

1/4

cup

Nut Milk

1/2

tsp

Vanilla Extract

1/2

tsp

Sea Salt
Instructions
Pour the hot water over the dates and allow them to soak for 15 mins.

Blend together the dates and warm water, adding more water if needed to make a puree.

Place your date puree into a saucepan and mix in the almond milk, vanilla extract, and salt, while warming over medium to low heat. Stir often for 8-10 minutes and until thick.

Peel your apples to help ensure that the sweet puree clings to the outside surface.

Then dip each apple, scooping some of the puree over the entire fruit.