Honestly, you will be surprised at how simple it is to make the perfect, moist fruit cake for Christmas. There is no need to leave it up to the grannies and tannies to tackle! But you will need to start early. Because, although the cake is relatively quick and easy to make, a great part of the secret is letting it sit for a few weeks to soak up some of the spicy-sweet liqueur of your choice.
Simple Ingredients with Interchangeable Flavours
The first thing that you will notice with this divine Christmas Fruit Cake Recipe is that the base ingredients are not too dissimilar to what you need for a standard cake. You need your cake flour, sugar, salt, baking powder and baking soda for the dry ingredients. And then the usual eggs, butter, oil and water for the moistening.
Then the real fun comes in, as you make your own perfect combination of flavours using the aromatic extras. Like the cinnamon, nutmeg, other mixed spices and, of course, the sweet addition of cake fruits. Cherries are a classic favourite, that should be found in any traditional Christmas fruit cake. The addition of shredded dates and crushed walnuts just sweetens the entire deal. Literally! And lastly, we simply cannot forget the key ingredient that is the liqueur. Be it some rum, brandy, sherry or cherry liqueur, you simply cannot go wrong.
The Perfect Flavours and Textures
I am someone who is not particularly in love with the individual flavours of dates, cherries or liqueurs such as Brandy. Yet, I cannot express enough what an amazing taste sensation is created from the combination of all of these mixed into a doughy cake batter! This aromatic and irresistible Christmas fruit cake is the perfect example of flavour pairing certain combinations can lead to wonderful things.
The textures simply add to the beautiful sweet and spicy flavour experience. With chopped walnuts and gently cooked fruits adding a soft crunch with each moist mouthful of heaven. To top it all off, every bite will be unique. Some will have a little cherry that bursts with its absorbed liqueur flavours. While others will fill the mouth with soft spongy dark cake infused with zesty essences.
The only thing that could possibly add to the beauty of this cake is maybe a squeeze of custard or dollop of ice cream.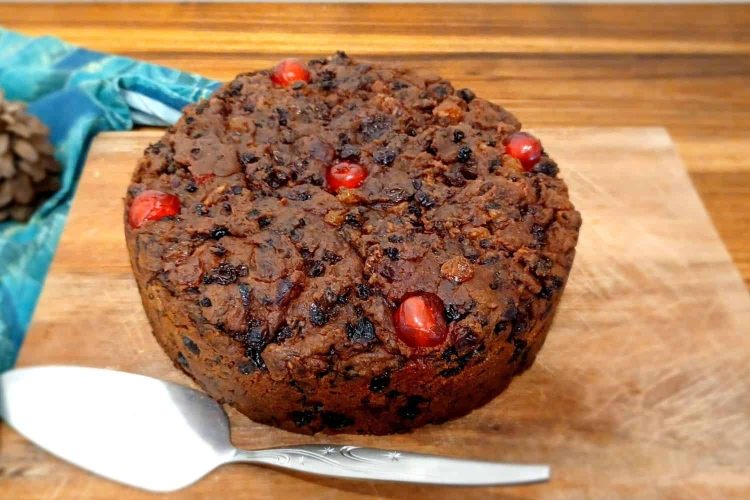 Ingredients
700

ml

Mixed cake fruit

125

g

Glazed cherries (you can use cherries that have been soaked in cherry liqueur or in bandy or sherry)

125

g

Dates

Shredded

50

g

Walnuts OR 1 kg fruitcake mixture with added cherries, dates, and walnuts

250

ml

Sugar

5

ml

Baking soda

125

ml

Butter

300

ml

Water

125

ml

Cooking oil

5

ml

Mixed spices

10

ml

Cinnamon

3

ml

Nutmeg

500

ml

Cake flour

Sifted

5

ml

Salt

7.5

ml

Baking powder

2

Eggs

Well beaten

5

ml

Rum flavouring or caramel or 20 ml Rum

For the essence
Instructions
The batter is for a 1 x 22 cm pan.

Note:  It is essential that the pan is lined thoroughly with paper, to ensure the fruit will not burn. You can also make the recipe 1 1/2 times and bake 3 x 18 cm cakes.

Boil the fruits, cherries, dates, sugar, baking soda, butter, oil, and water for 25 minutes over slow heat. Stir constantly to prevent it from burning. Remove from the heat and allow to cool for a while.

Preheat Oven to 160ºC / 320 º F ( Fan ovens 10 degrees less)

Add the seasoning and essence to the beaten eggs. Set aside.

Sift all the dry ingredients together.

Add the dry ingredients to the fruit and mix, add the egg mixture slowly and mix thoroughly.

Spoon the cake mixture into a greased cake tin lined with 3 layers of very well greased brown paper or baking paper and make a lid with a  layer of foil to press over the top of the cake tin.

Bake the cake for 1½ – 2 hours in a moderate oven at 160ºC / 320 º F ( Fan ovens 10 degrees less) or until the test pin comes out clean, the time will depend on the size of the cake.

Remove the cake carefully and place it on the rack.  Pour a tot or two of brandy,  sherry, or cherry liqueur over and let stand until completely cooled.  You can set the liquor alight when poured over to evaporate the bitterness of the alcohol. 

Cover with foil, add a little brandy, sherry, or cherry liquor every week for the next 4 weeks and turn the cake over so that the top is down again, this helps the moisture to spread nicely.