A simple yet tasty Summer salad for the lovers of basil pesto! This Pesto Pasta Salad bursts with color and flavor, and is a delightfully light and fresh meal to enjoy in the hotter months.
Pasta for Pesto
It is agreed that the best pasta for pesto salad is a spiral pasta such as a fusilli. This type of pasta adds a lovely thick texture to the salad and the shape holds the basil pesto sauce perfectly. The main point of using a spiral pasta is the shape, so you can choose whatever variation you would like, be it chickpea spiral pasta, or even gluten-free spiral pasta.
Make it Your Own!
This recipe uses simple ingredients, but feel free to put your personal spin on it and add in whatever ingredients you would like. We would suggest some roasted cherry tomatoes, chickpeas, mushrooms, peas, rocket or spinach, and pine nuts for some crunch. You can even go the extra mile and make your own basil pesto from scratch by blending basil leaves, olive oil, parmesan cheese, garlic, and spices in a blender.
Serve this refreshing salad for friends and family as a main meal or as a side dish for a braai, you won't regret it!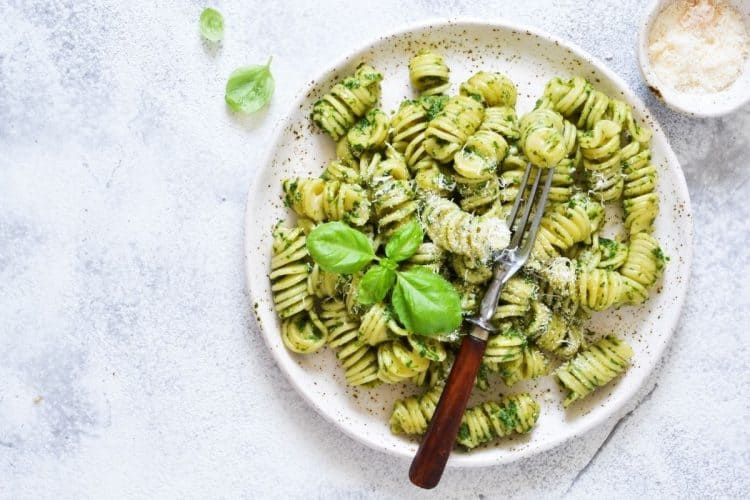 Ingredients
3

Peppers

(Red, Yellow & Green)

1

bunch

Spring Onions

1

large

Onion

200

g

Black Olives

(pitted and halved)

150

g

Feta Cheese

(crumbed) – (two rounds of Feta Cheese)

½

cup

Basil Pesto

1

packet

Spiral Pasta

Olive Oil
Instructions
Cook pasta according to instructions on the package. Make sure the water is salted.

Remove pasta from heat and strain when pasta is cooked, but still firm (al dente).

Slice peppers, onion and spring onions in long thin strips, add olives.

Add to oven dish and drizzle Olive Oil over it with 2 table spoons of basil pesto.

Place little water (+/- 1/3 cup) in dish to prevent vegetables from drying out.

Place dish in oven and grill for 20 min.

Stir in between to make sure all peppers are evenly grilled.

Add all the ingredients in a salad bowl except the feta cheese, mix in the rest of the basil pesto then lastly add in the feta cheese.

When cooled cover and place in fridge.