A triangle fridge cheesecake, also known as a "driehoekie koekie" for many South Africans, is an innovative version of a regular cheesecake. 
Cherry surprise
An extra layer of flavour seeps through the cheesecake by the added cherries. When layering the cream cheese mixture on top of the biscuits, make sure to place the cherries on the middle row of the mixture. When cutting the triangle shape open, you will be met with a lovely cherry in the middle of your shape.
Chocolate covered triangle fridge cheescake
The pièce de résistance of this triangle fridge cheesecake is the layer of melted chocolate covering the dessert. After the dessert has been set in the fridge for at least three hours, start melting your chocolate slab. Remove the cheesecake from the foil and pour the hot, melted chocolate all over the dessert. The chocolate should almost instantly harden as it reacts with the cold cheesecake. And now you are left with a smooth, chocolate triangle cheesecake.
Look at this cheesecake recipe as a blank canvas. Play around with the garnishing of this recipe and feel free to top it off with some nuts or perhaps some extra fruit.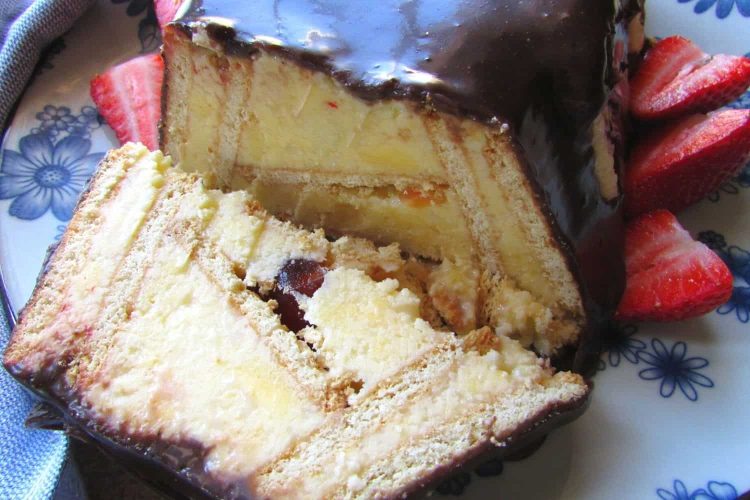 Ingredients
250

g

cream cheese

1

cup

butter

1

cup

sugar

cherries

250

g

melted chocolate

2

packs

Tennis Biscuits
Instructions
On a large piece of tinfoil, pack the biscuits in 7 rows of 3 biscuits each.

Mix the butter, sugar, and cream cheese together until smooth.

Spread a layer of mixture over the biscuits. Repeat.

Place the cherries on the middle row of the mixture.

With the foil, fold the outside layer of the biscuits toward each other, forming a triangle.

Seal the triangle with the foil and place in the fridge for 3 hours.

Pour the chocolate over the triangle before cutting.
RELATED: Peppermint Crisp Tart