A classic South African dish with a twist, this Venison Bobotie is a flavorful dish that will be thoroughly enjoyed by those daring enough to try it! The venison can be replaced by another meat, but the tougher cuts of the venison are extremely flavorful.
A South African Classic
Bobotie is a traditional South African dish consisting of a minced meat filling and topped with an egg custard. This particular one, a Venison Bobotie is made with game meat from either elk or deer, which boasts a deep and rich flavor. If you are a fan of game meat, this will be a treat, but if not, opt for beef or pork mince, or create a vegetarian version with chickpeas or lentils and vegetables instead. Either way there is no doubt that your dish will be a success!
A Venison Bobotie that is Packed with Flavor
With so many different and exciting flavors, this Venison Bobotie is sweet, spicy, and savory. The bobotie is spiced with curry powder and turmeric, and sweetened with apricot jam and raisins. This dish also consists of chopped and roasted almonds for some nuttiness and added texture. This Venison Bobotie is truly not missing anything.
This recipe serves 8-10 people, so it is perfect for the whole family to enjoy, and will leave you with some leftovers too! Serve it on its own or with yellow rice or sambals and enjoy a taste of South Africa.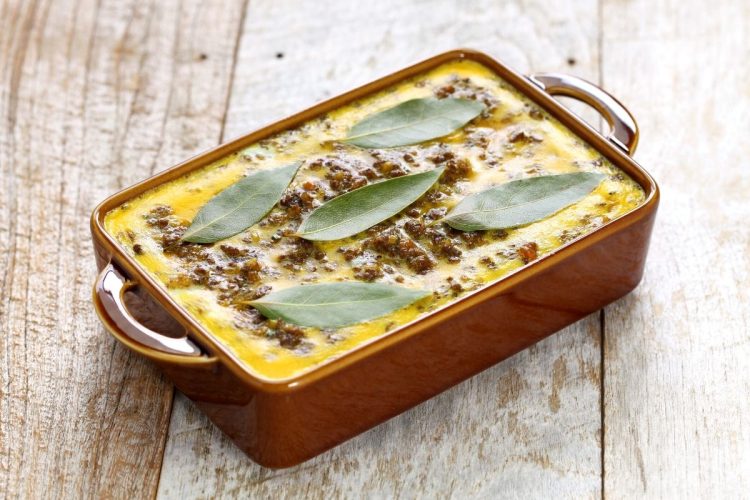 Ingredients
3

slices

bread, crusts cut off

125

ml

cream

45

ml

butter

1

kg

pork mince

2

large

onions, finely chopped

2

large

carrots, grated

mild curry powder

20

ml

turmeric

30

ml

apricot jam

60

ml

whole almonds, roasted and chopped

30

ml

seedless raisins

30

ml

fresh lemon juice Salt and freshly ground black pepper

125

ml

cream

125

ml

butter-milk

4

larg

eggs beaten

4

large

lemons or bay leaves
Instructions
Pre-heat the oven to 180° C.

Soak the bread in the cream.

Heat half the oil and butter and fry the mince until crumbly and dry. Remove.

Sauté the onions in the rest of the oil and butter until soft.

Add the carrots, curry powered and turmeric and stir for about 1 minute.

Add the onion mix to the fried meat and add the apricot jam, almonds, raisins, lemon juice and salt and black pepper. Stir thoroughly.

Add bread and the soaking liquid. Spoon the meat into a greased oven dish.

Beat the cream, buttermilk and eggs the pour over the meat.

Bake for five minutes until golden brown and set on top.
Notes
Bobotie goes well with yellow rice and sambals. You can also use lamb and for vegetarian option use pre-prepared lentils.