Take a trip to a South African farmhouse kitchen, and find this delectable Traditional South African Farmhouse Breakfast. This meal is made up of only the best breakfast foods- it is truly all the savoury food that you could ever ask for for breakfast! And with so many options, there will be something for everyone to enjoy!
This farmhouse breakfast consists of lamb chops, steak, bacon, boerewors (or beef/pork sausages for the non-South Africans), cheese grillers, eggs, baked beans, mushrooms, sliced tomatoes, and toast with cheese and jam. Although this breakfast is a bit of a no-go for the vegetarians and vegans, you can always offer soya or plant based sausages, as well as plant-based patties, and add some more variety to your options of beans.
This meal is a huge one, and might feel like a marathon to prepare, but what is great about it is that, since it is a large one serving 6, this meal is perfect for families and friends. So, why not include all of your people in the cooking experience and spread the work out evenly! This will make the cooking a tad bit easier and also far more enjoyable! There are a lot of steps to this meal, however it takes under an hour to prepare, and the steps are not complicated at all!
This breakfast is also nutritional, with loads of protein coming from all the meat, the eggs, and the baked beans! There are also some veggies such as the mushrooms and tomatoes. We really don't see what is not to love with this breakfast!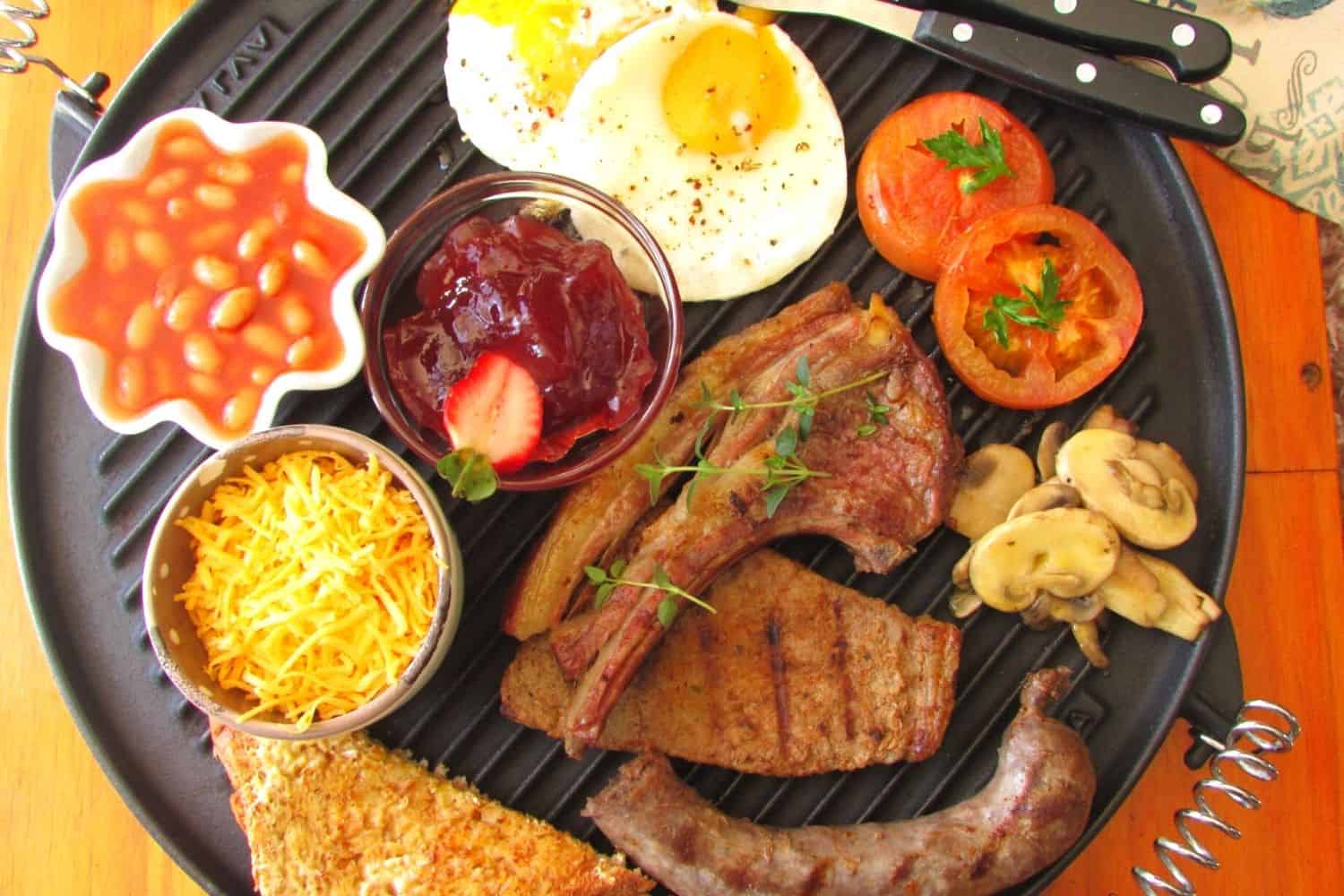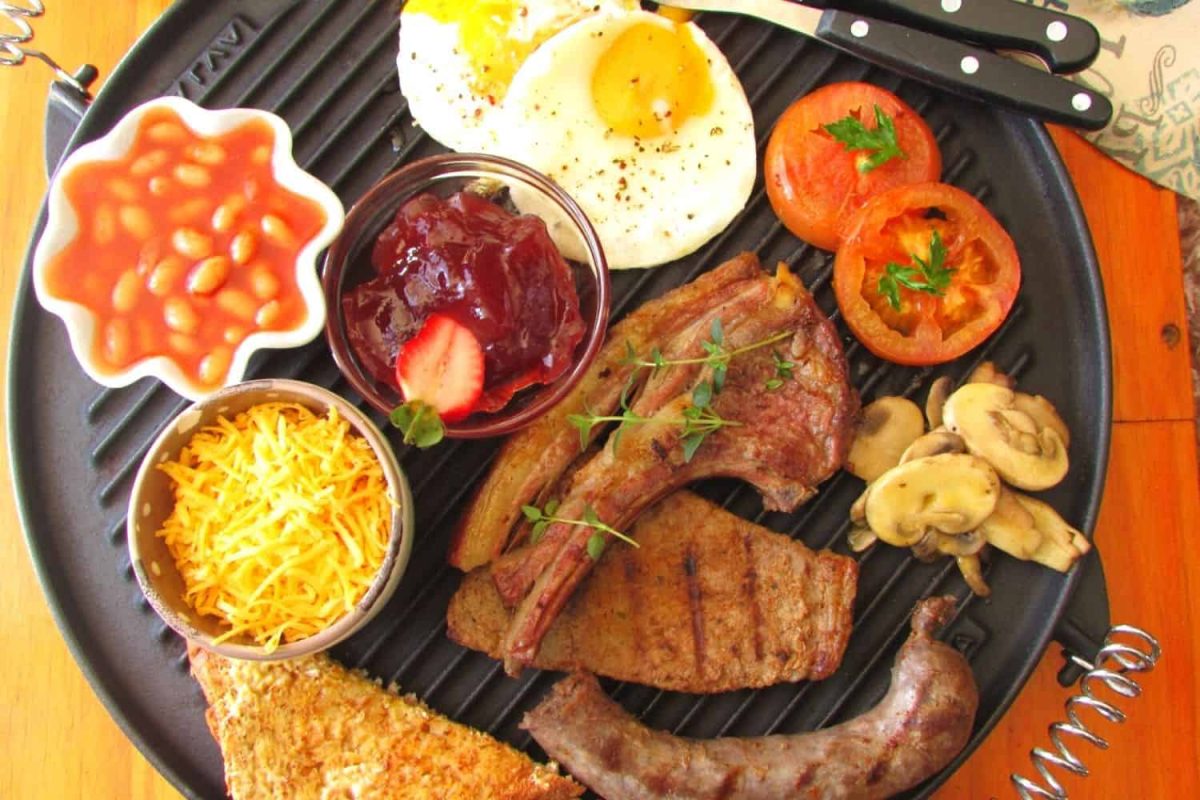 Ingredients
6

lamb chops

6

mini steaks

6

pieces

boerewors

6

cheese grillers

12

rashers

bacon

12

large

eggs

1

tsp

crushed garlic

3

thick sliced tomatoes

1

tin

baked beans

400

gram

sliced mushrooms

30

ml

olive oil

1

tsp

fresh thyme

barbecue spice (to taste)salt and pepper (to taste)

15

ml

butter

Grated Cheese

Jam, of your Choice

Toast
Instructions
Pre heat your oven to 140 degrees, then place a large empty oven dish in the oven.

Put the hot plate on setting 3 with a heat proof dish and lid will also work.

On a hot grill plate grill the bacon till cooked.

Rub the lamb chops with the olive oil, garlic and thyme.

Grill to get even grill marks on both sides and season to taste.

Place in the hot oven dish to keep warm.

Grill the sausages and cheese grillers, and place in the hot oven trayIn a saucepan, heat the butter over medium heat then add the mushroom.

Saute the mushrooms with salt and pepper.

Place the sauce pan in the oven to keep the food warm.

Grill the tomatoes then place in the oven tray.

Grill the mini steaks to medium, place in the oven to keep warmIn a greased frying pan, heat vegetable oil to medium heat.

Grease egg rings well then place in the frying pan, Fry eggs to soft/medium.

Place in the oven to keep warm.

Place 6 plates in the oven to warm then serve food on a hot plate with toast.
Enjoy more of our tasty dishes by visiting our recipes here!