During Christmas time a table isn't just a table. It's a space where family and old friends gather around to enjoy each other's company and just be together. And during these last two years, being together has been tough for many people around the world.
So if you have the opportunity to be spending Christmas with loved ones, put a bit of effort into the table and get everyone into the Christmas spirit!
Ditch the table cloth
Instead of going the classic route, keep the table cloths in the cupboard and opt for sheets of brown paper instead. The neutrality of the brown gives you the freedom to match any colours with your table. And the classic Christmas colours, red and white, goes especially well with the brown sheets.
Add some candles, red and white candy canes, or perhaps a ribbon to tie it all together!
And no, it won't look cheap! It will save you plenty of time though, because now if someone spills red wine, you can just throw the sheets away at the end of the day. And another bonus is if you have young kiddies, feel free to challenge them to a Christmas themed drawing competition. Crayons and brown paper sheets work great together!
Spruce up your platter style
When hosting, it's normally expected to put some snacks or platters out. So why not cover a table with the brown sheets and use the entire table as your snacking platter. It looks amazing, guests will love it, and you won't have to clean any dishes!
DIY your own vases and greenery
You know all those empty coffee jars and random glass bottles you have in that cupboard you never open? Well now is the perfect opportunity to use them!
Make sure all the vases are clean and that the labels are off. Then all you have to do is fill them up with some greenery! Whether you cut a few stems from your own garden, a friend or a neighbours', the simplicity of the various shaped and sized glass jar together with the plain green will be beautiful.
And if you're hosting during the evening, toss some battery-operated fairy lights in between and your table will be glowing.
Tip for stubborn labels
If you're having trouble getting a label or glue off the glass, try rubbing some lemon essential oil on it. Works like a bomb!
Get creative with your Christmas napkins
An easy way to bring a bit of Christmas spirit to your table is through your napkins. Let your inner origami master come out and try a few new Christmas inspired napkin shapes:
A classic Christmas tree
Tutorial available here.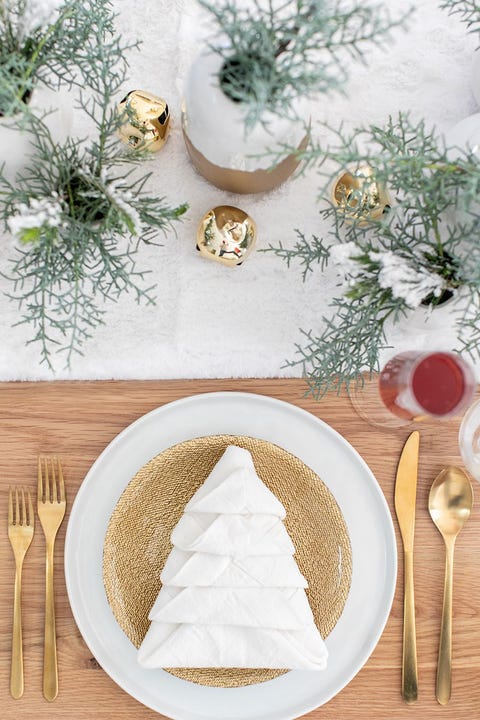 A Christmas rose
Get the full tutorial here.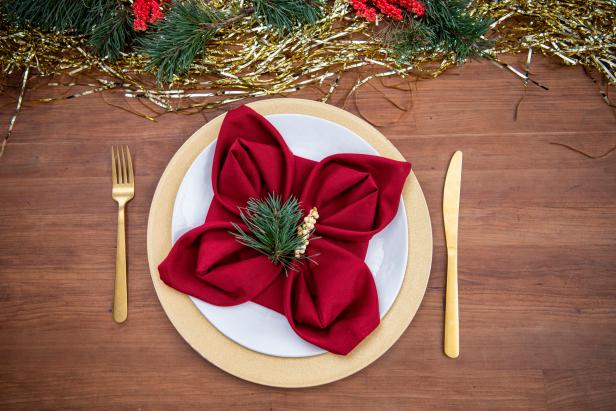 And if folding napkins isn't your strong point – that's why napkin ring holders are there!