Platinum Club, Partner Content: Coming from a musical background, the singer-songwriter learned piano from his father who was also a choirmaster at the church they attended in Kaduna, Nigeria at a young age. As CKay progressed as a young musician, he formed a band called Cre8tive Music with friends, performing at shows in and around Kaduna while also learning music production. With the urge to pursue a music career growing stronger within him, CKay left home for Lagos but it wasn't an easy decision to make.
'My parents… never really saw music as a very stable career. I had to make the decision to either chase my dreams or regret them and spend the rest of my life thinking 'what if''.
'CONTAINER'
In Lagos, the young musician would make ends meet as a producer, working in three recording studios. His big break came when he signed to the record label Chocolate City under which he would release his first single 'Nkechi Turn Up' in 2016 followed by the EP #WTFiCKayin 2017. It wasn't until the release of the dance tune 'Container' in 2018, however, that he would gain the attention of musicians and fans alike. Asked about his approach to creating the song and its overall reception, the star responded: 
'"Container" was not even a sound'. I've always been making love songs from the time, that was the music that got me signed in the first place… I think "Container" was an attempt to experiment. 'Cos I like to try stuff out in the studio depending on my mood and I made that song; I was not even trying to make a song I was just having fun… I wasn't really singing, I was just vibing but it dropped and was such a huge record. I mean, it's so crazy cos the song didn't have the craziest marketing, just love on the streets.'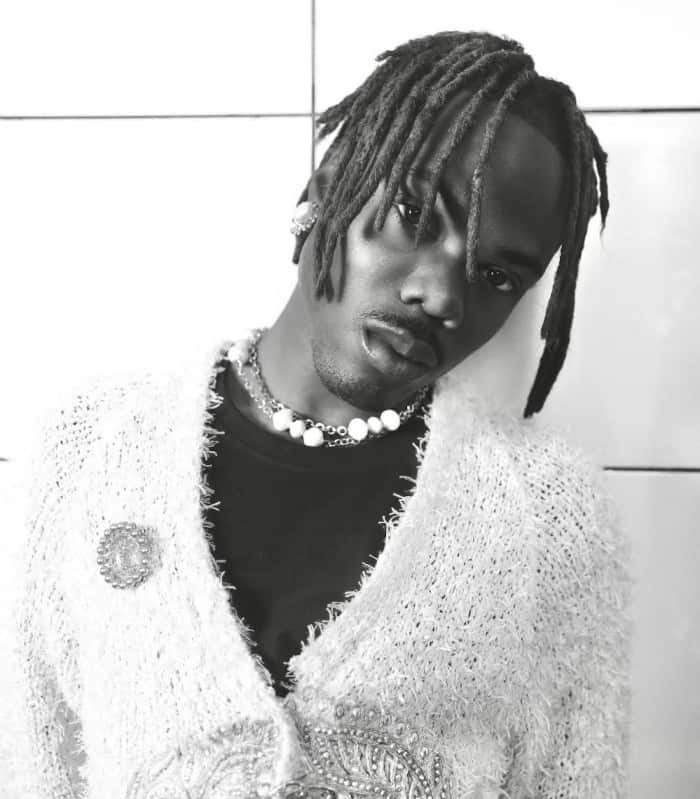 'LOVE NWANTITI'
After 'Container', CKay's next big hit would become his biggest song to date. 'love nwantiti' was initially released in 2019 as part of his second EP CKay The First. The song gained popularity on the social media platform TikTok where users included the tune in their videos, but for a while, people weren't aware that the song was his, resulting in him uploading an acoustic version on TikTok. 
'… certain countries enjoyed the music a little too much and started to claim it was theirs. I appreciate the love, but, yeah, I had to go on TikTok again and set things straight' – CKay (2021)
The song has had an incredible lifespan. In addition to being popular in countries such as Morocco, India, and Portugal, 'love nwantiti' has also dominated streaming charts including YouTube's 'Top Songs Global' and Spotify's 'Global Viral 100' charts. The song has had an impactful contribution to exposing African talent to the world, garnering over 956 million streams across platforms. The star's winning formula didn't stop there as the release of 'Emiliana' in 2022 followed in the footsteps of 'love nwantiti' and has amassed over 290 million streams.
STILL DEEPLY ROOTED
While the numbers are impressive, CKay is still deeply rooted in making music that connects to people in the sincerest of ways and his commitment to artistry remains crucial. Writing and singing about love is the basis of his creativity, which for him is tethered to his Cancer Zodiac sign. This fascination with love and passion has also inspired his persona as 'Africa's Boyfriend'. His recollection of the music he grew up listening to such as Usher and Sisqo and how they express love, sensuality, and intimacy in their music has contributed to his imagination of how he might do the same, in his own Emo-Afrobeats way. 
Music helps CKay express himself in ways that perhaps spoken words might fail. For him, love and music inspire how he communicates and lead him to discover more parts of himself. The little boy who once used a television remote control as a microphone has traded that in for a real one, on world stages. His upbringing and the leap of faith he took to follow his heart and purpose have paid off, tenfold and he is just getting started. On September 23rd CKay is set to release his debut album which he has said encompasses his emotional trajectory.
Not many artists can brag about having the most shazamed song in the world, but ckay is one of them.
Following the release, the star will headline his first US and Europe tours from October 1st. 
ABOUT CKAY
Chukwuka Ekweani, known publicly as CKay, is the rising star in the ever-burgeoning Afrobeats scene. A multi-talented artist, whether behind the boards as a producer or in front of the mic performing his self-penned songs, it is CKay's single-minded vision that shines through. The self-defined Emo-Afrobeat star has and continues to soar up charts across the globe thanks to his first globally recognized single 'love nwantiti'.
The Nigerian singer, songwriter, and producer originally released 'love Nwantiti (ah ah ah)' back in 2019 as part of his debut EP, CKay The First. In 2021, CKay became the most streamed artist of the year and became the first African artist with two tracks on the Global Spotify Top 30 simultaneously. 'love nwantiti' has been certified platinum/multi-platinum in five countries, including the United States and India, The viral hit has also been certified gold in the UK, Australia, South Africa, Italy, and New Zealand. CKay became the first African artist in 50 years to hold a top 5 position on the UK Singles Chart for 4 straight weeks with 'love nwantiti'.
CKay has continued to create a global presence with accomplishments such as the "most Shazam-ed song in the world". His most recent globally recognized single, 'Emiliana', has followed suit and racked in global chart positions and currently has just under 100 million streams. 'Emiliana' peaked at #1 on the UK Afrobeats Chart, #2 on Shazam Top 200 (Afrobeats), and #1 in six countries on Apple Music.
With new music on the way in 2022, CKay is bound to continue creating amazing music that will catch the attention of fans, both old and new, on a global scale.
Follow his journey here:
Instagram | Facebook | Twitter | TikTok | YouTube | Spotify | Apple Music | Shazam