The 30-year-old has shared her distress over her decision to accuse Robin Thicke of groping her in her new book, My Body. According to Ratajkowski, her "beliefs and politics evolved" to the point where she couldn't remain silent any longer.
The model was 21-years-old when she danced topless in the music video, which was a massive hit that spent 12 weeks at the top of the Billboard Hot 100.
Earlier in October, after 8 years since featuring in the video, she opened up about how Robin Thicke (44) "groped" her bare breasts as they shot the suggestive video.
On Thursday, 21 October, Ratajkowski took to Instagram to offer a further explanation of why she made the claim.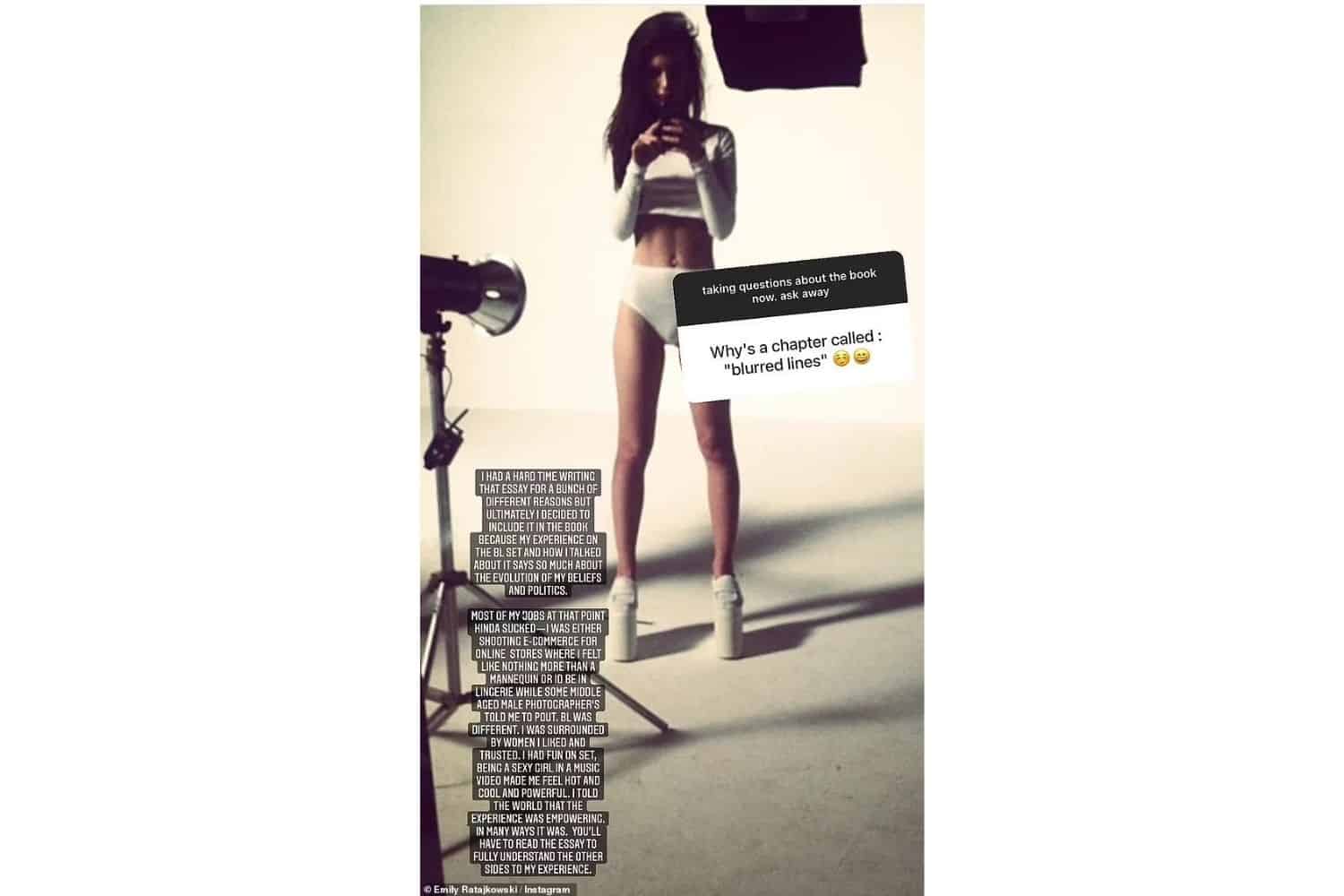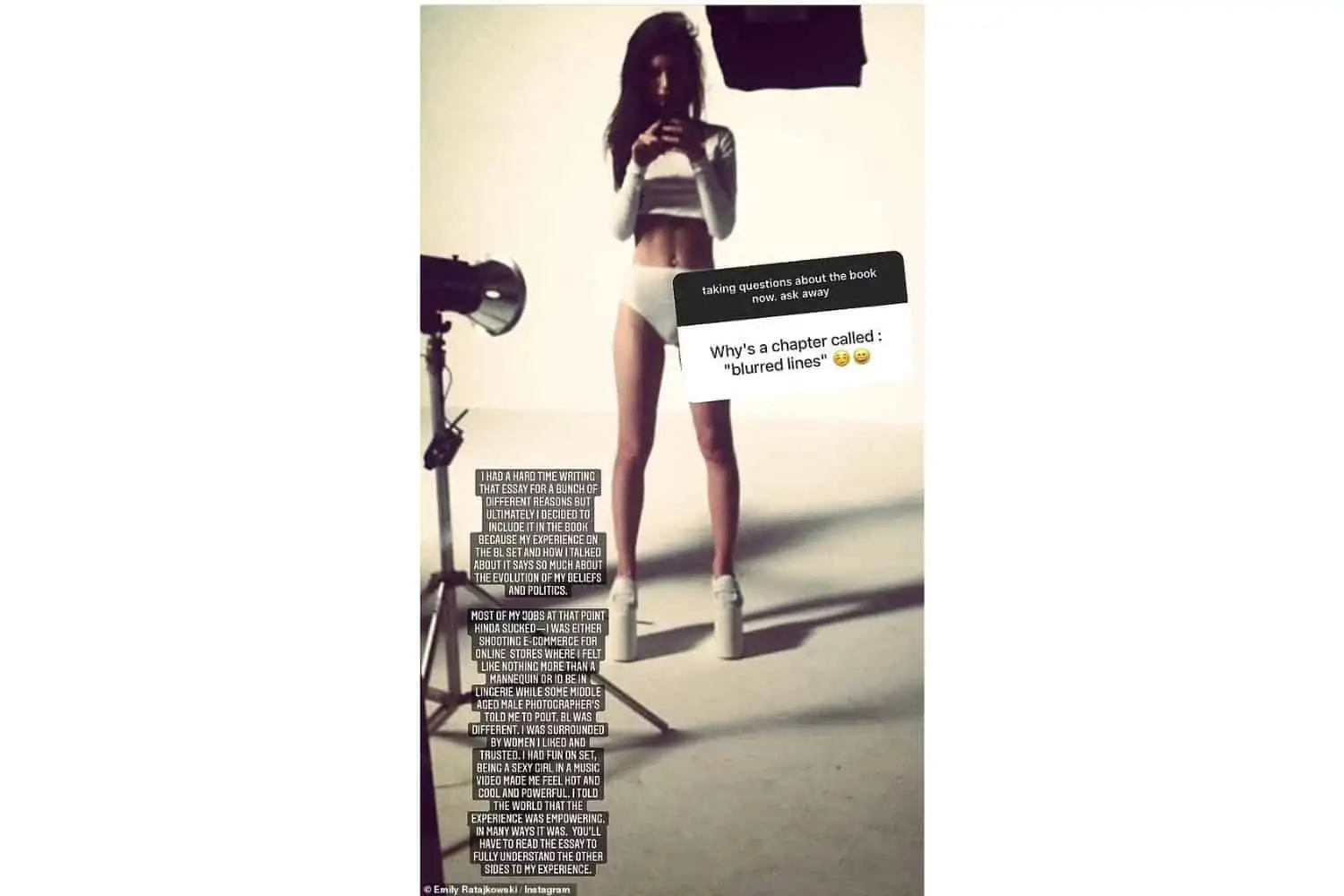 According to Ratajkowski, if she were to complain, she would not be famous
"I had a hard time writing that essay for a bunch of different reasons," Emily began in a lengthy post shared during an Instagram Q&A on Thursday.
Ratajkowski said that before that video, most of her jobs at that point "kind of sucked".
"I was either shooting e-commerce for online stores where I felt like nothing more than a mannequin or I'd be in lingerie while some middle aged male photographer told me to pout."
Ratajkowski thought Blurred Lines was "different" because she "was surrounded by women I liked and trusted" and she actually "had fun on set", she writes.
She continued: "Being a sexy girl in a music video made me feel hot and cool and powerful. I told the world that the experience was empowering. In many ways it was."
According to the model, since she was still at the start of her career, she feels she would not be where she is today if she would have said something.
"I was an unknown model and if I had spoken out or complained, I would not be where I am today; I would not be famous."
The video's director saw the assault happen
The full story of the assault can be read in the model's book, as she describes it:
"Suddenly, out of nowhere, I felt the coolness and foreignness of a stranger's hands cupping my bare breasts from behind. I instinctively moved away, looking back at Robin Thicke," she claimed. 
And allegedly, Thicke did not take his actions seriously.
"He smiled a goofy grin and stumbled backward, his eyes concealed behind his sunglasses."
In an attempt to salvage the moment, Emily attempted to shrug off the alleged groping for the rest of the shoot.
"I pushed my chin forward and shrugged, avoiding eye contact, feeling the heat of humiliation pump through my body. I didn't react – not really, not like I should have," she wrote.
The video's director, Diane Martel, also came forward in support of Ratajkowski's claim:
"I remember the moment that he grabbed her breasts. One in each hand. He was standing behind her as they were both in profile," she claimed. "I screamed in my very aggressive Brooklyn voice, "What the f*** are you doing, that's it!! The shoot is over!!"'
The filmmaker later claimed that Thicke's drinking habits had contributed to the incident, stating: "I don't think he would have done this had he been sober."