Out-leg of Marathon Stage completed successfully
Stage 11 of the 2023 Dakar Rally saw competitors race away from the bivouac at Shaybah, in the southeastern part of Saudi Arabia, to a remote bivouac in the Empty Quarter. The competitors have no technical support at the remote bivouac, and have to affect any repairs needed to their cars themselves. However, all three TOYOTA GAZOO Racing crews reported clean runs in their GR DKR Hilux T1+ race cars, bringing a sigh of relief to the entire team.
The fastest of the TGR crews over the 275km-long Stage 11 was overall race leaders, Nasser Al-Attiyah and Mathieu Baumel. The defending champions were 5th-fastest on the day, trailing the stage winners by just 6min 42sec. Their lead over the second-placed crew is currently 1hr 21min 04sec, with three stages remaining in this year's race.
Henk Lategan and Brett Cummings continued their good form on Stage 11, recording another faultless stage. The pair are in fourth place overall, and relinquished 7min 22sec to the winners on the stage down to the remote bivouac in the Empty Quarter. Their deficit to the leaders is 1hr 49min 17sec, and they are within 19min of a podium position, despite losing significant time with a broken damper earlier in the rally.
The final TGR pairing of Giniel de Villiers and Dennis Murphy were plagued by punctures earlier in the race, but now that the terrain has become sandier, they have been recording clean stages. On the stage to the Empty Quarter, they went 6th-fastest, 10min 04sec behind the stage winners. They remain in 5th overall, 2hr 14min 18sec behind Nasser and Mathieu.
Next up is Stage 12, which will see the competitors return to the Shaybah bivouac via a timed section of 185. There will also be a closing liaison of 167km, joining the end of the stage to the encampment.
For TGR, all three GR DKR Hilux T1+ race cars have now completed more than 7,000 kilometres, with very few technical challenges. Notably, the standard 3.5 litre twin-turbo V6 engine from the new Toyota Land Cruiser 300 has remained fully reliable despite the extreme terrain and conditions, testimony to the quality, durability and reliability that is part of Toyota's DNA.
Stage 12 is one of the three closing stages of the race, with Stage 13 taking the rally from Shaybah to Al-Hofuf. This will be followed by the final stage from Hofuf to the coastal city of Dammam on January 15th, bringing the 45th edition of the Dakar Rally to a close after 14 tough stages.
QUOTES:
Glyn Hall, TGR Dakar Team Principal: "The great news today is that all three our cars got through the first part of the Marathon Stage without any drama – always a worry at this point in the race. Nasser maintained his lead comfortably, while Henk and Giniel posted solid stage results to hold steady in their respective positions in the overall standings. Next up is the wait to see them back here in the bivouac at Shaybah, following Stage 12."
Nasser Al-Attiyah: "Everything went to plan today for us. We don't have to push at all, since we have enough time in hand, so the main goal today was to make sure the car is in perfect condition for tomorrow."
Giniel de Villiers: "There were some tricky dune crossings in the stage, but overall things went okay for us. We just tried to have a clean run and not make any mistakes, and we're happy to be here at the remote bivouac without any problems."
Henk Lategan: "It was tricky in the dunes, and we decided to take it easy today. We've still been learning more about the dunes, so the last few days have been difficult for us, and we expect more of the same for the next few days. We're just taking it easy and gaining experience at this point."
DAKAR 2023: Stage 11 Results
| | | | | | |
| --- | --- | --- | --- | --- | --- |
| POS. | N° | CREW | TEAM | TIME | VARIATION |
| 1 | 201 | (FRA) SEBASTIEN LOEB(BEL) FABIAN LURQUIN | BAHRAIN RAID XTREME | 02H 56′ 14" | |
| 2 | 206 | (FRA) GUERLAIN CHICHERIT(FRA) ALEX WINOCQ | GCK MOTORSPORT | 02H 58′ 30" | + 00H 02′ 16" |
| 3 | 211 | (SWE) MATTIAS EKSTROM(SWE) EMIL BERGKVIST | TEAM AUDI SPORT | 02H 58′ 40" | + 00H 02′ 26" |
| 4 | 230 | (BRA) LUCAS MORAES(DEU) TIMO GOTTSCHALK | OVERDRIVE RACING | 03H 02′ 26" | + 00H 06′ 12" |
| 5 | 200 | (QAT) NASSER AL-ATTIYAH(FRA) MATHIEU BAUMEL | TOYOTA GAZOO RACINGGR DKR Hilux t1+ | 03H 02′ 56" | + 00H 06′ 42" |
| 6 | 217 | (ZAF) HENK LATEGAN(ZAF) BRETT CUMMINGS | TOYOTA GAZOO RACINGGR dkr hilux t1+ | 03H 03′ 36" | + 00H 07′ 22" |
| 7 | 202 | (SAU) YAZEED AL RAJHI(DEU) DIRK VON ZITZEWITZ | OVERDRIVE RACING | 03H 05′ 07" | + 00H 08′ 53" |
| 8 | 209 | (FRA) MATHIEU SERRADORI(FRA) LOIC MINAUDIER | CENTURY RACING FACTORY TEAM | 03H 06′ 06" | + 00H 09′ 52" |
| 9 | 205 | (ZAF) GINIEL DE VILLIERS(ZAF) DENNIS MURPHY | TOYOTA GAZOO RACINGgr dkr hilux t1+ | 03H 06′ 18" | + 00H 10′ 04" |
| 10 | 210 | (CZE) MARTIN PROKOP(CZE) VIKTOR CHYTKA | ORLEN BENZINA TEAM | 03H 06′ 53" | + 00H 10′ 39" |
DAKAR 2023: Standings after Stage 11
| | | | | | |
| --- | --- | --- | --- | --- | --- |
| POS. | N° | CREWS | TEAM | TIME | VARIATION |
| 1 | 200 | (QAT) NASSER AL-ATTIYAH(FRA) MATHIEU BAUMEL | TOYOTA GAZOO RACINGGR DKR Hilux T1+ | 39H 16′ 33" | |
| 2 | 230 | (BRA) LUCAS MORAES(DEU) TIMO GOTTSCHALK | OVERDRIVE RACING | 40H 37′ 37" | + 01H 21′ 04" |
| 3 | 201 | (FRA) SEBASTIEN LOEB(BEL) FABIAN LURQUIN | BAHRAIN RAID XTREME | 40H 47′ 14" | + 01H 30′ 41" |
| 4 | 217 | (ZAF) HENK LATEGAN(ZAF) BRETT CUMMINGS | TOYOTA GAZOO RACINGGR DKR Hilux T1+ | 41H 05′ 50" | + 01H 49′ 17" |
| 5 | 205 | (ZAF) GINIEL DE VILLIERS(ZAF) DENNIS MURPHY | TOYOTA GAZOO RACINGGR DKR Hilux T1+ | 41H 30′ 51" | + 02H 14′ 18" |
| 6 | 210 | (CZE) MARTIN PROKOP(CZE) VIKTOR CHYTKA | ORLEN BENZINA TEAM | 42H 10′ 32" | + 02H 53′ 59" |
| 7 | 231 | (FRA) ROMAIN DUMAS(FRA) MAX DELFINO | REBELLION RACING | 42H 20′ 27" | + 03H 03′ 54" |
| 8 | 216 | (ZAF) BRIAN BARAGWANATH(ZAF) LEONARD CREMER | CENTURY RACING FACTORY TEAM | 42H 41′ 04" | + 03H 24′ 31" |
| 9 | 224 | (CHN) WEI HAN(CHN) MA LI | HANWEI MOTORSPORT TEAM | 43H 10′ 40" | + 03H 54′ 07" |
| 10 | 220 | (ARG) JUAN CRUZ YACOPINI(ESP) DANIEL OLIVERAS CARRERAS | OVERDRIVE RACING | 43H 25′ 04" | + 04H 08′ 31" |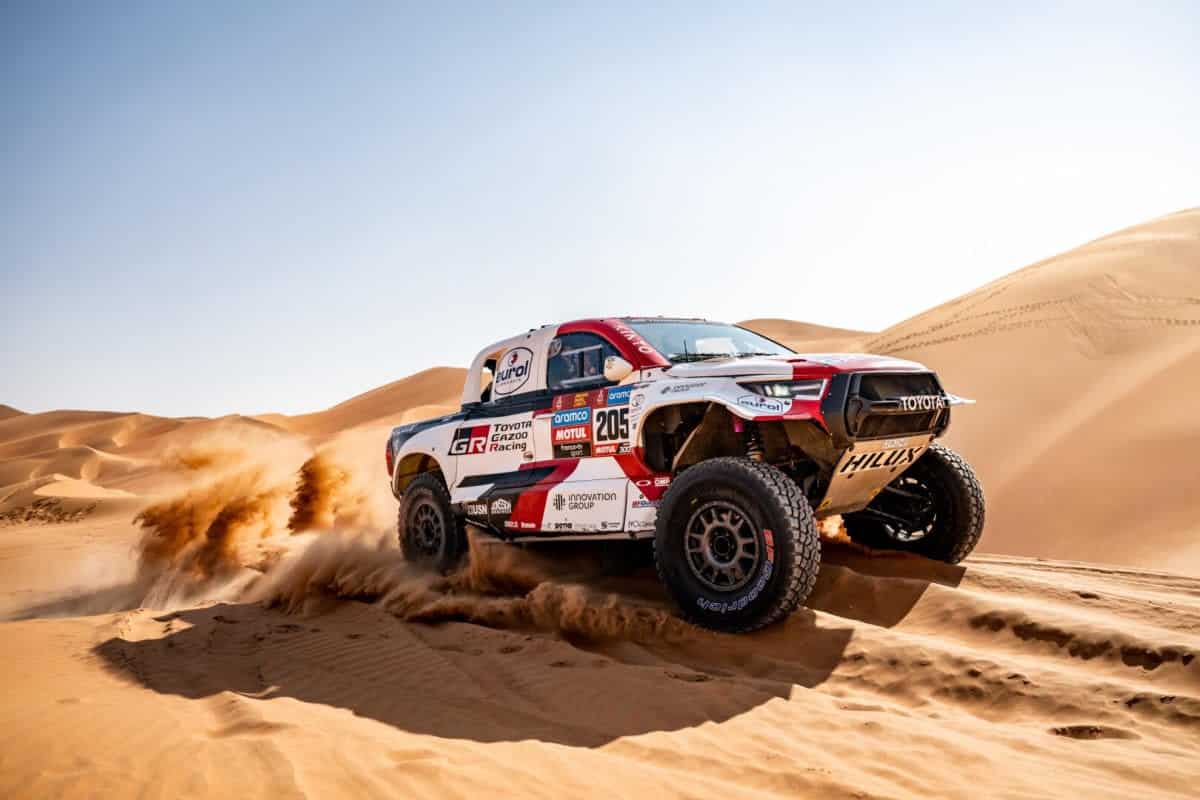 Content and images supplied via MotorPress