World Cup Winning Springbok prop Ox' Nché has chosen to partner with Mitsubishi Motors South Africa. Nché was rewarded with a Mitsubishi Triton Xtreme at a handover ceremony that took place at Mitsubishi Motors Ballito only a few days after the Springboks clinched the William Webb Ellis Trophy for the second consecutive time.
Retshegofaditswe 'Ox' Nché got his nickname thanks to the power he brings to the scrum on breakdowns and first made his Springbok debut against Wales in 2018. This powerful loosehead prop has been a fixture of the Springbok squad since.
Have your cake and eat it
Most recently Nché gained notoriety for his witty Instagram captions, "Salads don't win scrums" alongside images of him indulging in his favourite pieces of cake.
While the Mitsubishi Triton Xtreme is an extremely capable vehicle, like Nché, it is not afraid to have a little fun.
"Following an impressive Rugby World Cup Win Ox' Nché deserves to have his cake and eat it and Mitsubishi Motors are proud to support this impressive Springboks player with a Triton Xtreme," says Jeffrey Allison, General Manager: Marketing at Mitsubishi Motors South Africa (MMSA).
"The Mitsubishi Triton Xtreme is the ultimate iteration of Mitsubishi's 4×4 double cab aimed at owners with an adventurous, extreme lifestyle making it perfect for an individual like Ox Nché," adds Allison.
Xtreme derivative represents the ultimate iteration of Mitsubishi's Triton
The Triton Xtreme offers an attractive, bold and adventurous look and a variety of additional equipment to take its already impressive off-road abilities to new heights, resulting in the ultimate iteration of the Mitsubishi Triton double cab.
The Mitsubishi Triton Xtreme is sure to turn heads thanks to a host of visual improvements all round. Complimenting the Dynamic Shield front design concept is a distinctive new black bumper and grill combo as well as bonnet protector and headlight covers.
Xtreme branding, 4×4 decals, door handle cups, roof rack supports, window visors, taillight covers and a Kekosport style bar in black are all functional and add to the more aggressive look.
The cherry on the cake is the fender flare kit complete with visible bolt fittings, giving the Triton Xtreme a wider, more aggressive stance. These wider arches are filled with A-line alloy wheels in black shod with rugged All-Terrain tyres.
The load box of the Triton Xtreme features professionally applied rubberising and a tonneau cover that keeps contents hidden from prying eyes. A Bosal tow bar completes the enhancements to the rear of the vehicle.
The Mitsubishi Triton Xtreme boasts a luxury, comfortable cabin. Highlights include frame surroundings for the switch panel and air outlets, while a high-quality look is created by soft pad materials and stitching on the floor console, armrests and parking brake. The tilt and telescopic adjustable steering wheel is finished in leather and incorporates multi-function controls for the audio system and cruise control. Bluetooth and smartphone mirroring capabilities via Apple CarPlay and Android Auto will ensure that Nché remains connected and can listen to his favourite tunes seamlessly.
Tried and tested technology
Under the bonnet, the Triton Xtreme is fitted with Mitsubishi's tried and tested 2.4L MIVEC turbodiesel engine that offers 133kW at 3 500rpm and 430Nm at 2 500rpm and has been mated to a smooth shifting six-speed automatic transmission featuring Intelligent Shift Control which is sure to transport Ox in comfort, whether it's to training or the local cake shop.
All Mitsubishi Triton 4WD models are fitted with Mitsubishi's latest Super-Select II 4WD system, which delivers optimum traction and handling across a variety of surface conditions. On automatic transmission derivatives like the Triton Xtreme this system incorporates an off-road mode which includes Gravel, Mud/Snow, Sand and Rock settings. When engaged, off-road mode tailors engine power, transmission and braking to regulate the amount of wheel slip, maximizing all-terrain performance and self-extraction performance.
The Triton Xtreme boasts Mitsubishi's advanced RISE (Reinforced Impact Safety Evolution) Body Construction that utilises crumple zones to route and absorb energy during high-impact collisions. Side impact protection bars, Isofix and a seven-airbag system are in place for increased safety. Electronic off-road assistance enhances the Super Select II 4WD system by means of Hill Descent Control for additional safety off the road. Active Stability and Traction Control are an important safety feature and works in conjunction with S-AWC to provide maximum safety and driver control.
"Mitsubishi Motors South Africa are really excited to have a formidable player like Ox Nché as part of the family and behind the wheel of a vehicle that we believe perfectly dovetails with his personality," concludes Allison.
Peace of mind comes standard
All Triton models are covered by Mitsubishi's manufacturer's warranty of three years or 100 00 km, a five-year/90 000 km service plan and five-year/unlimited-mileage roadside assistance. Service intervals are every 10 000 km.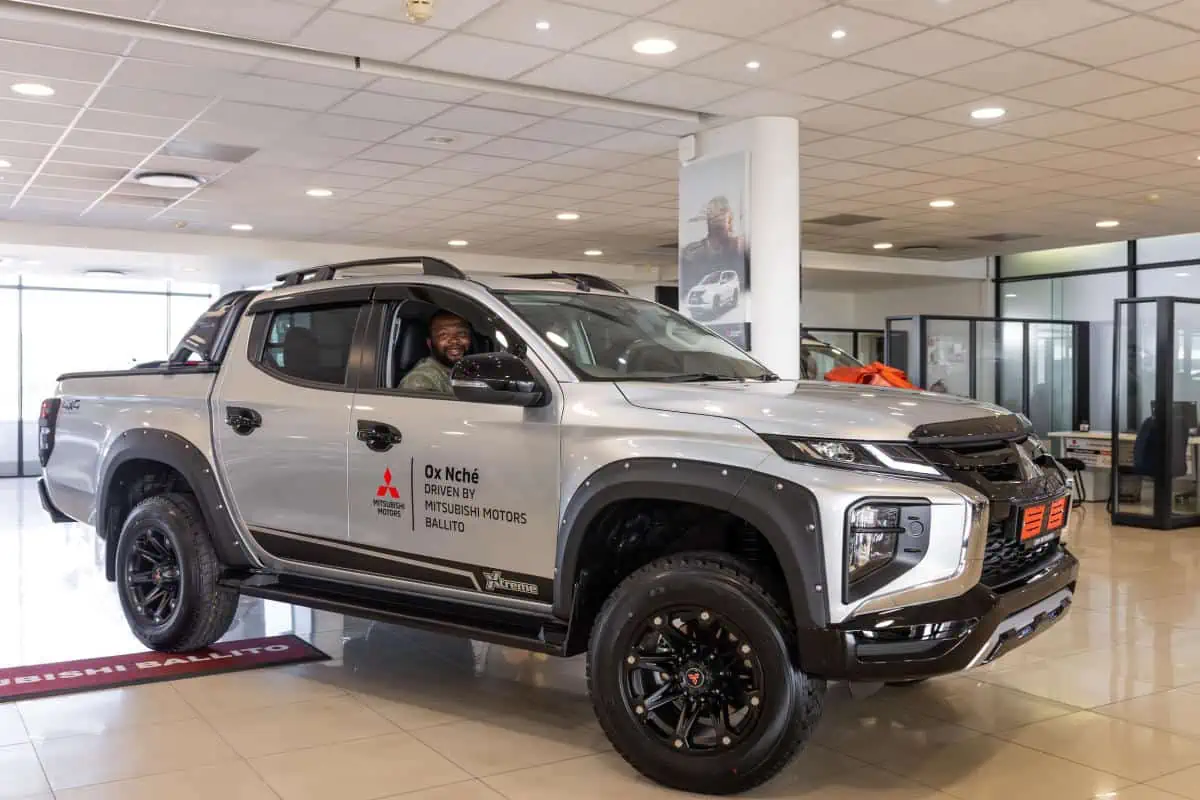 Content and images supplied via QuickPic