Another great Crypto Banter Sniper Show. Today on the market we are seeing some recovery on all the quality tokens. The market is slowing down a bit on BTC and were still holding the support. If you missed it you can watch and read the summary of the Crypto Banter Show 7 January 2022 right here on Saffarazzi.com
Bitcoin
The BTC charts are showing us that the retail buyers are still being flushed out during the sideways movement. We are currently hiting many support areas. No correction has taken place in this impulse wave and we can expect that to come soon. Looking for a bounce around $42 000. Making use of the Fibonacci tool we can see that the expected golden rule (0.618) area is around $48 000 where it should test resistance. If it breaks it we can make decisions on what to do with some freeing up if it does not break up. If BTC can reclaim the $53 000 zone then its showing were on recovery and can start making our way to the higher high based on the fact that BTC is still holding the upward trend support line. Furthermore the Stochastic RSI is oversold and has just crossed to the upward.
On todays crypto banter sniper show we also had a look at the USTECH100 and the SNP500. USTECH100 has dropped 6% below its high which it reached with a 35% growth from the beginning of last year and SNP500 3%. Ran compared this with BTC total market cap which showed a 35% drop from its high. Ran believe crypto is overreacting and getting too emotional.
Leverage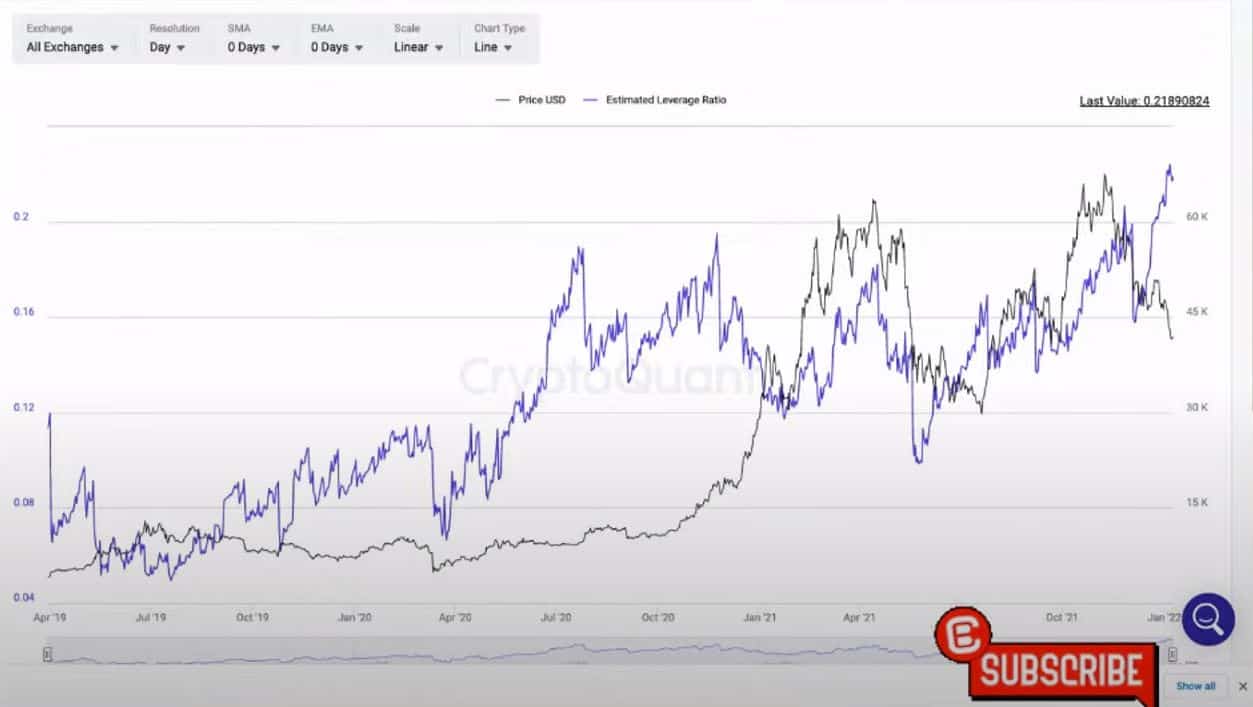 Ran pulled up the dreaded leverage chart again today but brought us a different theory. He tells us that we should look for clusters of short sellers, as in big institutions shorting the stock. If the institutions were long on BTC then by now they would have been liquidated so the fact that leverage is still up shows us that the institutions are in fact shorting BTC and the retailers are the ones buying in for the long. So in this theory we should see leverage lowering when BTC goes up by a few thousand. This short squeeze should lead to a big move.
We are seeing a great upward movement with a trend break of around a year. We are seeing money shifting in the market and less new money coming in. Here Ran reiterated his advice that we should trade out of the small garbage coins into the strong layer one coins.