A recent unveiling of a stadium in the ANC-run Enoch Mgijima local municipality has caused outrage on social media after images of the ribbon-cutting ceremony surfaced.
How in the world did it cost R15m to build this stadium?
The Lesseyton sports field in north Komani (formerly known as Queenstown), Eastern Cape, has divided opinion on social media. in a Facebook post that's since been deleted, the ANC-run municipality celebrated the launch of the sport venue, claiming that "soccer and rugby teams will now be able to use the facility to improve sport in the area."
Moreover, according to the municipality, the R15 million expenditure to 'build' the stadium was spent on:
palisade fencing
rock blasting
earth works
layer works
rugby and soccer field
athletics track
ablution facilities
changing rooms
borehole
water reticulation installation
sewer system with septic tank
electrical installation
rain water catchment tank
high-rise water main tank
guard house
gravel car parking area
This exhaustive list of alleged costs was not represented in the images that surfaced of the launch event that took place at the sports field.
The only installation seen in the images, where ANC-regalia-clad members were seen watching an exhibition match, were the bleachers they were seated on and construction tape that, we suppose, was meant to be the 'red ribbon'.
Here are the photos of the Enoch Mgijima stadium that drew ire on social media: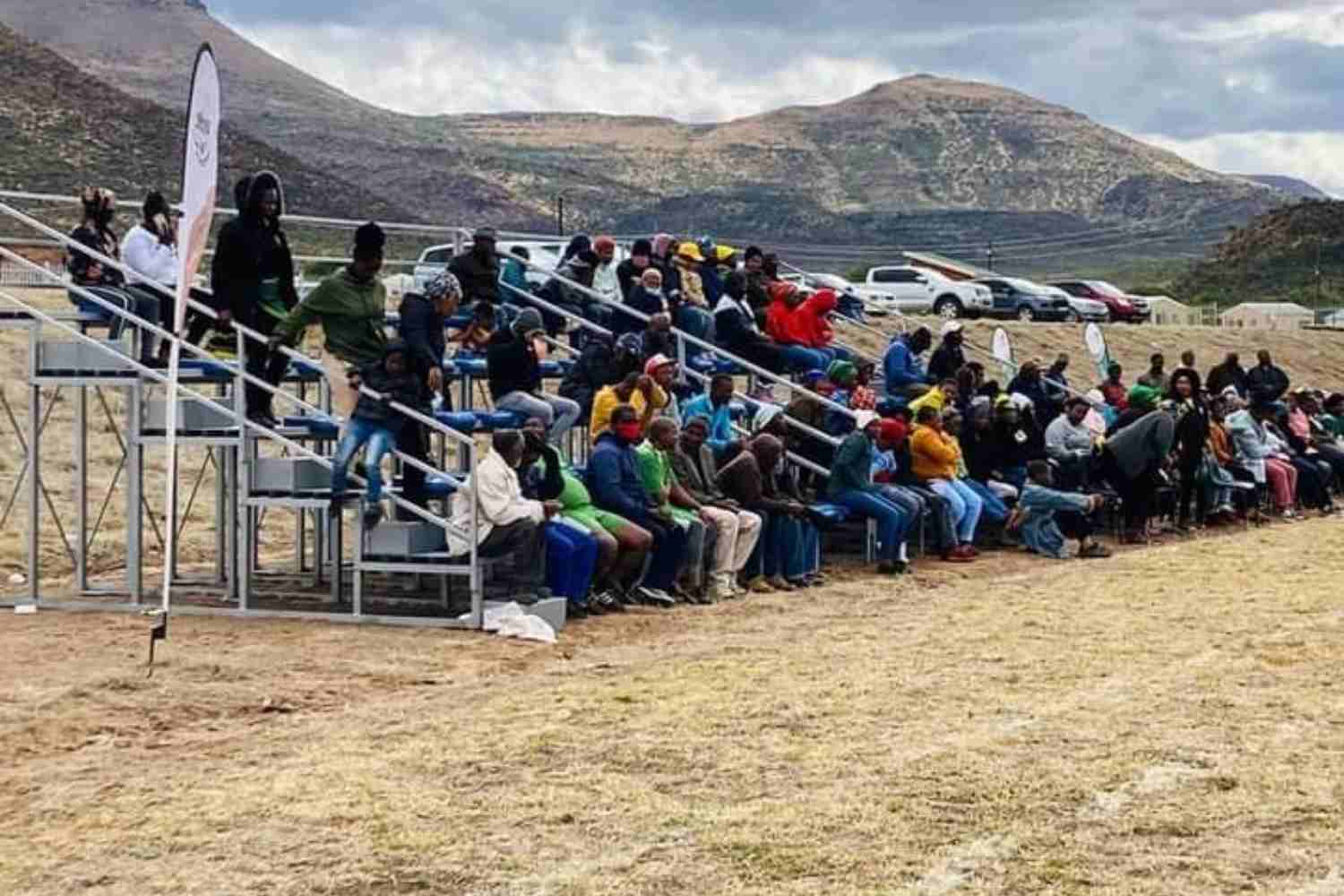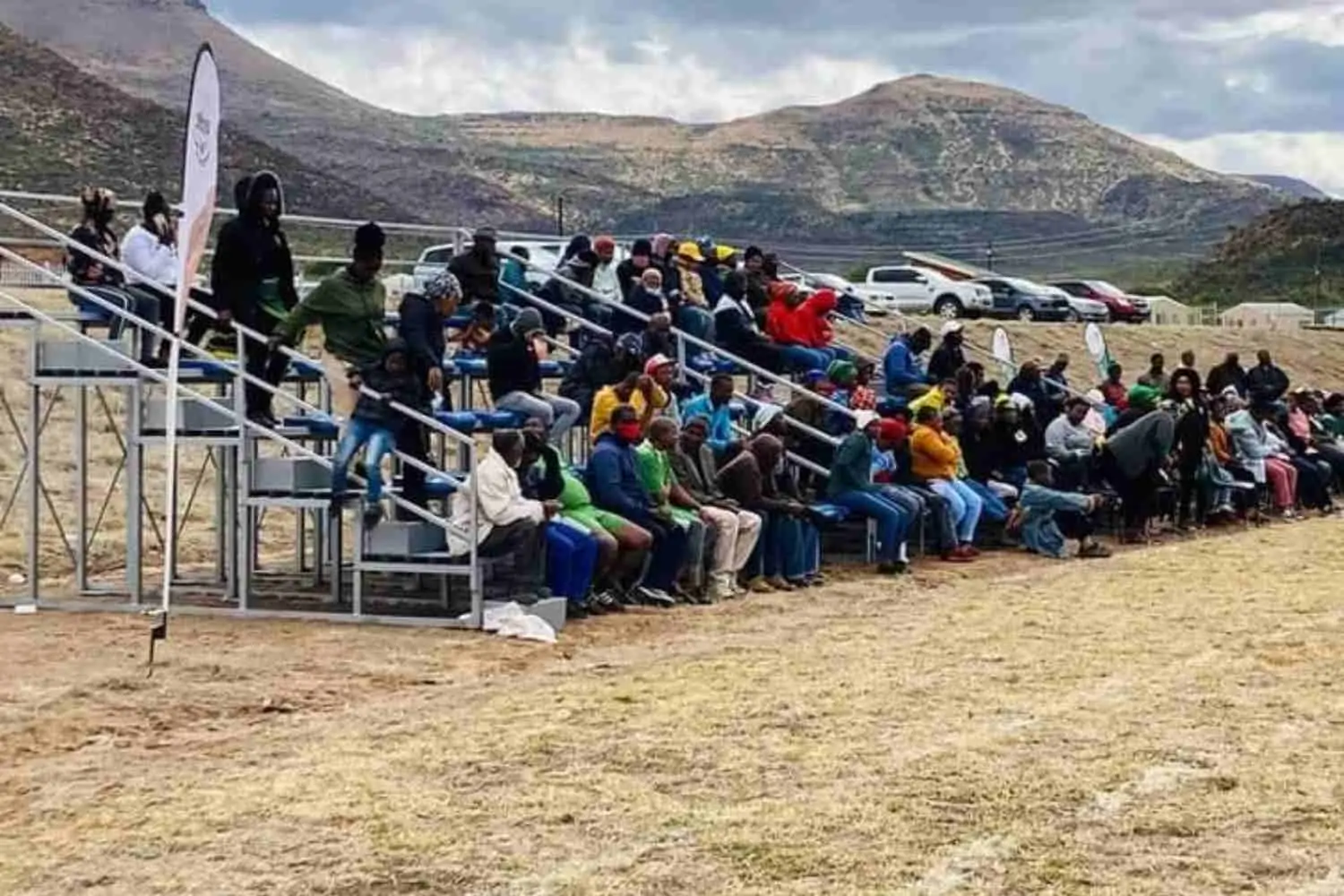 Reactions to Enoch Mgijima stadium
As soon as locals and social media spectators caught wind of the alleged R15 million municipal development project, a wave of outrage erupted.
Former Democratic Alliance (DA) leader Mmusi Maimane lambasted the ANC for blatantly misrepresenting the true value of the project.
"The public deserves a full explanation," he said.
This sport field did not cost R15 million. That is the bottomline. The public deserves a full explanation. pic.twitter.com/TnNWqB0NxV

— Mmusi Maimane (@MmusiMaimane) October 5, 2021
EFF Chief Whip Floyd Shivambu called on the people of Eastern Cape to use the power of their vote to boot out the ANC administration from the municipality at the upcoming 2021 local government elections.
An ANC Municipality in the Eastern Cape, Enoch Mgijima has opened what they call a stadium… R15 MILLION was paid to build this thing & they are proud of it. The people of South Africa must vote these people out of power because they have no shame. None whatsoever! R15m for this? pic.twitter.com/tFJvuFIPo5

— Floyd Shivambu (@FloydShivambu) October 4, 2021
These are some of the other reactions we picked out from the online debacle:
Mara the jokes in the Eastern Cape just don't end yaz, R15 million stadium? Where? How?#EnochMgijima pic.twitter.com/TFbmw1ZQlL

— Madimetša Ramathunyane (@Ramathunyane) October 5, 2021
I can see the Athletics Track by Enoch Mgijima Municipality pic.twitter.com/PiueGOJqbE

— Tatenda Chadya (@PanasheUnited) October 5, 2021
I'm so glad everyone is dragging Enoch Mgijima Municipality because it is the worst municipality in the whole world.
Speaking as someone currently experiencing power outage in cold Queenstown. Horrible municipality

— Nini (@NoluGadu) October 4, 2021
How do you proudly say you spend R15 MILLION on this?. Shame to you @MYANC i hope @SAPoliceService @RSASIU will investigate this cadres and Enoch Mgijima Local Municipality pic.twitter.com/O95Yog8uJC

— Jacunda Moshane (@JacundaM) October 5, 2021