On Monday, August 30th 2021, police arrested two suspects on charges of possession of an unlicensed firearm and stolen vehicle in Kuilsrivier.
Routine police patrol turns into shoot out
Members of Flying Squad were busy with routine patrols in Kuilsrivier when they noticed a reckless driver in a VW Polo. Once they could get closer to the vehicle they managed to test the registration number. However, they became more suspicious when the result did not correspond with the vehicle in front of them.
When the driver of the car noticed the patrol vehicle, he tried to evade the police. Consequently, the driver lost control of the car. Once the VW Polo came to a stop, the driver immediately jumped out with a firearm pointed at the police officers. As a response, the officers fired gunshots at the suspects.
Two charges made agains suspects
Both suspects, aged 35 and 38, sustained injuries and were transported to the hospital for medical treatment. The suspects were arrested after police found an unlicensed 9mm pistol with ammunition in their possession. And after further investigation, members discovered that the VW Polo was reported as a stolen vehicle in a Cape Town Central case.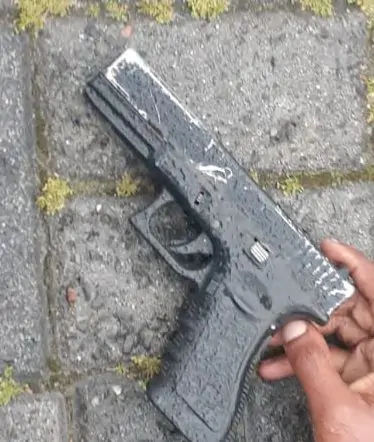 Once charged, both suspects are expected to appear in the Blue Down Magistrates' court on the above-mentioned charges.
RELATED: Gun control in South Africa: tightening the law, and more