There is absolutely no reason why anyone following any particular diet should miss out on the delicious treats that come with celebratory holidays such as Easter. Special recipes, like this chocolate-coated vegan easter egg one, will ensure that you don't feel left out! They are free of gluten, dairy and processed sugar. To put the cherry on the cake, they are super quick and easy to make.
Tastes and textures combined
I am not messing around when I say that these healthy vegan treats really do the job. The combination of smooth nut butter blended with the sweetness of dates and then fluffed out with a little bit of almond flour creates the most amazing filling. It is sweet and creamy with a texture not too different to icing sugar. In both texture and taste, it gets a ten out of ten.
Then as if it wasn't delicious enough, dipping all of this yumminess in melted dark chocolate and leaving it to set in the freezer brings the final product to complete perfection. The hardened dark chocolate exterior completes the easter egg experience. As you bite in and hear the first crack of the dark chocolate shell you know the next thing to hit your pallet will be the smooth inner sweetness.
It may sound like I am seriously upselling these vegan chocolate-coated easter eggs, but trust me, when you take that first bite you will understand where my enthusiasm comes from!
Quick and easy to make
After hearing all about how scrumptious these vegan easter eggs are, you are going to be surprised to hear how easy they are to make too. The recipe basically consists of blending the ingredients together, moulding eggs shapes, chocolate dipping and a few minutes of freezing. No rising time, no kneading, no baking or cooking.
What's more, you can experiment with it a bit. Try using butter or flour alternatives, like coconut butter and flour. Or if you have an allergy to nuts, consider rice flour and chickpea butter.
If you would like to add some variety to your healthy easter egg selection try these yummy berry centred Easter egg treats. They are just as easy to make!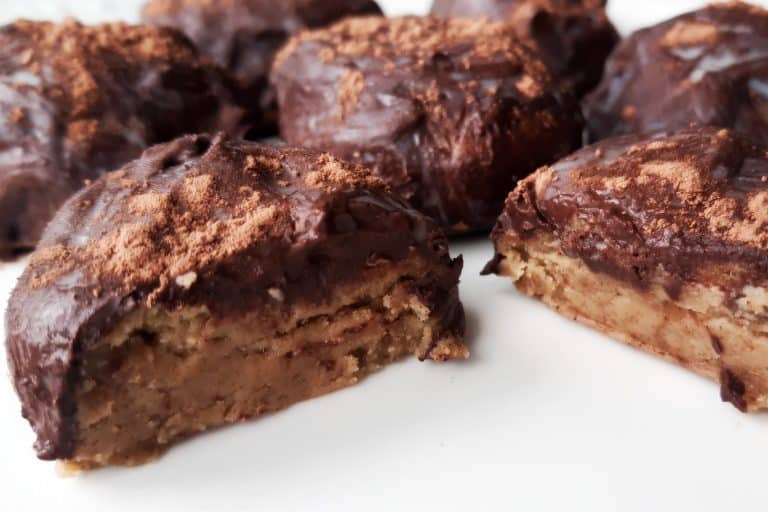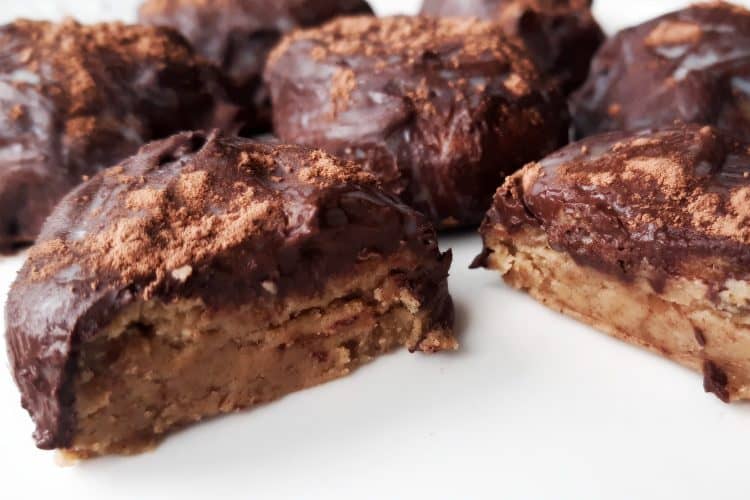 Ingredients
1

cup

Dates

soaked

1/2

cup

Nut butter

1/4

cup

Milk of choice

1

cup

Coconut or almond flour

3/4

cup

Vegan chocolate

melted

1

dash

Fine sea salt
Instructions
Bend your dates, nut butter, milk and salt together.

Add your cup of flour to make a dough. Then separate and roll the dough into little balls. Freeze for about 10 minutes.

Roll the chilled balls in your melted chocolate and pop them in the freezer for another 10 minutes before serving.