A hearty and fragrant dish that is perfect for the colder months, serve this traditional Bobotie for your South African friends and family and be sure to impress them!
What is Bobotie?
Bobotie is a South African curry dish that features curried beef mince that is topped with a savoury egg custard and is baked in the oven. The curried mince dish is filled with unique sweet and savoury flavors of curry powder, turmeric, ginger, crushed garlic, brown sugar, Worcestershire sauce, lemon juice, chutney, and raisins or sultanas. You can also make our venison Bobotie to mix up your protein a bit!
Sophisticated Yet Practical
While this dish is quite sophisticated and has an intricate method, it is very realistic to make. Once the mixture has been cooked and topped off with the egg custard, it bakes in the oven for 30 minutes, in which time you can cook your rice and have the whole meal ready to serve once the dish is out of the oven.
Serve this traditional and tasty dish with your cooked rice of choice and a traditional salad such as a sambal.
You can make this recipe by just adding or minimising to suit the amount you need. This recipe will serve 8 people.
Hope you enjoy!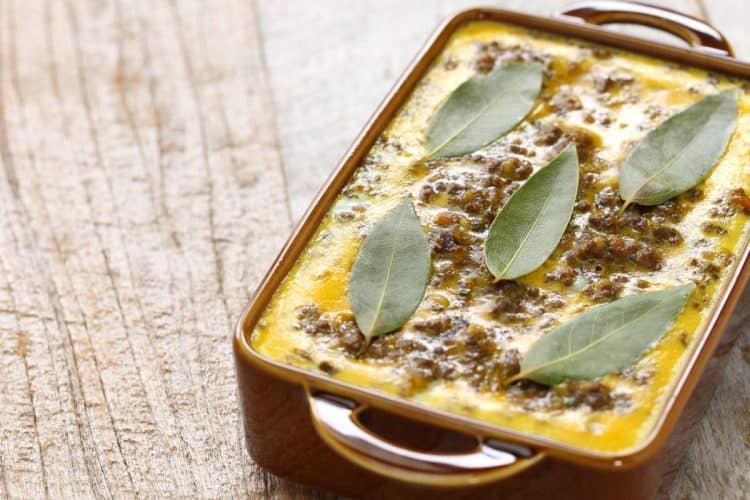 Ingredients
Group 1:
30

ml

Ground Ginger

30

ml

Soft Brown Sugar

30

ml

Turmeric

30

ml

Curry powder

30

ml

Crushed Garlic

10

ml

Salt

2

ml

Pepper

50

ml

Olive Oil

5

medium

Onions

sliced in cubes
Group 2:
2

Slices

White Bread

soaked in water

1

kg

Lean Mince

150

ml

Seedless Raisins (sultanas is the best) or any other available

12

Almonds

sliced

60

ml

Mrs Ball Chutney

30

ml

Lemon Juice

30

ml

Worcestershire Sauce
Group 3:
375

ml

Milk

2

large

Eggs

Almonds for garnish and lemon leaves if available
Yellow Rice:
2

cups

White Rice

1

tsp

Salt

1

tsp

Turmeric

2

cups

Water

1

tsp

Lemon Juice

2

tsp

Sugar mixed with Cinnamon to be added when cooked
Instructions
Group 1 Step:
Heat the oil in a heavy saucepan, add all the ingredients in the hot oil and sauté the onions on medium heat until slightly golden colour.
Group 2 Step:
Remove the excess water from the bread and mix all the ingredients of Group 2 together and add to the saucepan, mix well, make sure that you have turned the heat down, you need to stir the mixture occasionally ensuring that you cover all the meat to an even colour, cover the saucepan and simmer for at least 30 minutes. Then you place the mixture in a oven dish. Decorate with whole Almonds and Lemon Leaves if you have available.
Group 3 Step:
Beat the eggs and milk well and pour over the meat mixture. Place in a preheated 180° oven. For 30 minutes.
Yellow Rice Recipe:
Add the rice to a pot and cover the rice with water and bring to a boil.

Add the other ingredients until cooked.
For the dish:
Add all the ingredients together and bring to boil, let it simmer until rice is cooked, will take about 20 minutes, depending on which rice you use, Basmati Rice works perfectly. Remove from the stove; add mixed sugar and cinnamon to taste. On the photo Brown Basmati Rice was used. Make your favourite salad just before serving.