On Thursday, 10 February 2022, President Cyril Ramaphosa will deliver his State of the Nation Address (SONA). The president will be speaking to the Joint Sitting of the National Assembly and the National Council of Provinces.
Why is SONA2022 important?
SONA is a joint sitting of the two Houses of Parliament and one of the rare occasions when the three arms of the State are under one roof. The three arms of the State are the executive (Cabinet), the legislature (Parliament) and the judiciary (Courts of law).
SONA is the time when the President speak to the nation about the "general state" of the country and discusses the Government's plan for the coming year.
"SONA provides the President with an opportunity to speak to the nation on the general state of South Africa, to reflect on a wide range of political, economic and social matters within the domestic and global contexts, to account to the nation on the work of Government and to set out Government's program of action for the coming year," the government statement read.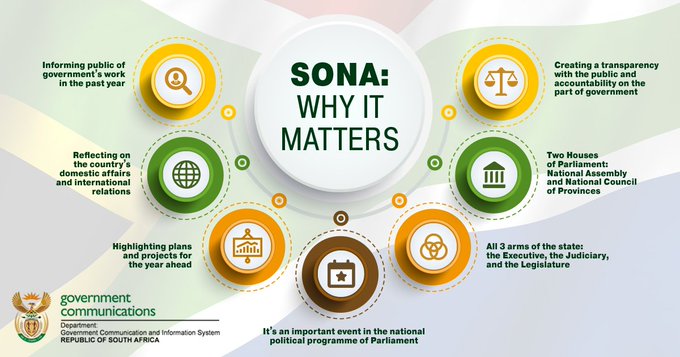 The EFF will ask South Africans' questions at SONA
Ahead of SONA, the Economic Freedom Fighters (EFF) have given South Africans the chance to submit questions for Ramaphosa and his Cabinet. The party will then ask the question at SONA.
According to Briefly, the EFF has mostly received questions regarding the R350 SASSA grant and corruption in government.
Do you have Questions to President Ramaphosa, his Cabinet or Government Entities? #EFFIsYourVoice. Send your questions to parliament@effonline.org and EFF MPs will raise them on your behalf. pic.twitter.com/J5wmdMXV7Z

— Economic Freedom Fighters (@EFFSouthAfrica) January 31, 2022
SONA 2022 will now be held at Cape Town City Hall
The State of the Nation Address is usually held at the Parliament building, however, due to the devastating fire, a new venue had to be chosen.
And on the 31st of January, Cape Town mayor Geordin Hill-Lewis officially handed the Cape Town City Hall over to National Assembly Speaker Nosiviwe Mapisa-Nqakula ahead of SONA.
It has also been confirmed that the post-SONA debate will also take place at the City Hall.
Mayor Hill-Lewis marked the handover as a momentous occasion as it coincides with Nelson Mandela's first speech following his release from Robben Island.
"It did not occur to me at the time that the date of the State of the Nation Address was just the day before the commemoration of Nelson Mandela's first speech as a free man on Feb 11, 1990.
"This makes today's event particularly historic and symbolic. It brings our country full circle, to the re-assertion of our founding values articulated by Madiba on that day.
"In a time when many South Africans feel a sense of concern about what is happening in our country, may this Sona underscores our renewed commitment to those founding values," he said.