Gareth Woolridge and Boyd Dreyer scored fourth-place finishes in the double header NAMPO event in the Free State after leading most of the Saturday race
Lance Woolridge and Elvéne Vonk were second-quickest in Friday qualifying and fastest on Saturday, but technical issues saw them end seventh in the first race
NWM Ford Ranger V8 Class T privateers Hendrik and Heinrich du Plessis made impressive SARRC debut with two podium finishes, ahead of Christo Rose/Arno Olivier
BOTHAVILLE, South Africa, 1 October 2022 – The NWM Ford Castrol Team has made significant strides in the development of its mighty Class FIA T1+ Ranger since it debuted at the start of the 2022 season, and its race-winning potential was clearly shown at the action-packed fourth and fifth rounds of the South African Rally-Raid Championship (SARRC) Series on 30 September and 1 October 2022, respectively.
The double-header event was held at NAMPO Park near Bothaville in the Free State in extremely hot and dusty conditions – an ideal proving ground for the Dakar Rally-specification Rangers which are designed and manufactured by Neil Woolridge Motorsport in Pietermaritzburg, and are powered by Ford's EcoBoost twin-turbo V6 engine.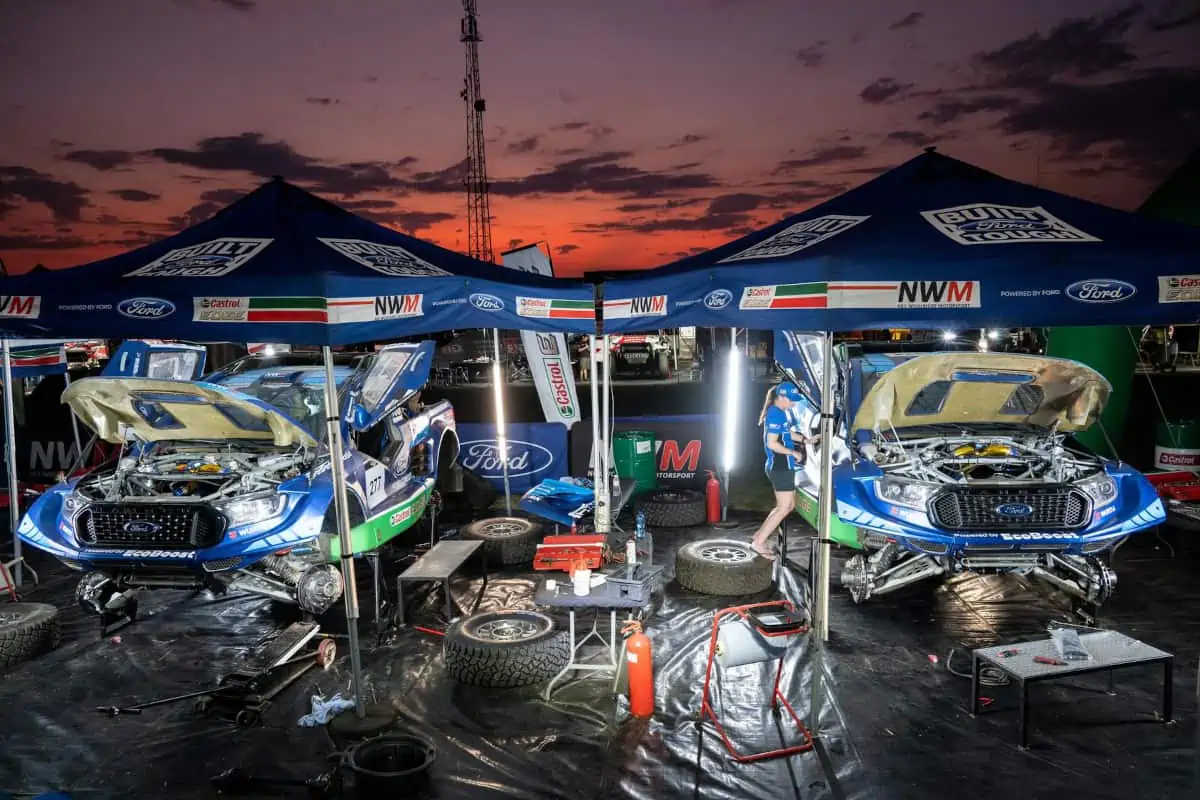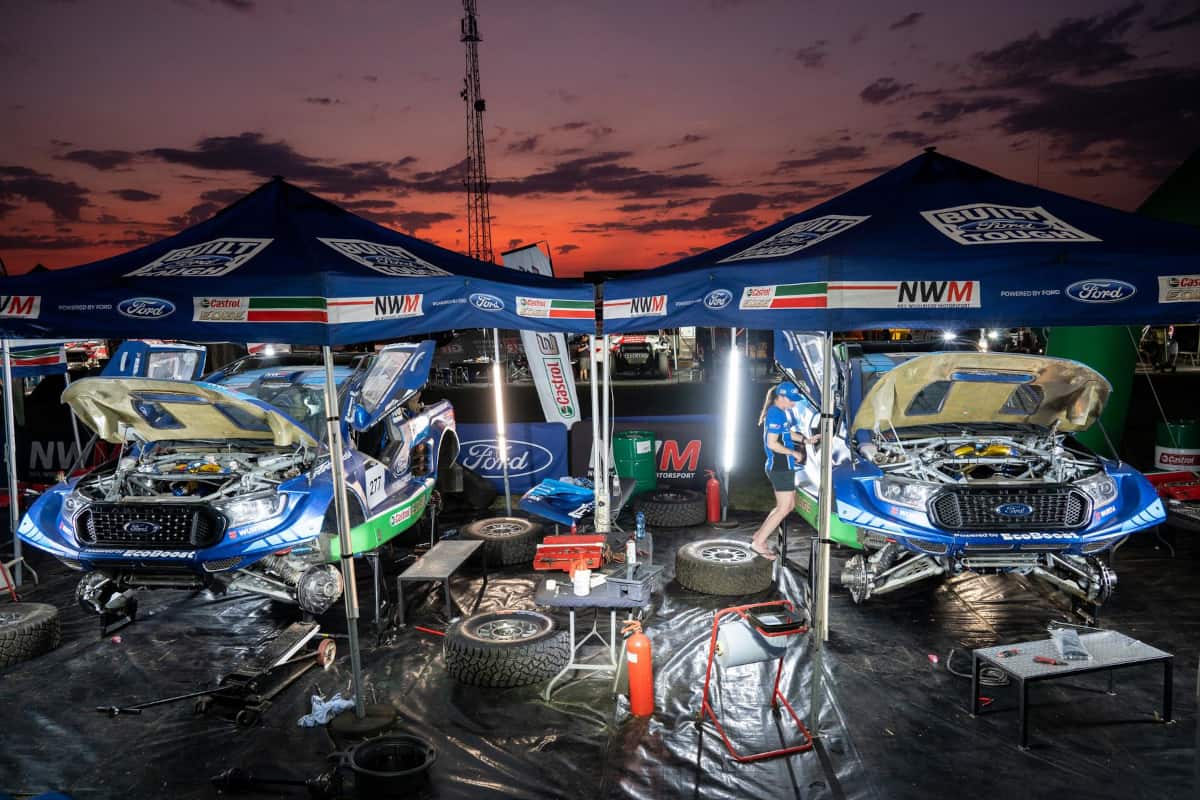 Among Top Competitors
Lance Woolridge and Elvéne Vonk (234) were among the top competitors during the short 8.9km qualifying races for both days. In round four on Friday, they were tied for second place with Giniel de Villiers/Dennis Murphy (Toyota), just 7.1 sec off the leading Toyota of Henk Lategan/Brett Cummings.
The second NWM Ford Castrol crew of Gareth Woolridge and Boyd Dreyer (277) were also right in the mix, but they overshot a corner near the end and stalled the car, losing about 16 seconds which dropped them down to fifth in T1+ and eighth overall. The top 10 qualifiers draw their starting positions in reverse order, which saw Gareth and Boyd starting first, with Lance and Elvéne second on the road.
In the main race, which comprised two loops of 171km each, Lance and Elvéne were unfortunately hampered 15km into the opening stint by a hole that developed in a turbocharger actuator pipe, and they lost significant time to the front-runners due to the lack of boost. The pipe was replaced during the mandatory 30-minute service stop, and they fought back tenaciously on the second loop to finish seventh in T1+ after posting some of the fastest times of the section.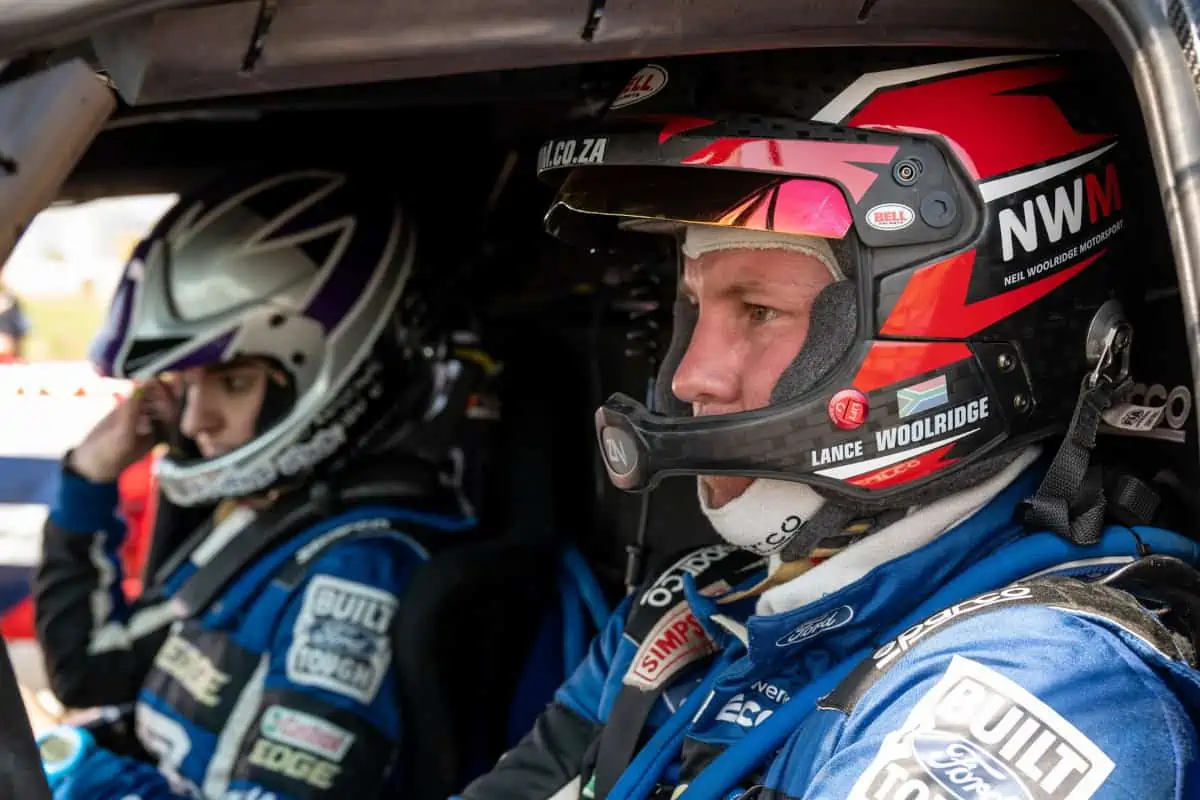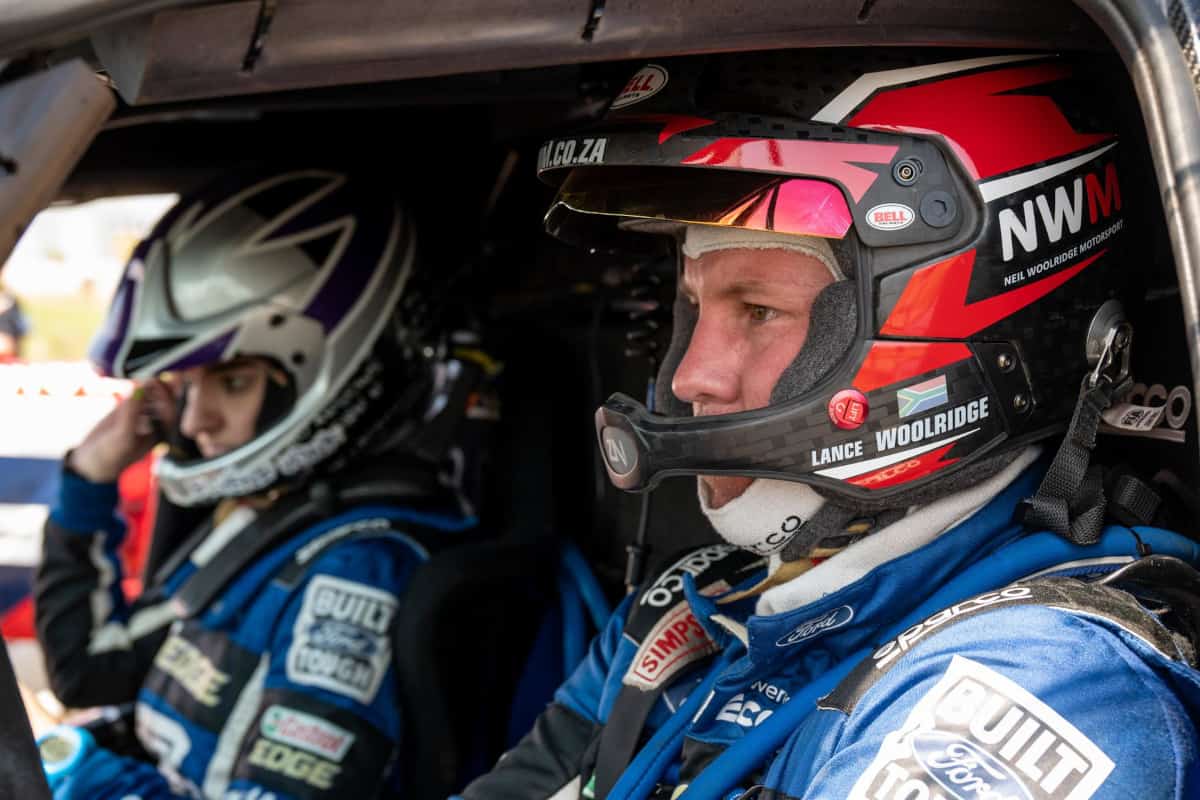 Issues to contend with
Opening the road cost Gareth and Boyd significant time, and they had to contend with intermittent power loss issues during the opening loop, but this was remedied for the second stint, and they had a clean run to finish fourth overall.
The NWM Ford Castrol Team headed into round five on Saturday with determination and confidence, and it certainly paid off as Lance and Elvéne set the fastest qualifying time, with Gareth and Boyd finishing second, just 1.2 seconds off their team-mates.
However, the saying "If you didn't have bad luck, you wouldn't have any luck" certainly rung true for Lance and Elvéne yet again, as the team found a small crack in a turbocharger oil cooler pipe after qualifying. Without a replacement item on hand emergency repairs were made, and the team went out on the first loop. Sadly it all came to nothing as the leak re-emerged 20km into the stage, and they were ultimately forced to retire.
"We did a lot of work on the car after the last event, and all of the changes made have really shown that we are now capable of running at the front of the field," Lance said. "Our good qualifying performance on both days and the pace we have shown during the race is fantastic and very encouraging for the team. Our final results are disappointing, but we will regroup and focus on the small things that have let us down this weekend, and I'm sure we'll have a good race next time."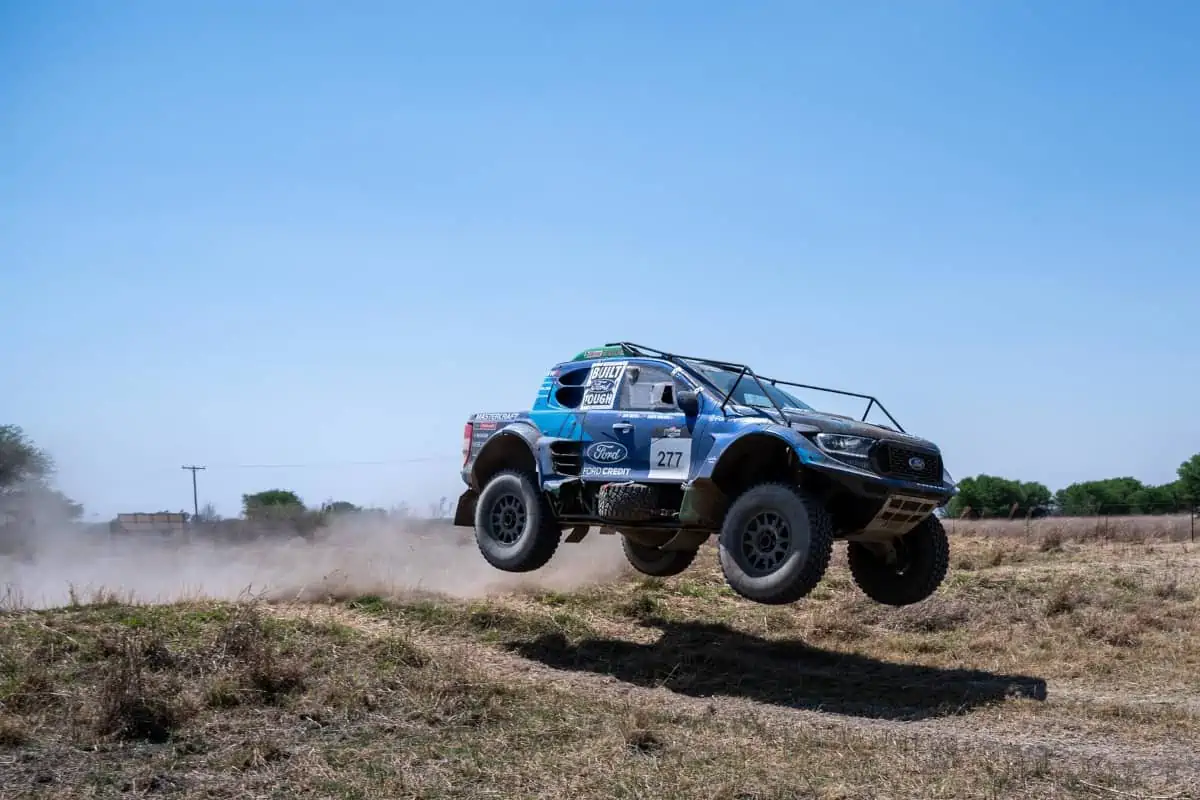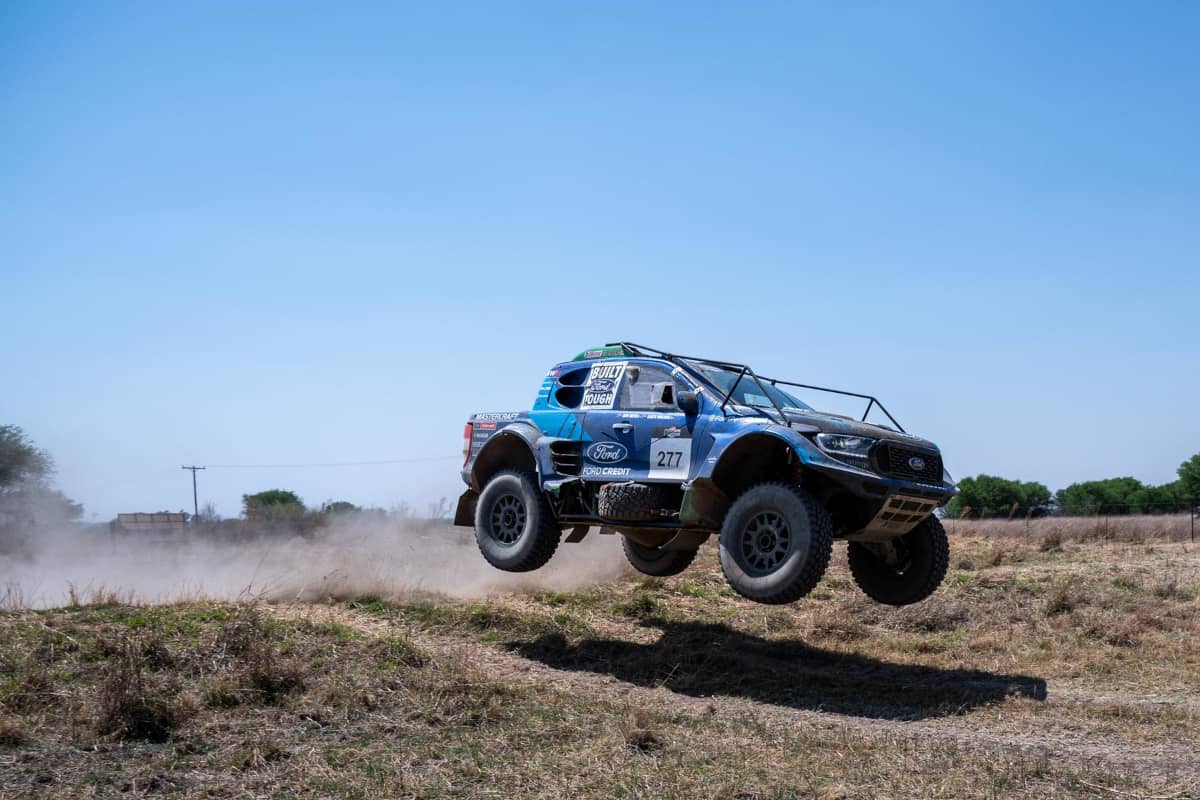 Electronic Gremlin
With their team-mates out of action Gareth and Boyd soon took over the lead, and a thrilling tussle ensued between the NWM Ford Ranger crew and the Toyota of Lategan/Cummings. Just four seconds separated the teams after 168km of racing as they headed into the pits, and an all-out battle was expected for the top step of the podium on loop two.
Ultimately it was not to be, as an electronic gremlin linked to the power distribution module caused the car to cut out several times. As a result, they lost around five minutes to the leaders but fought on to cross the finish line in fourth place overall once again.
"This certainly wasn't the result we were hoping for this weekend, especially today after a great prologue and leading at the end of the first loop," Gareth said. "It is very frustrating, but at the same time it's rewarding to know that we've made a big leap forward with our cars from the last event, and can now fight with the Toyota teams for victory."
Hard work has paid off
Team principal Neil Woolridge echoed the sentiment. "We came to this event with really high hopes, and it's fantastic to see that our hard work has paid off. Both cars were competitive yesterday and we led the race this morning, so it looked like we had a chance for the win.
"The issues we had with both cars were very minor, but were enough to drop Lance and Gareth out of contention. However, I think we can be very proud of ourselves in how far we have come with our car after all the testing and development," Neil added. "We've proven this weekend that our T1+ Ranger is really quick and capable of winning, and our drivers and co-drivers have shown that they can go out there and fight for the victory. That is very gratifying, and hopefully, our hard work mixed with a bit of good luck will come our way at the next event."
Class T
The NWM Ford Ranger V8 scored a pair of podium finishes in Class T. Regional competitors Hendrik and Heinrich du Plessis (T16) made their national championship debut at the NAMPO event, and finished an impressive third in both races, ahead of Christo Rose and Arno Olivier (T58) in fourth.
The final event of the season will be another double-header in Parys, on 11 and 12 November 2022.
# # #
Ford and Neil Woolridge Motorsport are proud to be supported by the following sponsors and partners: Castrol, Ford Credit, Mastercraft, Wűrth, Bosch, Sparco, Tracking Africa, Tiger Wheel & Tyre, Ironman 4×4 and Shatterprufe.
# # #
Follow the team's updates and progress on the following social media channels:
Content and images supplied via QuickPic