Kylie Jenner took a big fashion risk on Monday for Paris Fashion Week.
While Kylie Jenner had a lot of people in support of her recent look, some were not very impressed with the reality star sporting a very realistic lion head on her velvet dress.
Kylie Jenner ruffles feathers
So, the one-shoulder dress made by Schiaparelli caught the attention of animal activist and the former wife of Boris Johnson described the dress as 'grim' and promoting trophy hunting. 
She wrote, "Real or fake this just promotes trophy hunting. Yuck."
In the meantime, Kylie Jenner took to her Instagram to share some snaps of her dress at Paris Fashion Week.
The reality star captioned the post, "BEAUTY AND THE BEAST. thank you @danielroseberry and @schiaparelli for such a special morning. wow, I loved wearing this faux art creation constructed by hand using manmade materials. beautiful beautiful 🦁🦁🫶🏻"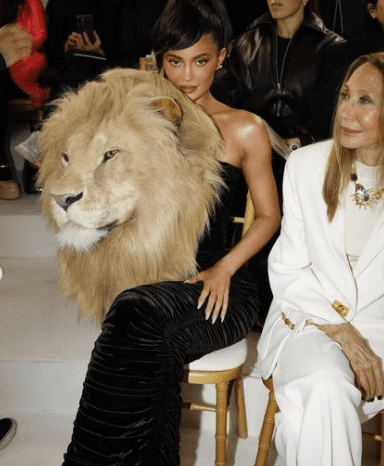 Taking to her comment section, her mother, Kris Jenner wrote, "My little lioness. You are so beautiful."
Even though Kylie Jenner made quite an impression on the audience, the cosmetics mogul wasn't the only one who sported an animal-inspired gown in Paris.
Thus far, Irina Shayk and Naomi Campbell both sported similar-looking gowns on the runway. Both models wore a realistic lion head and a snow leopard on the shoulder parts of their dresses. 
Standing by his own designs, Schiaparelli took to his social media to explain the making of the gowns. In the post, he relayed that no animals were harmed in the process of making the gowns. Which was inspired by Dante's Inferno. 
He wrote,"Hand sculpted foam, wool and silk faux fur… hand painted to look as life-like as possible. NO ANIMALS WERE HARMED IN MAKING THIS LOOK."
In defense of the gown, PETA founder Ingrid Newkirk shared that Kylie "celebrates" lions and is making "a statement against trophy hunting". 
Now, it is clear that some love it and some don't but what did you think of her dress?
Source: Sky News