An aromatic taste sensation awaits within these flavourful rosemary and garlic infused meatballs. Simple to make and absolutely divine to eat. Use them as part of a main course or as an appetizing starter.
A Quickly Achieved Taste Sensation
This rosemary and garlic meatballs recipe is relatively simple and quick to make. Fortunately, the beautiful flavours of this dish come from the pairing of simple complimenting flavours and not from hours of labour! First, you combine your beef and pork mince with your egg, bread crumbs, onion, pre-roasted garlic and Worcestershire sauce. Then you roll out your little meatballs and place them onto a tray. Followed by adding a layer of rosemary and raw garlic. Now all that's left is popping them into the oven for a quick 30-45 minutes. The aromas that follow will have you and any guests craving a taster before your meatballs have even hit the plate.
Pre-Roasted Garlic
Bake your garlic before adding it to your mince meatball mixture as this is crucial for this recipe. I am a great lover of garlic, but using raw garlic in the mix will most likely result in some overwhelmingly single flavoured meatballs. Plus, it's actually pretty easy to pre-roast garlic and you can store any extra. That way you have on hand for any other deliciousness you may be whipping together in the week.
If you loved the simple yet beautifully combined flavours of these rosemary and garlic infused meatballs then Id recommend these Mediterranean Style Beef Short Ribs as your next recipe to try.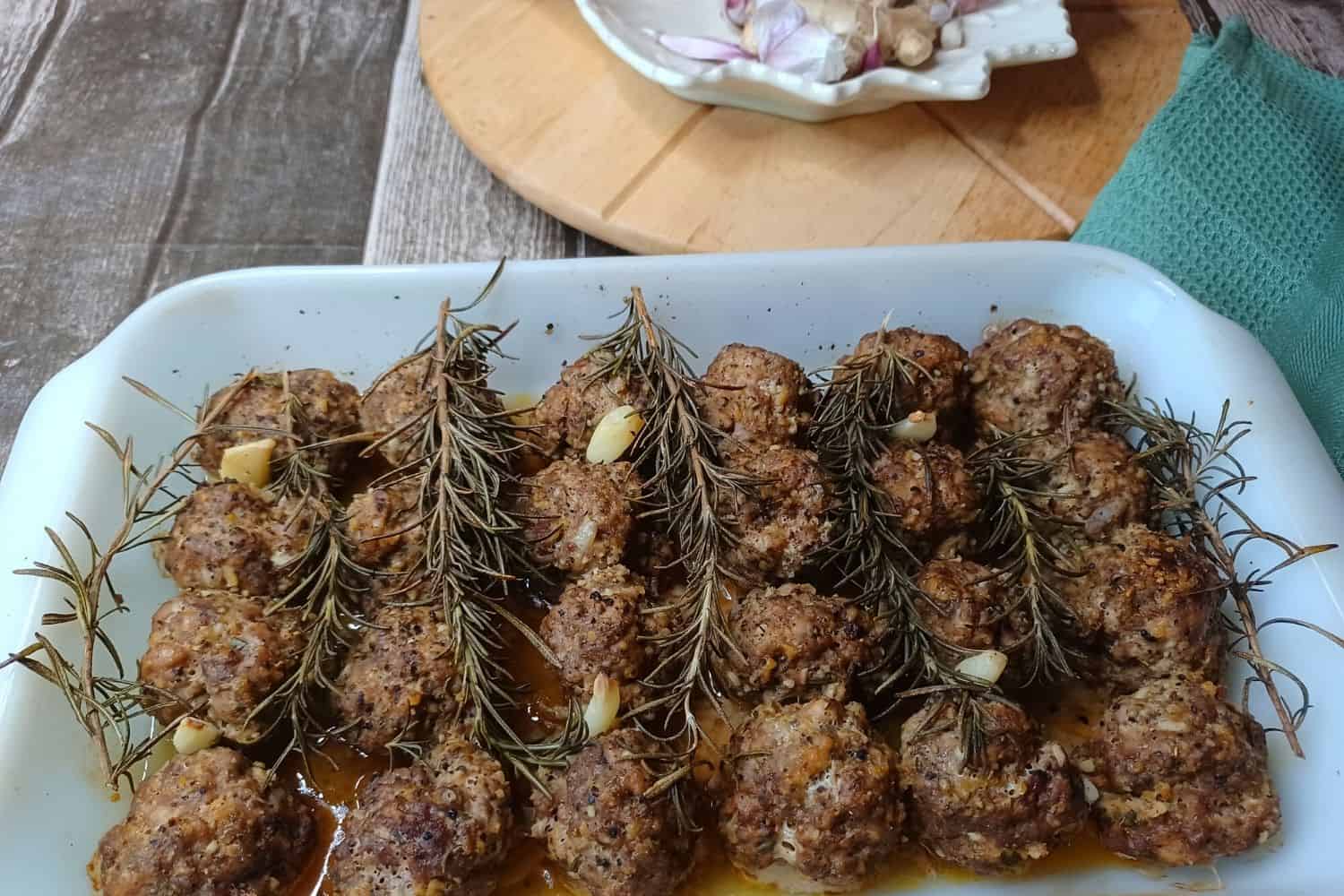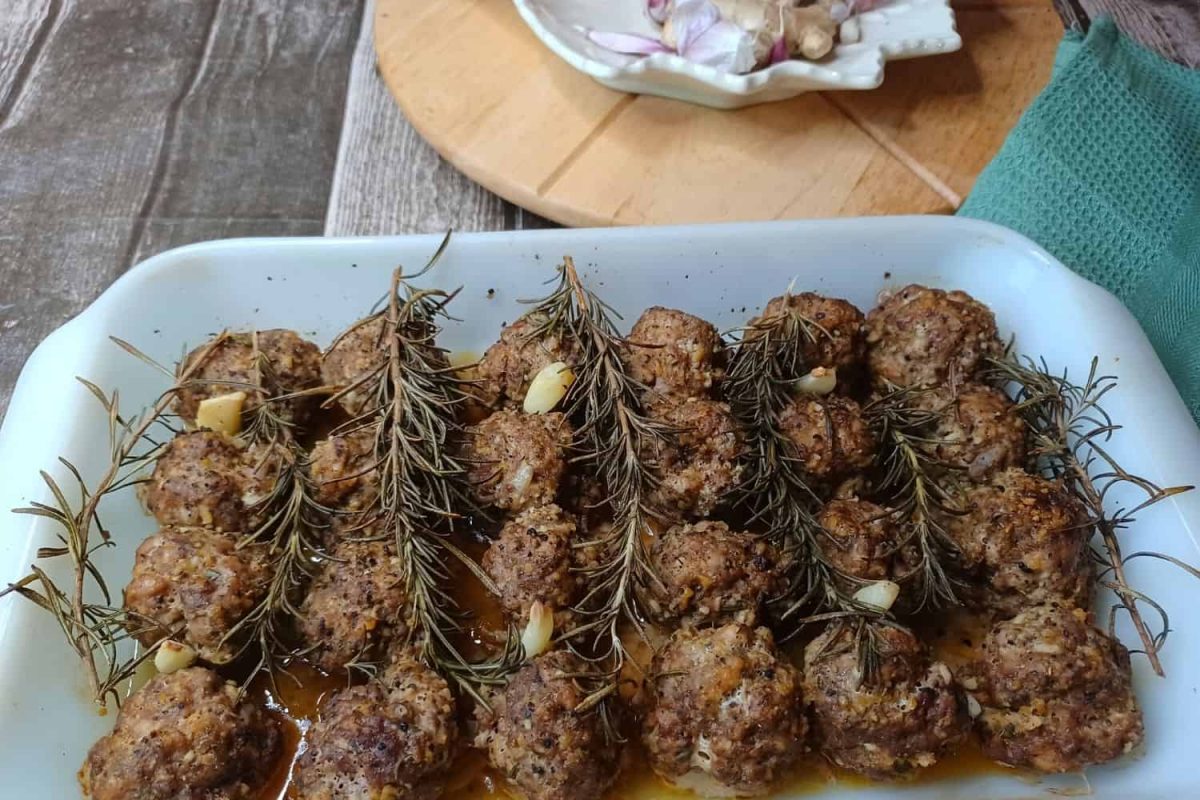 Ingredients
500

g

beef mince

500

g

pork mince 

1

large

egg

½

cup

plain bread crumbs

½

medium

onion finely minced or grated

1

medium

bulb of roasted garlic

1 spring of fresh rosemary, chopped finely 

1

tsp

Worcestershire sauce

salt & black pepper

6

fresh rosemary springs

6

raw garlic cloves

1 – 2

tbsp

olive oil to add to the  baking dish
Instructions
Very important, roast the garlic, otherwise the fresh garlic will be too powerful.
To roast garlic: 
Take loose skin off the garlic bulb and cut off the tip of the garlic cloves, still in the bulb. Rub a garlic bulb with a little bit of olive oil and wrap it in aluminum foil. Preheat the oven to 400 F / 204 C, place wrapped garlic on a baking sheet and bake for 30-35 minutes, depending on the size of the garlic bulb.  (this  can be made the day before and you can just refrigerate roasted garlic until ready to use.)
Method
Preheat the oven to 350F / 180C  and rub the casserole dish with some olive oil.

In a large mixing bowl, combine ground beef, ground pork, egg, bread crumbs, minced onion, minced rosemary, Worcestershire sauce, salt and pepper. Carefully peel roasted garlic and take out the roasted garlic cloves. Add them to the bowl. Mix very well, until all ingredients are completely incorporated.

Roll about 1.5 inch meatballs and place them snugly in the casserole dish.  Very easy way to make equal sized meat balls, is to add mince to the palm of your hand, press down like a patty, then roll. 

Stick individual, raw garlic cloves in between meatballs and add rosemary springs on top.

Cover the casserole dish with aluminum foil and bake for 35 minutes.

Take off the foil and bake for another 10-15 minutes.   Remove from the oven and check if the mince is cooked.