A quick and simple yet tasty side to accompany many delicious main dishes, this Biltong Salad Salad with Avo and Feta includes moist biltong and only takes 20 minutes to make. 
Simple Ingredients 
Not only does this salad only take 20 minutes to make, but it consists of basic and uncomplicated ingredients that you can easily find in a supermarket near you. This Avo and Feta Salad is made with cucumber, rocket and watercress, avocado, yellow pepper, rosa tomatoes, mango, feta cheese, and moist sliced biltong. All of these ingredients complement each other perfectly, and add a sweet and savory flavor to the dish.
Biltong Salad Served with a Tzatziki Dressing 
While the flavours of this salad are unique and interesting, it is also served with a tzatziki dressing. Tzatziki is a Greek savoury yoghurt dressing made from plain yoghurt, lemon juice, garlic, cucumber, and salt. It has a mild flavour and adds some creaminess and a hint of pungent garlic and tart lemon to the salad.  
As the biltong salad is served with a traditional Greek dressing, you can serve it as a side to many Greek main dishes, such as juicy grilled lamb skewers or Moussaka. You can also enjoy this salad with or without the tzatziki to accompany more traditional roast chicken or beef dishes.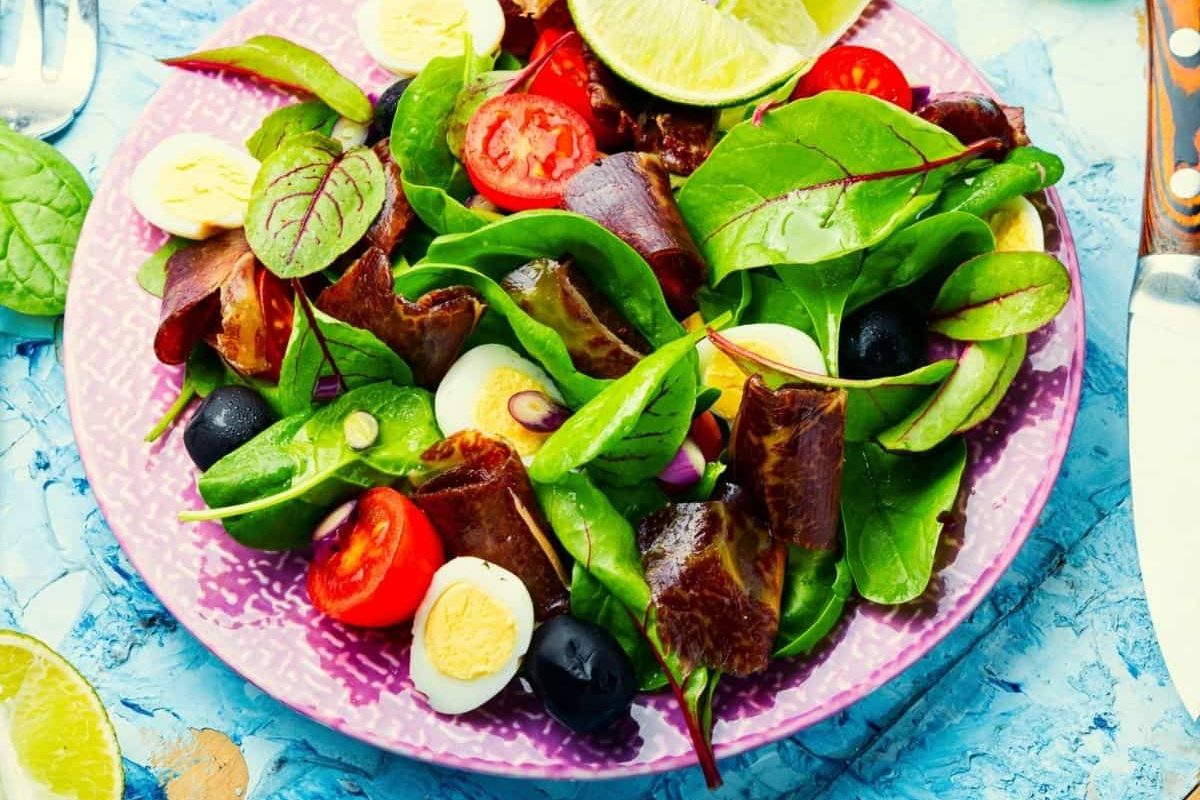 Ingredients
For the Salad:
½

cucumber, sliced

1

packet

rocket and watercress

1

avocado

1

yellow pepper, sliced

1

punnet

rosa tomatoes

1

ripe mango, sliced

200

g

moist beef biltong, sliced

60

g

feta cheese

2

large

eggs
For the Tzatziki Dressing:
1

cup

low fat plain yogurt

1-3

cloves

garlic

4

tbsp

fresh lemon juice

⅓

tsp

salt

½

cucumber

peeled
Instructions
For the Salad:
Boil the eggs in a pot of water.

Toss together all the salad ingredients and serve the salad with tzatziki dressing.
For the Tzatziki Dressing:
Place all ingredients into food processor and puree.