Delicious and nutritious, protein breakfast recipe that will boost your body for the day ahead. Combining the flavours of biltong and feta cheese with a bit of spiciness makes this omelette a classically South African breakfast choice.
Protein for Breakfast
Treat yourself to a healthy and nutritious breakfast. Start your day with some fresh eggs, whisked and fried in butter or something even healthier like Ghee. Followed by flavouring with biltong (a delicious and healthy cured meat for which we have a fabulous recipe: South African Beef Biltong), and crumbled feta cheese with some simple whole food ingredients like chilli, onion and chives. This low-carb protein injection will keep your mind sharp and sustain your body with energy. Certainly for longer than any breakfast cereal out there.
Versatility
I have come to love versatile recipes. If you are, for whatever reason, a fussy eater this omelette recipe can be adapted to your needs. Use only free-range eggs, cook with ghee or animal fat. Make your own Biltong at home and know exactly what is in it. Swop out the cheeses or leave it out if you have lactose intolerance). Use peppadew if chilli is a bit much for you. The options are endless.
Lastly, I have a challenge for you. When you make your Biltong and Feta omelette try to not add bread to the plate. This is an incredibly filling and sustaining meal to start your day with and if you can resist the urge for a warm slice of bread you will better benefit from your meal.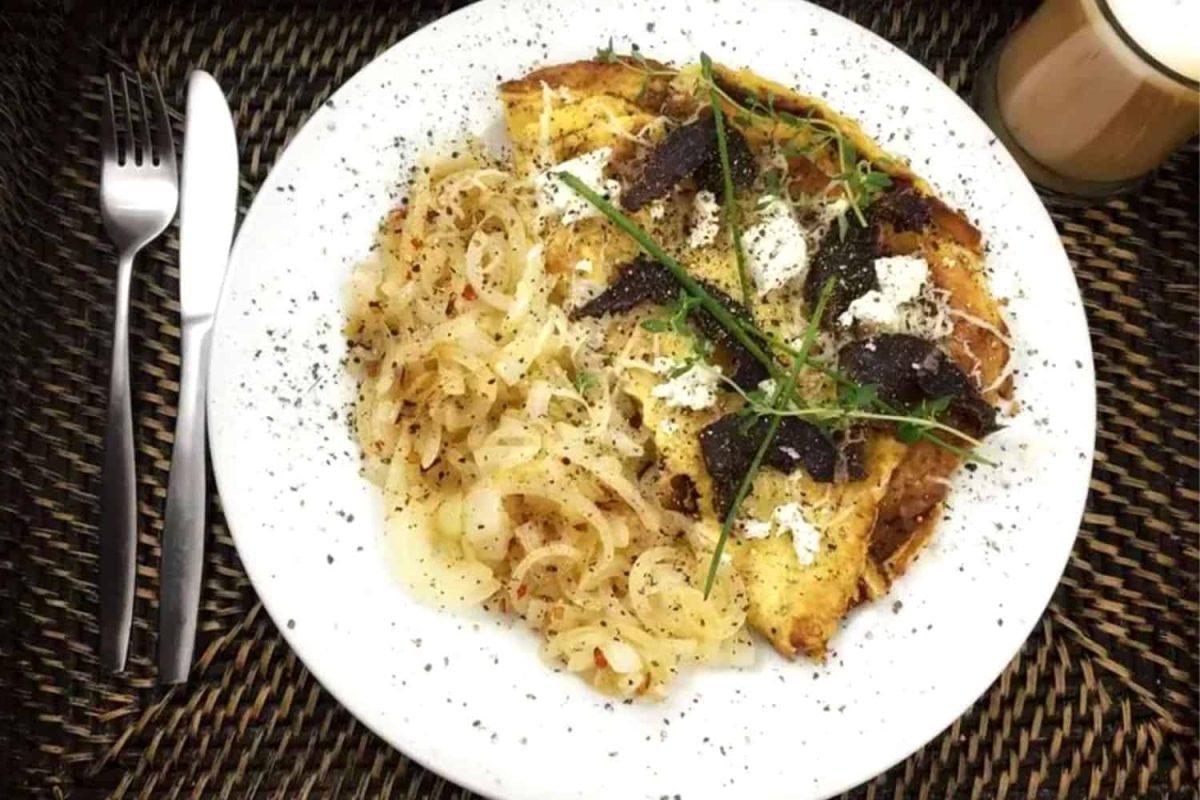 Ingredients
1

tbsp

Butter

3

Large Eggs

2

Onions

sliced

1/2

tsp

Dried Chilli

Black Pepper Feta Cheese

crushed

1/2

cup

Cheddar Cheese

grated

Biltong

sliced

Salt

to taste

Black Pepper

to taste

Chives

for garnish
Instructions
Add butter to a frying pan on medium heat.

When butter is bubbling, add the onions and chillies. Cook until translucent. Set aside and keep warm.

Beat the eggs lightly with a fork.

Melt the butter over medium-low heat.

Add the eggs. Allow the eggs to cook for a minute, then use a spatula to gently lift the cooked eggs from the edges of the pan. Tilt the pan to allow the uncooked parts to flow to the edge of the pan.

Cook for a few more seconds. Cook longer if you like it well done. 

Fold the omelette in half. Slide it onto a plate with the help of a spatula. Garnish with cheddar cheese, followed by biltong, feta cheese, black pepper to taste and chives.