A tantalizing combination of sweet and sour flavours meets the pallet when diving into this scrumptious dish. So don't hesitate, let this chicken and rice bake surprise you with its warm and wholesome flavours.
A Sensational Chicken Bake
The saucy marinade that your bake will cook in owes its zest to the use of much loved, sweet and sour chutney. Your chutney is mixed in with an onion soup and some smooth, creamy mayonnaise (great to make a homemade mayo version if you can). All of this is then poured over the chicken and rice before covering and baking.
Health benefits of Chicken
Chicken is an often underestimated meat. It is delicious in flavour and tender in texture but also full of health perks. Chicken is full of nutrients like iodine, iron and zinc, that our bodies need to maintain a healthy lifestyle. Never mind that it is also a fabulous source of muscle-building protein.
Another particularly fascinating benefit is that chicken is known to help the body with serotonin production. Using its supply of vitamin B12 and Tryptophan to assist the body in producing this "Happy Hormone". We are what we eat, so it's always a better idea to use free-range, organic chicken meat in your meals.
If you have any doubts, just give this quick and easy chicken bake a try and find out for yourself how stunning the result is. You have nothing to lose! Otherwise, you can also have a look at some of our other amazing chicken recipes, like our Buttermilk and Yogurt Chicken Bake.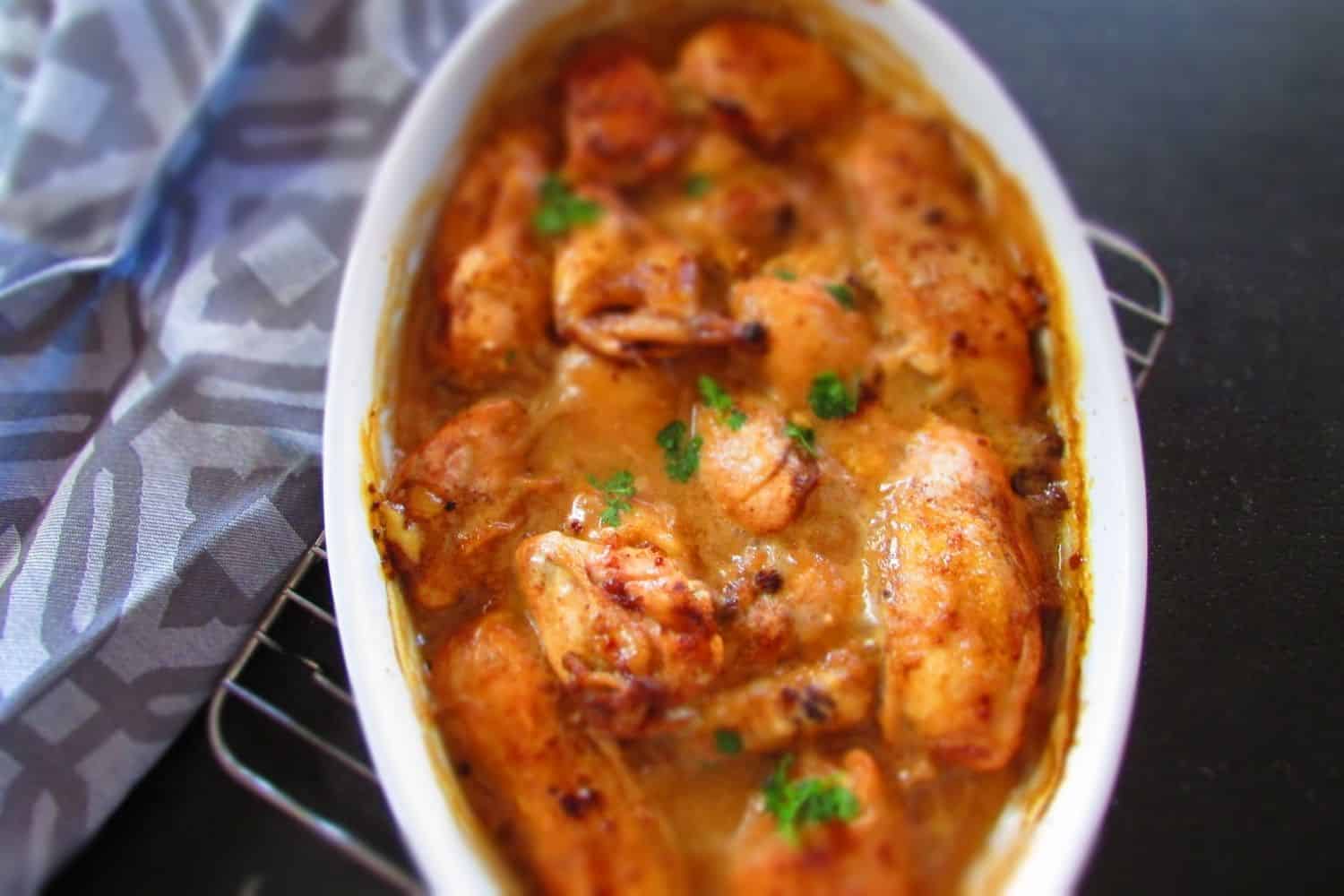 Ingredients
8

pieces

Chicken

2

tbsp

Chicken Spice

1

cup

Rice

Uncooked

½

packet

Brown Onion Soup

1

cup

Hot Water

1

cup

Mayonnaise

1

cup

Chutney

1

tbsp

Fresh Parsley

Chopped
Instructions
Preheat the oven to 180°C.

Rub the chicken spice into the chicken.

Add the rice in a greased oven dish and place the chicken pieces on top of the rice.

Mix the hot water and onion soup. Add the chutney and mayo and mix. Pour over the chicken.

Cover the dish with tin foil and place in the preheated oven for 1 hour.

Remove the foil and bake for another 20 minutes.

Garnish with fresh parsley and serve with a salad.