Bursting with rich flavour and boasting the silkiest and softest texture, this pumpkin pie is a known favourite for a reason. Pair it with a light and fluffy whipped cream, and all your pumpkin pie dreams will be brought to life!
Full of Diverse Flavours
This pumpkin pie consists of a plateau of irresistibly tasty spices to achieve that beautifully sweet, rich, and nutty flavour. Cooked pumpkin or squash is mixed with honey or stevia, ghee or coconut butter. Then, add some milk and 2 eggs. The mixture is spiced with ground cinnamon, nutmeg and ginger, and vanilla extract gives it that added sweet vanilla flavour. All of the mentioned ingredients need only be mixed together to create a rich, silky, and decadent pie.
Pumpkin Pie with the Softest Pastry Crust
With any pie, the mixture is usually poured into a pastry crust that can be made from either puff pastry dough or shortcrust dough. It all depends on what you prefer. This pumpkin pie has a crust made with gluten-free puff pastry, so it is perfect for those who are gluten-intolerant or are trying to cut out gluten. The pastry dough is rolled out to a size slightly bigger than the pie dish. And any excess dough can then be cut off. A great tip for placing the pie dough evenly in the dish is to roll it out, place your rolling pin in the centre of the dough, and fold half of the dough over the rolling pin. You can then place the dough-covered rolling pin over the centre of the baking dish and unfold it.
Serve this delicious pie as a refreshing (yet indulgent!) break from your regular go-to desserts for Sunday afternoon tea. Don't forget the whipped cream on top!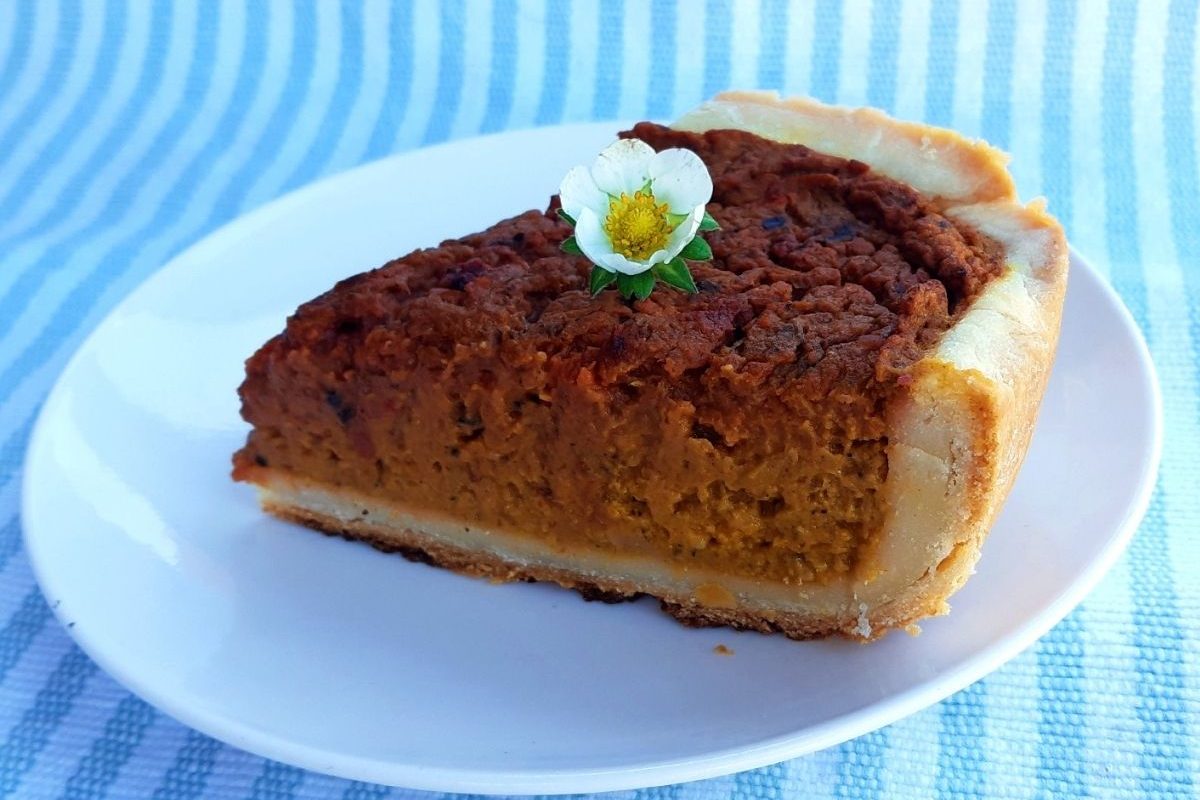 Ingredients
500

g

Gluten-free puff pastry or shortcrust dough

See the recipe in the article above

2

cups

pumpkin or squash

cooked

½

cup

honey or 1 tsp stevia powder

1

tbsp

ghee or coconut butter

½

cup

milk of choice

2

tsp

ground cinnamon

½

tsp

ground nutmeg

¼

tsp

ground ginger

1

tsp

vanilla extract

2

large

eggs
Instructions
Roll out your pastry to be slightly bigger than your baking dish.

Grease your dish before laying the pastry inside creating a bowl-shaped crust.

Blend together all other ingredients and pour into the crust.

Bake at 180°c for 60 minutes.

Allow to cool before serving.
Notes
You can choose to leave out the pastry entirely. If doing so the dish will only need to bake for about 45 minutes.