Served hot or cold, with breakfast or dinner, this flavourful and fiery dish is a traditional favourite amongst South Africans. Easy to make and easy to eat, this chakalaka recipe is one to remember.
What is Chakalaka?
Chakalaka is a traditional South African, saucy stew made from spiced vegetables like sweet peppers, carrots and cabbage. It has an aromatic flavour and brings a bit of warmth to the pallet and tummy even when served cold. Chakalaka gets its fiery zest from a combination of paprika, garlic, ginger, fresh chillies and very importantly curry powder. You can serve it hot or cold and with almost any meal. If you want to see how to jazz up your eggs and bacon breakfast try our Simple All Protein Breakfast with Chakalaka.
Once you make your first chakalaka you will realise just how simple and easy it is to make. The ingredients are all affordable and readily available in most parts of the world. The recipe itself is straightforward and only takes 30 minutes, most of which you are just doing prep. Trust me, it's easier than frying an egg!
Health Benefits
Once you see the ingredients it is easy to believe that traditional chakalaka is full of health benefits. From the tomatoes that help prevent prostate cancer, to the carrots and peppers that promote eye health as well as a strong immune system. This chakalaka recipe is also vegan, gluten-free and dairy-free. And that is just the tip of the iceberg, the different spices used each have their own contributing health perks. The curry powder alone offers the body a surplus of anti-inflammatory compounds, boosts heart health and improves blood sugar levels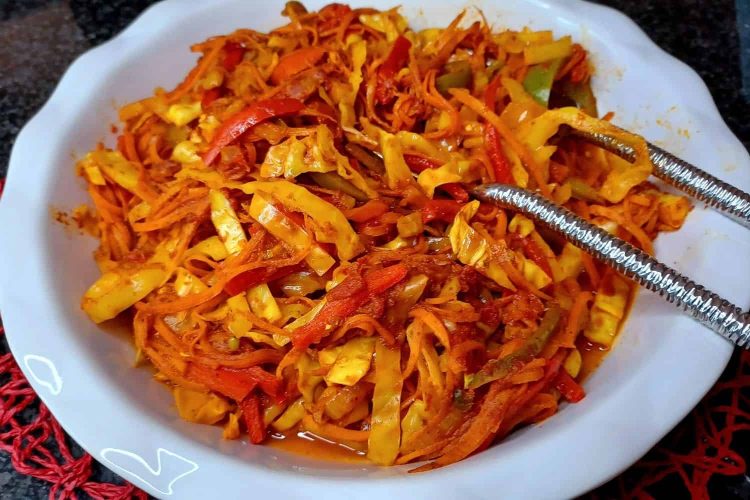 Ingredients
1

tsp

Smoked Paprika

1

tsp

Turmeric

ground

2

tsp

Garlic

crushed

1

tsp

Ginger

crushed

2

tbsp

Olive Oil

1

Onion

chopped

2

tsp

Curry mix

2

Chillies

chopped

2

Pepperdews

chopped

3

cups

Cabbage

chopped

3

cups

Carrots

grated

1

Green Pepper

chopped

1

tin

Tomato

chopped

2

sticks

Canderel

1

Green Pepper

1

Red Pepper

1

Tin

Koo Beans
Instructions
In a large saucepan, heat oil over medium heat.

Add onion, give it a minute or two.

Stir in all the spices; turmeric, garlic, ginger, smoked paprika and curry mix, continue stirring for about a minute or two to let the flavour intensify. Then add tomatoes, peppadews, carrots and cabbage.

Simmer for about five minutes, stirring occasionally to prevent burns.

Adjust for seasoning, add Canderel. Serve warm or cold. 
Related: Simple All Protein Breakfast with Chakalaka